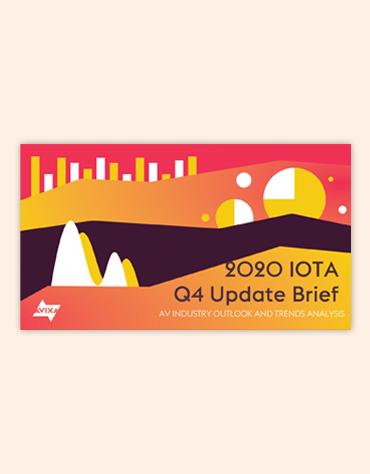 December 2020 IOTA Brief
This December 2020 brief revisits the assumptions made back in the first half of the year and provides updated guidance on our industry outlook.
July 2020 IOTA Brief: An Insider's Look into the Global Pro AV Industry
The July 2020 IOTA brief is an insider's look into the global pro AV industry, crafted exclusively for AVIXA's enterprise members. This resource offers:
An understanding of the key AV trends caused by COVID-19.
High-level market sizing data by vertical markets, solution area, and product segments.
A look at growth in the coming years.
For readers who want additional detail beyond what is offered in this report, including geographic specificity, customizable market sizing, and product-level specificity, head over to our IOTA page. Stay tuned as well for a November update clarifying how further developments have evolved our outlook.
NOTE: Can't access the report? Contact AVIXA, +1.703.273.7200, to upgrade your membership.