Industry Outlook and Trends Analysis (IOTA)
Explore the Size and Growth of Pro AV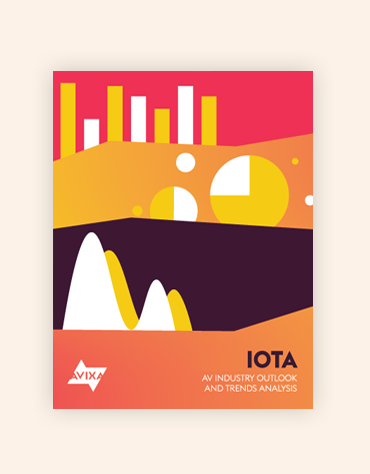 If you're a decision maker who is trying to understand the pro-AV market size and direction, you've never been in a more difficult place.
The COVID-19 crisis has turned everything upside down. You might be overwhelmed and confused as to how to plan for future growth. AVIXA's market intelligence team can help. Our experts have closely followed market changes and can give you realistic insights to dive into the application of AV products and solutions in specific vertical markets.
AVIXA's 2020 Industry Outlook and Trends Analysis (IOTA) includes a combination of data and analysis about the size of the pro AV industry with a global perspective – plus, regional and vertical breakouts. The research covers product trends, solution categories, and vertical markets. A combination of reports and online data dashboard work together to present analysis. Using the dashboard, you can filter the data to specific geographies, vertical markets, solutions or products.
Find answers to questions like:
How much are end-user companies spending on digital signage solutions now and over the next five years?
What product categories go into specific solution areas or vertical markets?
How do the product purchase trends differ by region or country?
IOTA is available in one of three packages providing varying degrees of access to the dashboard and long-form analyst interpretive reports. Contact us to find the package that best meets your goals.
The IOTA Release schedule for 2020 is as follows:
Dashboard
Geographic Reports
Industry Overview — June 2020
Americas Summary — July 2020
APAC Summary — August 2020
EMEA Summary — August 2020
Spotlight Reports
Spotlight: Channel Dynamics — October 2020
Spotlight: Collaboration — October 2020
Spotlight: Digital Signage Update — November 2020
Spotlight: Live Events/Performance — November 2020
Interested in purchasing this study at the member price?
Visit our membership page to learn how you can join AVIXA and take advantage of all our member benefits including discounts, freebies, exclusives and more.

Questions about Membership?
Contact our Customer Service Team for more information.