Industry Outlook and Trends Analysis (IOTA)
Explore the Size and Growth of Pro AV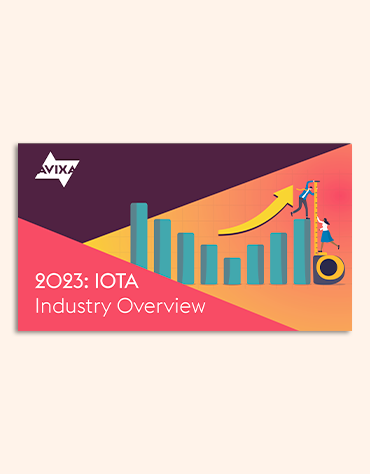 For more information about IOTA or to make a purchase, contact AVIXA.
What is IOTA?
AVIXA's Industry Outlook and Trends Analysis (IOTA) is a forecast of end user spending on AV products and services. The study is updated once per year by our partners at Omdia and covers a period of 5-years back and 5-years forward. The revenue data is segmented by geography, vertical markets, solution areas, and product categories. The 2023 IOTA updates prior analysis on, data on the tiers of distribution for the various product categories to see how hardware flows in the market, whether directly to a purchaser or through distributors.
Those purchasing the IOTA bundle will be provided access to the following:
An Industry Overview presentation deck highlighting the latest trends revealed by the current IOTA. This is back by popular demand from prior years as it offers a comprehensive view of the pro AV opportunity landscape.
A single user license to an online interactive dashboard where the data can be filtered and visualized
A supporting notes document written by the analysts who craft the forecast estimates, detailing the trends and assumptions driving the numbers.
Check out both our definitions document and the larger FAQ below for more details about the IOTA, its components, usage, and methodology.
How is it used?
Overall, the IOTA is a tool for guiding business strategy about the underlying opportunities within pro AV to inform decisions about market or product expansion. Or more specifically for creating an analysis of total addressable market (TAM) for a given product, solution, or service. This starts with using the overview presentation to get a sense for the general trends and growth. From there users migrate to the dashboard to filter the date to desired segments for comparisons. And lastly, the notes document offers answers to questions about the why behind the forecasts.
Who should purchase?
The use cases described above can span large or small organizations and those across the value chain of pro AV. Manufacturers will find the data useful for sizing relevant categories and benchmarking growth, while also seeing how the products are utilized in solutions and verticals. Distributors will dig into the solution areas to determine product mix and bundling opportunities, while also benchmarking against growth. Integrators can obtain guidance on the opportunity presented by various solution sets and which target markets may yield the best growth. Investment firms also see utility in IOTA as a 3rd party source for market data as part of a due diligence effort.
What does it say?
With world economies moving past the pandemic and feeling the impacts of supply and demand imbalances, the 2023 IOTA comes at an important inflection point. It reveals much about the drivers of growth going forward now that the return to in person has largely occurred and companies continue to experiment with hybrid working modes. Here's just a bit of what the data says:
Growth is slowing in 2023 as the surge in demand from the pandemic recovery plays out, dropping by approximately half of 2022. Possible recession is also contributing to the slowdown, as end user companies hold onto cash as a reserve against a downturn
Supply chain issues remain, though not always in expected ways. Over-supply in some key categories like displays has resulted in deflation in pricing and therefore a muting effect on revenue growth, shifting the story more to one of volume. This is counter-balanced by rising prices in areas of short supply, like control and audio, yielding increased revenue growth.
Services and software are rising as contributors to pro AV revenue, as projects resume and as they replace hardware spending in some cases. AI promises to fuel that trend going forward, even as the future remains a mixed outlook with manufacturers conservative about growth potential.
Subscribe to the IOTA to learn more about all these trends and more! Fill out an interest form to the right or reach out to our market intelligence staff for more information.
Interested in purchasing this study at the member price?
Explore membership benefits and contact our Customer Service team with any questions.

Have you already purchased IOTA? Click here to access your subscription.
---
Is Your Company a Global Leader?
Are you searching for a more in-depth look into the industry? Become a global partner and receive the IOTA Dashboard, the Industry Overview Report, forecast notes to go along with the report, time with an analyst, and an exclusive webinar on the Industry Overview.
Inquire about AVIXA's Global Partnership, an invitation-only opportunity that empowers your executive leadership with the full library of AVIXA market intelligence reports in a year-long program with direct access to our experts in every geographic region for one-on-one consultations to help you hone your go-to-market plans – and much more.