Boost attendance and add value to your event by participating in AVIXA's RU Provider Program.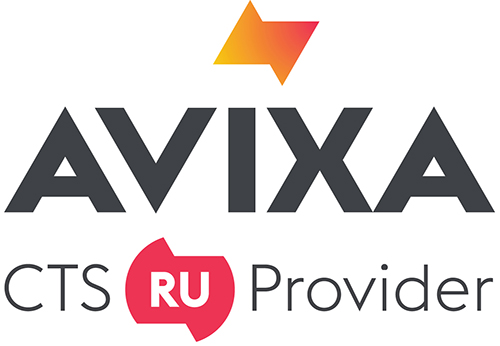 "Being an RU Provider, I find our ZeeVee webinars and other trainings to have more 'pull'. Certified…folks are always looking for opportunities to learn more and to fulfill their continuing education requirements."
— Roy Bertalotto, ZeeVee, Inc.
AVIXA's CTS, CTS-D and CTS-I holders must renew their credential every three years through continuing education.
With your enrollment, AVIXA will give you one-on-one support and RU Provider Program benefits for two years. Plus, your program will benefit from time-saving services and resources including a toolkit to help grow your training program.
Resources
Features
Improved process to manage RUs.
Ability for CTS holders to add your courses to their transcript and upload a copy of their certificate online.
Course submission assistance from staff with one-on-one support.
Marketing Toolkit
A digital brochure you can customize with your company name and logo.
Exclusive RU Provider graphic for your email signature and other communications.
Tips on how to market your course.
The Renewal Unit Provider program is managed by the AVIXA Certification Office under the guidelines established by the CTS Renewal Committee. All applications and/or inquiries should be sent to:
AVIXA Certification Office
11242 Waples Mill Rd, Suite 200
Fairfax, VA 22030
1.800.659.7469 or +1.703.273.7200
+1.703.991.8259 Fax
Contact Us
---
Certification is not a guarantee for performance by certified individuals. Certified Technology Specialist™ (CTS®) holders at all levels of certification have demonstrated audiovisual knowledge and/or skills. Certified individuals adhere to the CTS Code of Ethics and Conduct and maintain their status through continued education. Certification demonstrates commitment to professional growth in the audiovisual industry and is strongly supported by AVIXA.
All eligibility, application, score reports, special accommodation requests and general inquiries regarding AVIXA certification will be handled through the AVIXA Certification Office, with headquarters located in Fairfax, Va., U.S.A. Purchases of education, membership or any other AVIXA services are not required to seek certification.
AVIXA
Attn. Certification Office
11242 Waples Mill Rd., Suite 200
Fairfax, VA 22030

Phone: 1.800.659.7469 or +1.703.273.7200
Fax: +1.703.991.8259

Contact Us