How to Prepare for Your CTS-Design (CTS-D) Exam
To sit for the CTS-D Exam, you must have:
Earned the CTS designation
Two years of experience in design, including designated experience in specific tasks found in the CTS-D Handbook
Courses to Help You Prep
Many designers prepare for their CTS-D by taking AVIXA's design courses. If you're an experienced designer, you might skip right to CTS-D Prep.
Upcoming CTS-D Prep Courses
Check back for future courses!
On-Demand Design Courses
Sample Questions
View
FREE sample questions
to gauge your preparedness.
Looking for one resource to help you prepare?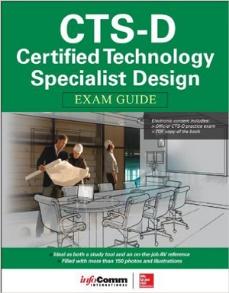 The CTS-D Exam Guide is a complete study resource — if you excel at learning from books. You can fit this self-paced prep into your schedule anytime, anywhere.
Want to train your whole team?

We can bring our instructors to you with contract training and optional onsite testing after the prep course. Learn more about this cost and time-saving option.

Need personalized solutions? Call +1.703.273.7200 to talk to our Customer Service Team about planning a customized path.
Remember: There is no single publication or class that will prepare you for the exam, nor are you obligated to take AVIXA courses.
Note: avixa.org is the only source for official materials. If you see AVIXA education or CTS® certification practice exams on a website other than avixa.org, they could be fraudulent.
Upcoming Events
Inside Look: The U.S. Naval Academy's Crown Jewel: Creating the Akerson Theater
In our panel's discussion, we'll examine the intricate design process that went into bringing the center to life, along with the world-class technology and monumental collaborative effort needed to create this remarkable experience.