Is CTS-D right for you?
A CTS-D is an AV systems designer who:
Documents and Resources
Documents and Resources to help individuals understand all certification programs can be found here.
Steps to Getting CTS-D Certified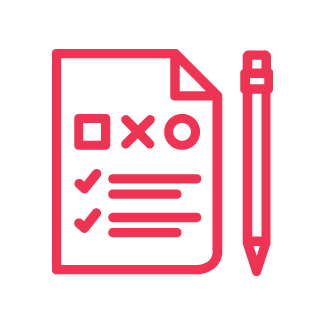 Take the exam!
CTS-D candidates will have access to certain math formulas on the computer screen while they test.
Preview math formulas here.
Know you are not required to take any courses or purchase anything to prepare. But many of your peers have found success with AVIXA's resources.
Need Help?
If you'd like to talk to a person, we're here to help! Contact your AVIXA® representative for help with your professional development plan.
---
Certification is not a guarantee for performance by certified individuals. Certified Technology Specialist™ (CTS®) holders at all levels of certification have demonstrated audiovisual knowledge and/or skills. Certified individuals adhere to the CTS Code of Ethics and Conduct and maintain their status through continued education. Certification demonstrates commitment to professional growth in the audiovisual industry and is strongly supported by AVIXA.
All eligibility, application, score reports, special accommodation requests and general inquiries regarding AVIXA certification will be handled through the AVIXA Certification Office, with headquarters located in Fairfax, Va., U.S.A. Purchases of education, membership, or any other AVIXA services are not required to seek certification.
AVIXA
Attn. Certification Office
11242 Waples Mill Rd., Suite 200
Fairfax, VA 22030

Phone: 1.800.659.7469 or +1.703.273.7200
Fax: +1.703.991.8259

[email protected]
Upcoming Events
Integrate
Integrate is Australia's premier annual AV and Integration trade show. This two-day event is a hub of activity for local and global brands to showcase solutions and products to AV technicians and corporate end users, meet with buyers, integrators and distributors, and celebrate the latest industry developments.