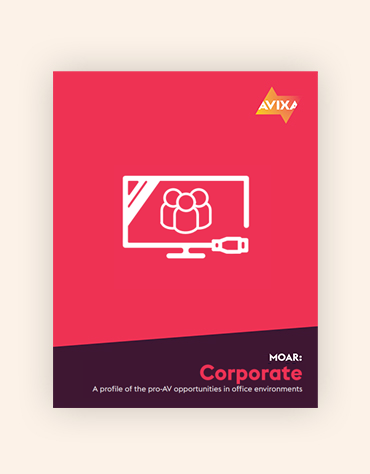 Interested in learning more?

Megan Hershey
Market Intelligence Sales
Email Megan
+1.703.279.2179
What It Is
AVIXA's MOAR: Corporate investigates the opportunities and challenges offered by company office spaces to providers of pro-AV solutions and technologies.
Who Should Read?
Any providers of AV solutions, who are either currently serving corporate clients or have interest in doing so. Facilities managers at corporations may also be interested to learn more about how the provider community seeks to help them address their technology solution needs.
How to Use?
The MOAR: Corporate report is a must-have for providers looking to understand the business needs of companies as they seek to provide services to the market. The report provides useful data and insight for building out both strategic and tactical plans to enter the market or continuing their efforts.
What It Says?
Despite mobility, many organizations are pulling the focus back on the office environment.
AV technology implementation is the way for companies striving to make the office 'the place to be', in part by improving user experiences. AV technologies that streamline ways of communicating and collaborating in modern functional workspaces and using equipment are part of this effort.
Corporate sizing of project plans affirms the size and scope of the pro-AV opportunity.
Planned capital expenditure among corporate technology managers is approximately $181 billion in the U.S. for 2018. Even better for AV solutions providers, this translates into nearly $12 billion in AV systems investments this year given allocations within cap-ex budgets, consistent with IOTA projections for the corporate market.
Harnessing this opportunity requires an awareness of the key metrics and outcomes emphasized by the client organization.
Results confirm not all corporate clients are the same. Some focus on employee productivity, others will emphasize satisfaction and retention, and still others will be the most concerned with conveying brand identity. Knowing these upfront helps providers design solutions with the right outcomes in mind.
Interested in purchasing this study at the member price?
Explore membership benefits and contact our Customer Service team with any questions.

Is Your Company a Global Leader?
Are you searching for a more in-depth look into the industry? Become a global partner and receive the IOTA Dashboard, the Industry Overview Report, forecast notes to go along with the report, time with an analyst, and an exclusive webinar on the Industry Overview.
Inquire about AVIXA's Global Partnership, an invitation-only opportunity that empowers your executive leadership with the full library of AVIXA market intelligence reports in a year-long program with direct access to our experts in every geographic region for one-on-one consultations to help you hone your go-to-market plans – and much more.