Cut the Static: Creating Dynamic Experiences through Architecture and AV
Posted on Dec 9, 2020
Historically, buildings have been pretty set in stone. Sure, the Colosseum could pull double duty as a venue for mock naval combats and gladiatorial blood baths, but that architectural flexibility was the exception not the norm.
Today, however, we live in a remarkable moment—a time when our spaces can shift with the flick of a hand across a keyboard. We can write an algorithm that turns a doorstep into a portal and build a canvas that paints (and even serenades) itself.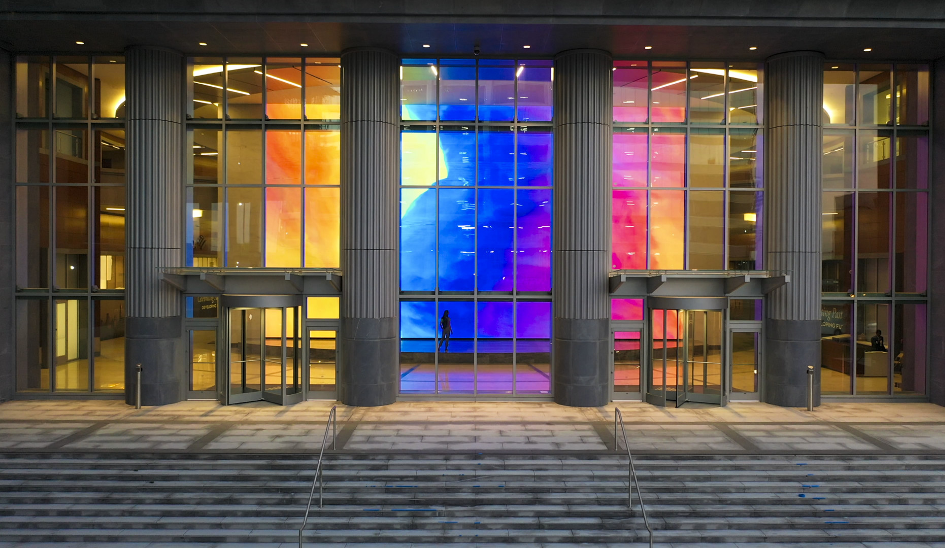 Legacy Union Charlotte, NC - Second Story
Creating a dynamic space that resounds with its inhabitants requires more than unpacking the latest tech to plug and play. It requires creativity, intentionality, and taking calculated risks.
Here are some quick tips from Joel Krieger, Chief Creative Officer at Second Story, and Steven Upchurch, Managing Director at Gensler, on how to effectively integrate architecture and technology to create one-of-a-kind experiences.
Break the Billboard Mindset
Many installations today echo Times Square. Screen after screen blares information. The viewer is invited, not even to be a user, but simply to absorb. A poorly integrated screen becomes nothing but a billboard with a faster refresh rate—and it is just as easily ignored.
"I have seen this pattern of what I would call screens in search of a problem to solve," says Joel.
Try thinking outside the box of a screen, and instead use technology to invite the viewer to wonder, question, respond.
"When you can distract someone, even for a second, from their device through the use of digital technology or AV, you can create a memorable experience that is unique and it can reinforce the culture of a brand," explains Steven.
Ferrari Storefront in London on Regent Street - Gensler
The best way to stand out amidst the shouting match of modern life is not to shout louder, with a bigger, shinier "billboard." Instead, converse.
"How do you create these things that are not just one way—just pushing advertising and images and messaging?" Joel asks. "Our de facto mode is to advertise and put out messages. But what is the value of setting the emotional tone of a building or transforming a space into a landmark by how you integrate digital experiences and content?"
Get creative. Use technology, not to fashion a more mechanical experience, but a more human one.
Set the Table, Check the Ego
Not surprisingly, the key factor for creating a more human experience is to involve more humans in the creative process. Keep the dialogue open from the start, so that you explore all available opportunities and limitations for a project. Invite more people to sit at the creative table—even before writing formal RFPs.
"It is important that everyone on the collaborative team leave their egos at the door and that they share a great understanding and synergy and appreciation for all the necessary talent, equipment, and programs. The only way to do that is to build the team with everyone," Steven explains. "Through a bigger team, you have more innovation."
Questions are not a sign of incompetence, but intentional collaboration. Leave the assumptions behind with the ego and get inquisitive. Ask the client. Ask the other contractors on the project. Even ask the true end-users, those that the space is intended to serve.
Yes, this will take a front investment of time, but it will increase the value of the project in the long run.
"If you don't have all the right people in the room that are talking with you about the latest technology, by the time this thing is done—you will already be behind," Steven warns.
Want a more clearly defined process for communicating and documenting project expectations? Check out ANSI/AVIXA D401.01:2010 Standard Guide for Audiovisual Systems Design and Coordination Processes — and keep an eye out for its upcoming revision!
Try, Try Again
Innovation is risky. The unknown unknowns and the potential cost of failures can be daunting, but the potential payoff is well worth it—especially if you build room for failure into your project process. Don't jump straight from idea to install; take time to prototype collaboratively.
"Together, let's rethink what is the best way to imagine and then realize this abstract thing that is an idea of something that could exist in the real world. And the best way to do that is by making something together at the very beginning and then standing around this landmark and talking about it and trying things and seeing how it looks and how it feels and over time iterating this thing from low-fi to high-fi," Joel proposes.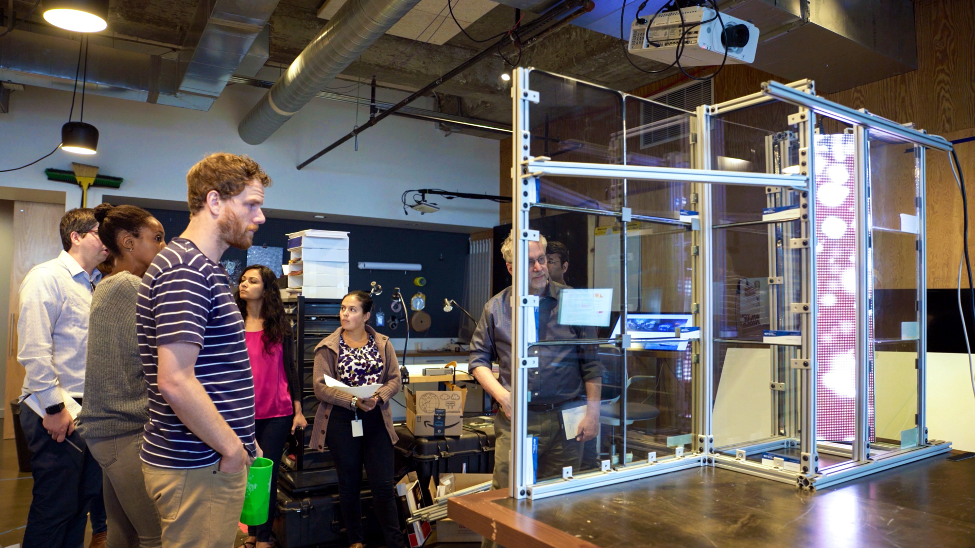 Creating Prototypes - Second Story
Think with your hands, not just your head. Invite the client to create the desired experience storyboard with you. Invite a potential user to interact with the prototype, observe how they perceive and participate with the modeled experience.
"What that allows us to do," Joel explains, "is to avoid any assumptions about what we think might work or how we think people might appreciate or experience what it is we are making."
Rip a page out of the scientists' book and treat your innovative solution like a hypothesis. Test it, refine it, test it, refine it, before you finalize the theory. Beyond creating safe room for failure, this important step in a project's process will build camaraderie and understanding between you and your client.
"It is easy to slip into this mindset of let's go away and work on this thing and make it really beautiful and then show it, present it," Joel says. "That kind of creates this us and them thing. It is way more fun to think of them as a part of the design team."
More fun and more profitable. The better you understand your client's needs and wants, the more likely you are to deliver them, and the more likely they are to hire you again or recommend you to others.
(Want to learn more about effectively incorporating the client and true end-user into the design process? Keep an eye out for AVIXA's upcoming User Experience Design for Audiovisual Systems industry standard!)
Leaving the Stone Age Behind
From a classroom to a boardroom to a museum exhibit hall, a building invites the inhabitant to participate, in a moment, an experience, a story. It cues them on how to behave, what to expect, and where to go. The opportunity for impact is even greater if technology is artfully woven into the structure.
"If you are going to integrate digital technology into the architecture," Steven warns, "you must fully understand and integrate the story you are trying to tell and that you want to unfold as the user experiences the space."
By taking the time to innovate, collaborate, and iterate, you can harness the power of narrative to give yourself that cutting edge in the market.
As Joel says, "There is something amazing about the way that the human brain responds to a story that is spread out spatially and the way that you incrementally experience it."
If you succeed, you will create for your client a building that is not just a space, but a presence. If you artfully weave technology into the building's frame, you will give your client something as dynamic as they are.
In the era of social media, when brands must change at the drop of a like and in the midst of a pandemic when businesses must adapt at the spike of curve, giving your client a building that grows with them is more marketable than ever. Stone alone just won't cut it anymore.
This article was based on a roundtable discussion co-hosted by AIA and AVIXA on July 22, 2020. Want to learn more? Watch the full webinar here and click here to see upcoming webinar events.
Want to learn more about collaboration, innovation, and user experience? Check out these articles and webinars!
Think in a New Way: UX Starts in Your Head
Debunking Myths about the User Experience
Retailers and Designers Say Collaboration is Key to Creating AV Experiences
Venue Design and Project Team Collaboration
Eyes to the Future: National Museum of Singapore Calls for Open Collaboration with Technologists