How to Launch a New Collegiate Esports Program
Posted on Sep 22, 2020
When Caldwell University decided to create an esports program for current and prospective students, it was a dream come true for gamer Anthony Yang. As Executive Director of the Caldwell, New Jersey based university's IT Operations, he had approximately one year to move the special project from conception to reality — including recruiting a coach and players, building a dedicated esports arena, and finding the AV solutions needed to support a full esports experience. Yang shared his process in the AVIXA® webinar, AV Powered Esports Arenas Bring a Whole New Game to Higher Ed. Read on for the key lessons he and his colleagues at Caldwell University learned.
Treat Esports as a Real Sport
"Any campus starting a new athletic program would consider equipment costs for that sport," said Yang. For Caldwell University's Cougars, the wish list included:
Computers fast enough to compete
The ability to meet network requirements for latency-free gaming, for a competitive edge
RGB lighting for game play
The university allocated a significant budget to purchase hardware, software, building materials, and AV equipment.
Leverage Existing Partnerships and Forge New Ones
As a small university with limited resources, Caldwell sought help by partnering with corporations. This included leveraging relationships with existing vendors and cold-calling other potential sponsors.
"Within the sea of 'nos' there were some companies that were interested," said Yang.
As a result of these partnerships, they received generous donations including a network switch, security cameras connected to the university's cloud security system, and twelve 240 Hertz low latency monitors.
"The gaming students were amazed to have this option because, at the time, 144 Hertz was the standard and 240 Hertz wasn't widely available," said Yang.
Repurposing a Space for Esports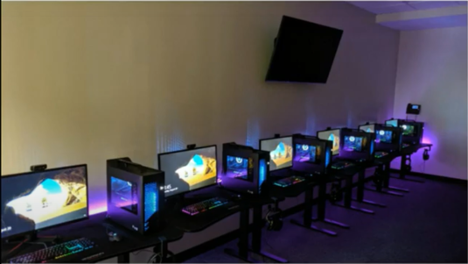 Computers lined up: Cases are RGB and have liquid cooled computers with processors that allow for the fastest possible experience when competing competitively.
The space is a repurposed former student lounge, divided in half, with six computer stations on each side of the room. The 12 stations are equipped with gaming desks, webcams, chairs, keyboards, mice, and headsets specific for gaming, so that two teams can play simultaneously either against each other (live) or in remote competitions for multiple games such as Overwatch, League of Legends, and Rocket League.
"Our space is dedicated to a specific type of game play," said Yang. "[It] was designed solely for gaming and is not intended for any other use." Large 4K displays mounted overhead in the arena provide a view for the coaches and other players during competitions.
A glass wall on one side of the arena allows anyone passing by to view the action inside. "We want people to peer in and be curious about what our players are doing," said Yang.
In addition, several large 4K displays are located outside of the arena to allow an immersive experience of the live action during competitions and practices — including gaming sounds and the chat.
Plan for AV and IT Needs
"We attacked our goal with focus and made a plan that ensured configuration and future scalability," said Yang. "We wanted to get it done quickly but…you have to think about accommodating flexibility. Planning is a huge part of that."
Caldwell University considered the following components:
Network requirements. Created a network connection to the arena with a redundant 10 Gbps connection to a dedicated switch with dedicated ports on each of the switches.
Computer. "At the time, these were the highest spec computers for esports," said Yang. "Our goal was to be scalable and have our equipment be relevant for 3 to 5 years."
Streaming capabilities. Local and remote streaming capability was a big priority. To achieve this, 8 x 8 matrix switchers were installed for streaming game content to local displays. There is also a Twitch channel for remote streaming, which is mirrored to the local and remote stream.
Power requirements. A 15-kilowatt transformer was installed, as each PC can draw 800 to 1,000 watts each, to allow for overhead for power requirements.
HVAC. "Each PC and person makes heat, so we built an extra HVAC system into the arena to keep things cool," said Yang.
Low latency. Each computer has a dedicated switch with dedicated ports, and each port maps to a single port on the switch to allow for the lowest level of latency.
Security. Cameras are connected into a cloud security system.
Rewarding Results
Because of the demand for collegiate level esports, Yang was able to recruit a coach and enough players to establish five teams. "There is an untapped potential of people who would like to play competitively at the collegiate level," he said.
While winning is important — in their first season of play, the Cougars made it to the playoffs in the Eastern Collegiate Athletic Conference (ECAC) — it is also about community and education.
"We created a community where students can find people like themselves and do something they enjoy," said Yang.
Additionally, they created an academic major in esports management where students can learn the business of esports as it expands in the professional world.
Read next: Isolated or Not, Ready to Play Esports
As we witness changes to how people are connecting virtually in a time of strategic and vital social isolation, there is one area of entertainment that seems ready-made for these evolving times: esports.