AV and IT are fully united. Whether your background is in either AV or IT — you need to know both sides of the technology.
AVIXA can help you gain an in-depth understanding of networks and how AV applications operate within them with a specialized education track. After completing these courses, you'll be able to troubleshoot and discuss with your IT team why a piece of gear should or should not be on the network.
If you are new to the industry or would like a refresher on the new fundamentals of AV, enroll in the recommended general knowledge track and take the AV Technologist test. If you have a few years in the industry, check out this content to help accelerate your career.
To access this training, you'll need to be an Elite member or purchase the 30-day Online Training Pass.
On-Demand Training
In recognition of AV's close-knit relationship with the IT community, those holding CompTIA Network+ credentials can earn CEUs for completing the modules in Networking Technology and Networked AV Systems — up to 40 CEUs for this AV-focused training.
Short Lessons
The Audiovisual LAN Series
AV and IT Collaboration Series
AVoIP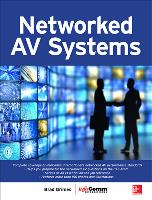 For those who learn better with books, explore the Networked AV Systems publication. With over 150 photos and illustrations, this publication serves as an essential on-the-job reference.
Many who complete these courses consider the Certified Technology Specialist™ (CTS®) certification. One way to do that is enrolling in CTS Prep Online (free for AVIXA members) to prepare for the CTS exam. But, there are many possible ways to study. Learn more about options to prepare for the exam.
For those who have already earned their CTS, many go on to prepare for the CTS-D (design) and CTS-I (installation) specialized credentials. These certifications can make you stand out even more and they show your dedication to being the best in the industry. In addition, wherever you go, your certification goes with you — you earned it.
Not ready for a CTS Exam? Show clients and potential employers that you have achieved a basic level of technical knowledge by earning the AV Technologist Certificate — free for members.
Related Content
Recorded Webinar: AVOIP Needs Analysis
Networked Security Topics
Related AV Standard
Recommended Practices for Security in Networked Audiovisual Systems