Your Resource for AV Technology Training
Whether you're new to the industry or have many years of experience, there's something in our training catalog to help you refine your professional skills.
What You'll Find in Our Catalog
Types of Training
Online and Blended
Interactive, online modules give you flexibility. Our online trainings are self-paced and you can start anytime. Or, if you like a schedule, our Virtual Classroom sessions combine real-time and self-paced study — a class you can attend from any location.
Classroom
Interactive, hands-on learning led by an instructor in a traditional classroom full of your peers. Many of these courses are offered over three days.
Training Tracks
Find your track and explore content and training to get you where you want to be. New to AV? Check out AV Career Pathways to see what you should learn next.
The core of the industry. Designed for people who are new to the industry and current professionals who want deeper technical knowledge, content in this track can also give salespeople a broader understanding of the industry.
In-depth technical instruction. Installation technicians, lead installation technicians, field engineers, project managers and integrators will benefit from this track.
The skill — and art — of an audiovisual facility and system design. AV designers, engineers, technology managers and project managers profit from this track starting with the core concepts of audiovisual systems design and leading to the development of a comprehensive design plan and preparation for the CTS-D exam.

An in-depth exploration of networks and how AV applications operate within them. AV and IT are fully united. Whether your background is in either AV or IT — you need to know both sides of the technology. Learning with AVIXA's training modules in this track are customized to the IT perspective.
Training support for people who support. Organizational employees who provide AV services and technical support to internal clients, sales professionals, managers of design teams and IT professionals can expand their knowledge to more effectively communicate with vendors and interpret documentation.
Best practices within an AV context. Project managers, technicians who manage projects, sales engineers who develop proposals and estimates, information managers who manage technical staff, and upper management ready to implement PM best practices will gain from practical knowledge and hands-on exercises.
Pre-event planning, implementation and troubleshooting. This track includes options for professional AV technicians as well as for technology managers who occasionally set up live events and AV presentations. Event planners and account executives may also deepen their knowledge of live events production.
Prep for Certificates & Certifications
Show your knowledge of AV with the AVIXA AVT Certificate, which could be the first step toward the ANAB-accredited, Certified Technology Specialist™ (CTS®) credentials.
What certification or certificate are you preparing for right now?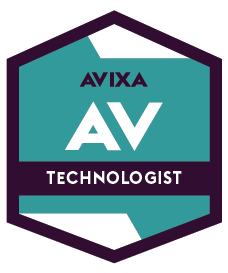 AVIXA-Recognized AV Technology Certificate
Take Essentials of AV Technology Online, then test yourself by taking the test for the AVT certificate.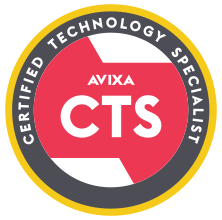 Although you're not required to take any training or buy any resources to take any of the CTS exams, AVIXA has materials that might help you prepare.