Did you know that according to the AVIXA® 2019 META: Pro-AV Channel Employment Report, more than 80 percent of firms prefer or require CTS holders for higher level engineering and technician positions?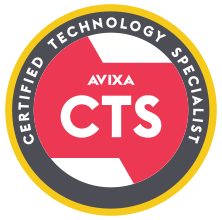 Upcoming Events
Inside Look: The U.S. Naval Academy's Crown Jewel: Creating the Akerson Theater
In our panel's discussion, we'll examine the intricate design process that went into bringing the center to life, along with the world-class technology and monumental collaborative effort needed to create this remarkable experience.