Where to Learn About Pro-AV Trends at InfoComm 2019
Posted on May 17, 2019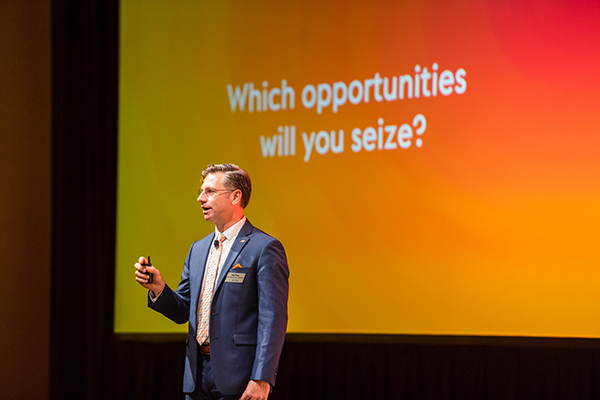 Throughout the year, the staff of AVIXA's market intelligence team are busy crafting research on the trends within the Pro AV industry, ranging from macro-economic overviews to to deep dives into specific vertical market opportunities, and then all manner of studies in between. This means, come InfoComm, we will have a wealth of insights and data to share. Top on our list are some of the findings from the expanded Industry Outlook and Trends Analysis (IOTA) reports, which offer revised forecasts on pro AV channel revenues through 2024 and include new figures on the amount of channel mark-up and service add-on. We have also expanded our series of Market Opportunity Analysis Reports (MOAR), with an exploration of the opportunities with Live Performance alongside studies in retail, hospitality, transportation, corporate, education, and sports venues.
Fortunately, this year we've found some time in the busy InfoComm agenda to give you a preview into this growing body of research. Here's a quick list of places to plug in:
Emerging Trends Day

Tuesday, June 11 in the Tangerine Ballroom starting at 8:30 a.m.
While not exclusively focused on AVIXA market intelligence, I will be acting as MC for a day long exploration of four key technology trends that are driving growth in pro AV. Each one of the topics will start with some analyst perspective on the topic, followed by a moderated panel to provide real-world trials and tribulations working with the technologies. As MC I will wrap a bit of AVIXA's research around the topics and connect the dots on what it all means for the broader industry.

Market Opportunity Presentations
I will also be on stage to share an overview of the research we've conducted on four different market segments served by the pro-AV channel. This includes analysis of the forecasts of the various segments and findings of the research into the differences in consumer needs, end-user decision making, and provider challenges within the markets using our MOAR studies. In short, they offer a rich toolbelt of insight for any company looking to better serve clients within the space. The four specific sessions are as follows:

Sports Venues – Wednesday, June 12 at 9 a.m. in room W414B of the OCCC
Retail – Wednesday, June 12 at 3:30p.m. in room W311H of the OCCC
Hospitality – Wednesday, June 12 at 4:30 p.m. in room Valencia A of the OCCC
Live Events – Thursday, June 13 at 9 a.m. in W414B of the OCC
As you can see, we have lots of chances to get a taste of the research and trends depending on your topic of interest. Stop by and join in as you can with questions at the ready. Or, if you prefer, please come by the AVIXA booth to learn more about the various research offerings we have available. Our website is also a wealth of information.
I hope to see you onsite at InfoComm. Have a great show and safe travels for those joining us in sunny Orlando!
TOPICS IN THIS ARTICLE