InfoComm Connected 2020 Keynote Hits All the Right Notes
Posted on Jun 17, 2020
Day 1 Recap
By Ann Brigida, CTS
The first day of a tremendous effort to maintain the AV industry's most well-attended trade show during these uncertain times is paying off. AVIXA has put together a virtual show that is informative, fun, and still going strong. With the help of the best minds in the AV industry, everyone can create their own adventure. The IC20 platform makes it easy and there is a definite feeling of community.
Here's the recap of Day 1, June 16.
Connecting with Exhibitors
The show has more than 500 exhibitors, making it a remarkable presence. While it isn't the same as the real deal, it is certainly an effective way for these exhibitors to share their products and network with people who are interested in what they have to offer. The beauty of the virtual show is its ease of use. The hardest part is registering!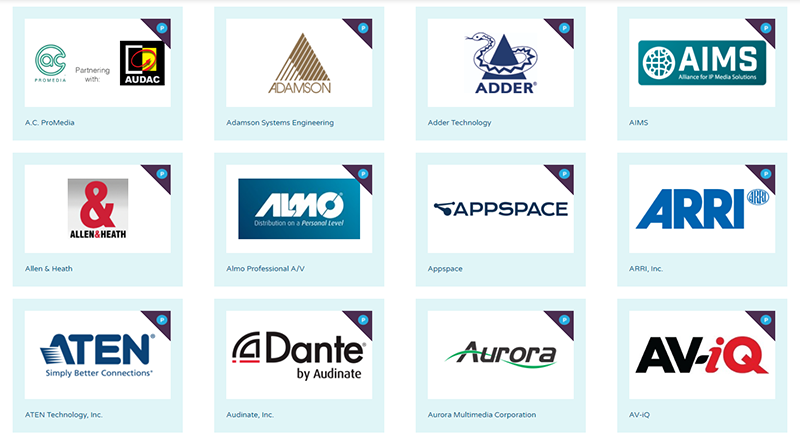 Each booth is easily accessible with a direct link and search options.
Special Events
What would an InfoComm show be like without a Happy Hour? Fortunately, there's one planned for Thursday and you can sign up here. Tuesday night was Trivia Night and AVenging All Stars was the top team, both in trivia and in commitment to their theme. And let's not forget the virtual 5K Run, a benefit for the AVIXA Foundation! Winners will be announced soon. You can see the list of all the special events here.
Content Program
While rotating through the world time zones, the learning began with sessions about AV Standards from the German AV professional community. In total 27 sessions took place with speakers in more than a dozen countries.

Sessions are easy to find and add to your calendar.
The session descriptions are great – especially the presenter photos – and they're easily joined once you've registered for the show. Adding them to your calendar is a breeze. You can either scroll down the list or pick your own topics for each day.
The content program today ranged from technical topics to business management and there was something for everyone. The quality of the sessions was top notch, and attendees remained engaged throughout. If you only had a little bit of time to spend on a topic you could check out a 15-minute session. The chats were well moderated and speakers were clearly knowledgeable.
P.S. You earn RUs for attending the live sessions, just like InfoComm!
Networking and Events
There's a really cool matchmaking service that goes along with the show. InfoComm Connected keeps track of who you want to connect with, what your schedule is, and lets you know when someone else is reaching out to connect with you. It's very well done, easy to use, and we highly recommend it!
Keynote
A Better Normal: Reducing Friction and Finding Our Way in a Hybrid World
Without question, one big highlight of the day was the Keynote. Okay, I confess – I am not a huge fan of keynotes. They're really hit or miss. They can be too narrow in focus to speak to a diverse audience, so self-indulgent that they're irrelevant, or so far out that I can't even relate.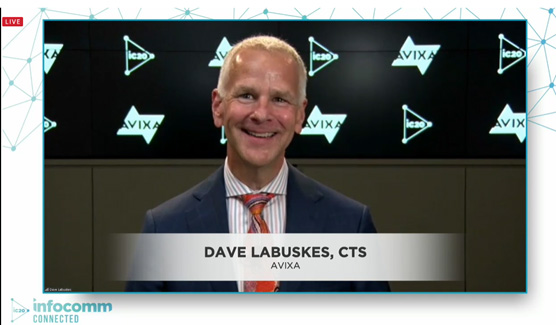 Dave Labuskes, CEO of AVIXA, addresses the AV community at IC Connected 2020.
Or, they can be inspiring, insightful, and authentic.
This keynote was honest, relevant, and hopeful. It was a perfect framing for the rest of InfoComm Connected 2020.
Dave Labuskes, AVIXA's CEO, opened the keynote with a somber tone, fitting of the circumstances we're currently in. He outlined the loss we're encountering on a daily basis; personally, professionally, and as a society. He reiterated AVIXA's commitment to actions that seek to help end systemic racism.
Citing the courageous way the AV industry has responded to the pandemic – competitors helping one another, manufacturers abandoning production of their products to help produce medical supplies ¬– he lauded the work of our community. But Labuskes said we still have work to do. We have to move forward from this time with renewed commitment and energy because every entity will need our help finding ways to engage our customers.
One of the important points Labuskes made during his opening was that we will have to abandon assumptions we've long held. This is the crux of what the future will demand, but he pointed to the AV industry's powers and our levers: Content, Technology, and Space. He left us with encouragement and asked that we take away from this InfoComm Connected new knowledge, new products, new relationships so that we can prepare for a positive future, a better normal to hand down to our children and grandchildren.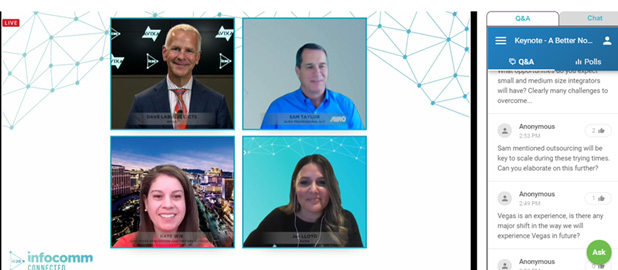 Clockwise from top left: Dave Labuskes, Sam Taylor, Joé Lloyd, and Kate Wik
Joined by Kate Wik, who works for the Las Vegas Convention and Visitors Authority, and Sam Taylor, who is with Almo Professional AV, and moderated by Joe' Lloyd, AVIXA's Senior Director of Communications, the leaders shared information about the state of the industry, the process of Las Vegas coming back to life – fitting since that's where the show was going to be held this year – and answered many questions from attentive and astute attendees. The hour flew by and everyone walked away with a sense of mission and hope.
This keynote was everything a keynote should be: engaging, honest, informative, relevant, fun, and completely real. I wish everyone would have tuned in to this one. Thankfully, you have another chance. It will make your day and inspire you, I promise. You can watch it here.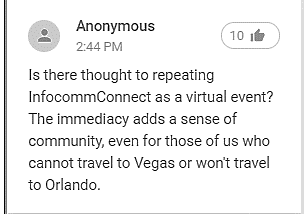 Chat box from an attendee who felt the connection.
There are two more days to enjoy InfoComm Connected 2020. There's truly something for everyone. Try not to miss it. You'll be happy you connected. As for AVIXA, we can't wait to connect with you!
TOPICS IN THIS ARTICLE