Reimagining Experience Centers for Hybrid Futures
Posted on Nov 23, 2020
A lot has been said about what's missing now that we rarely meet in person. But what might be underplayed is the simple idea of creating a real moment of actual focus in a scenario that takes us out of our daily routine.
Courtesy of Forcepoint
We used to love going to meetings outside the office, not only because there might be the additional promise of lunch, but also because of the revitalization in thinking that comes with untethering from our obligations and experiencing a change of scenery with other people who are focused on similar intentions.
We can still have that. And we can make it happen in a way that repurposes existing physical spaces and content assets. Also, it might be a chance to finally try all those hybrid and mixed reality experiences you've been hearing are the future of the workplace.
A grand repurposing of empty workspaces has already begun, with the realignment of traffic patterns and desk arrangements. But what about that really exquisite customer experience center? That might actually be the gateway to real change, both from a brand representation angle and even from an internal teams re-engagement level.
"There's a big investment in the physical location, whether it's a customer experience center or an innovation center, which right now in most cases is just dormant, but the needs of those spaces are still there," observes Michael Schneider, Director of Media Architecture with Gensler. Near term, the goal is to reactivate some of those spaces in a virtual format, providing access online, in a hybrid of reality and video presence, or with VR. But, Schneider adds, "it's also using this time as an opportunity to think about what the future is, and where there are some really cool opportunities for reimagining it."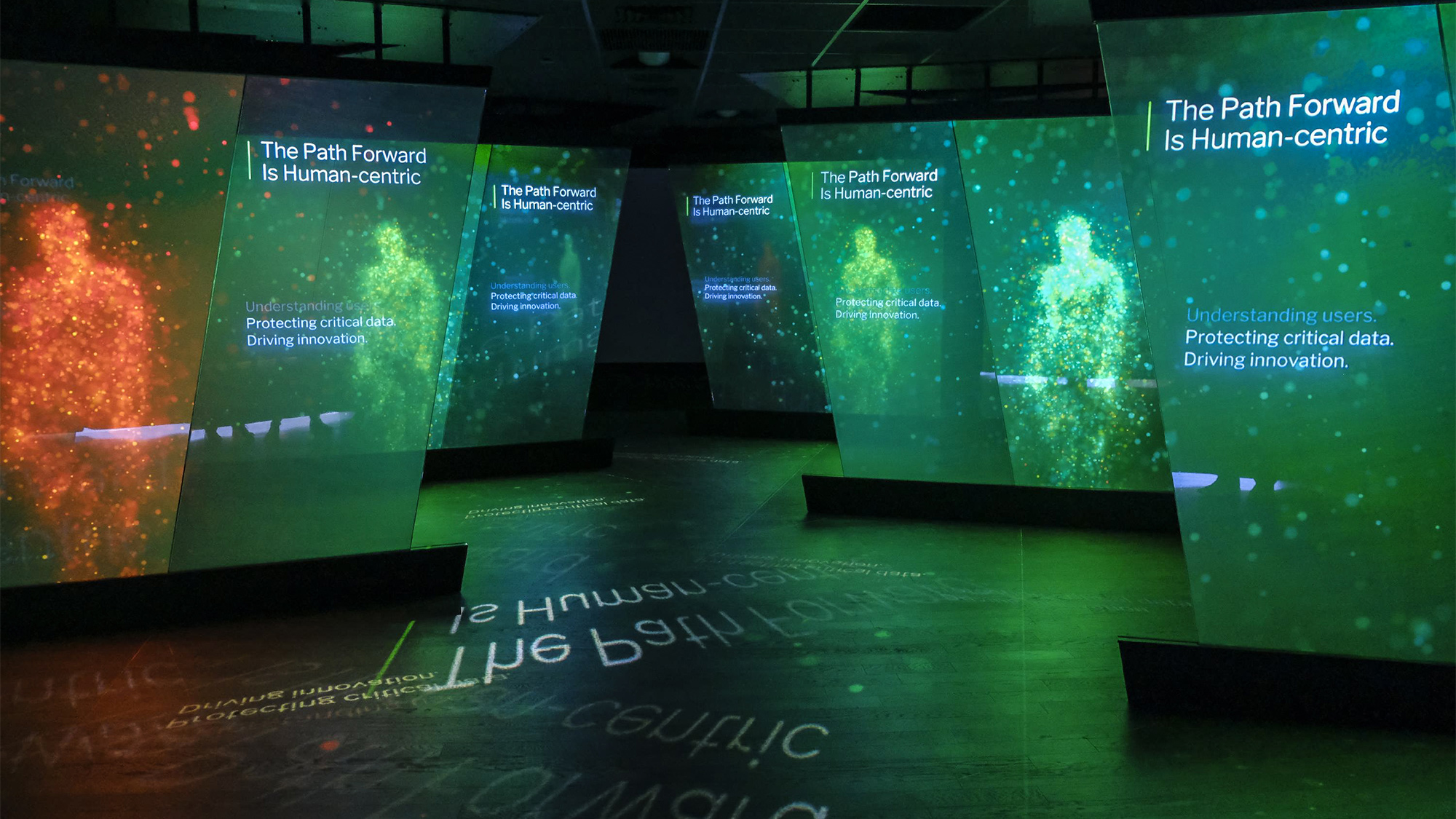 Courtesy of Forcepoint
As the customer experience center becomes a virtualized destination, there are a number of new multimedia and audiovisual components that can be added. Ideally these will enhance the intentions of the visitor journey that were built into the real-life space — creating that feeling of a focused escape from daily distractions, or what Gensler designers call a "world apart" experience. These spaces can transport us and deliver an experience center's vital purpose of brand messaging, a collaborative outpost, or simply that personalized feeling that a space was opened just to you, the special visitor for the day, through an enhanced level of sensory engagement that makes it possible to forget that your cats, dogs, kids or neighbors are getting up to their usual antics in the background.
To up the sensory input, some organizations are also sending special event packages to guests, containing snacks and tools for engagement, including VR goggles. From there, technologists can take over, adding gamification elements like multiplayer modes and guided journeys. And let's not forget options like bespoke video and chat platforms built into the digital experience so guests can skip the rough edges of standard online meeting solutions.
Technology can also assist in the most human aspects of customer experience centers. Hospitality is a big part of these meeting spaces, and as hybridized experiences continue to proliferate and more new digital tools for collaboration are deployed, there will be a necessity for facilitators who can connect guests with the best outcomes via those technologies.
The skill sets of these new facilitators will be a unique combination of "soft skills" and tech skills, where it becomes equally important to be able to "read a room" as it is to figure out why the screen is blank or the audio isn't working. Additionally, it will be vital that these facilitators can recreate the spontaneity that happens in physical spaces, connecting people in the happenstance ways that might happen on a coffee break.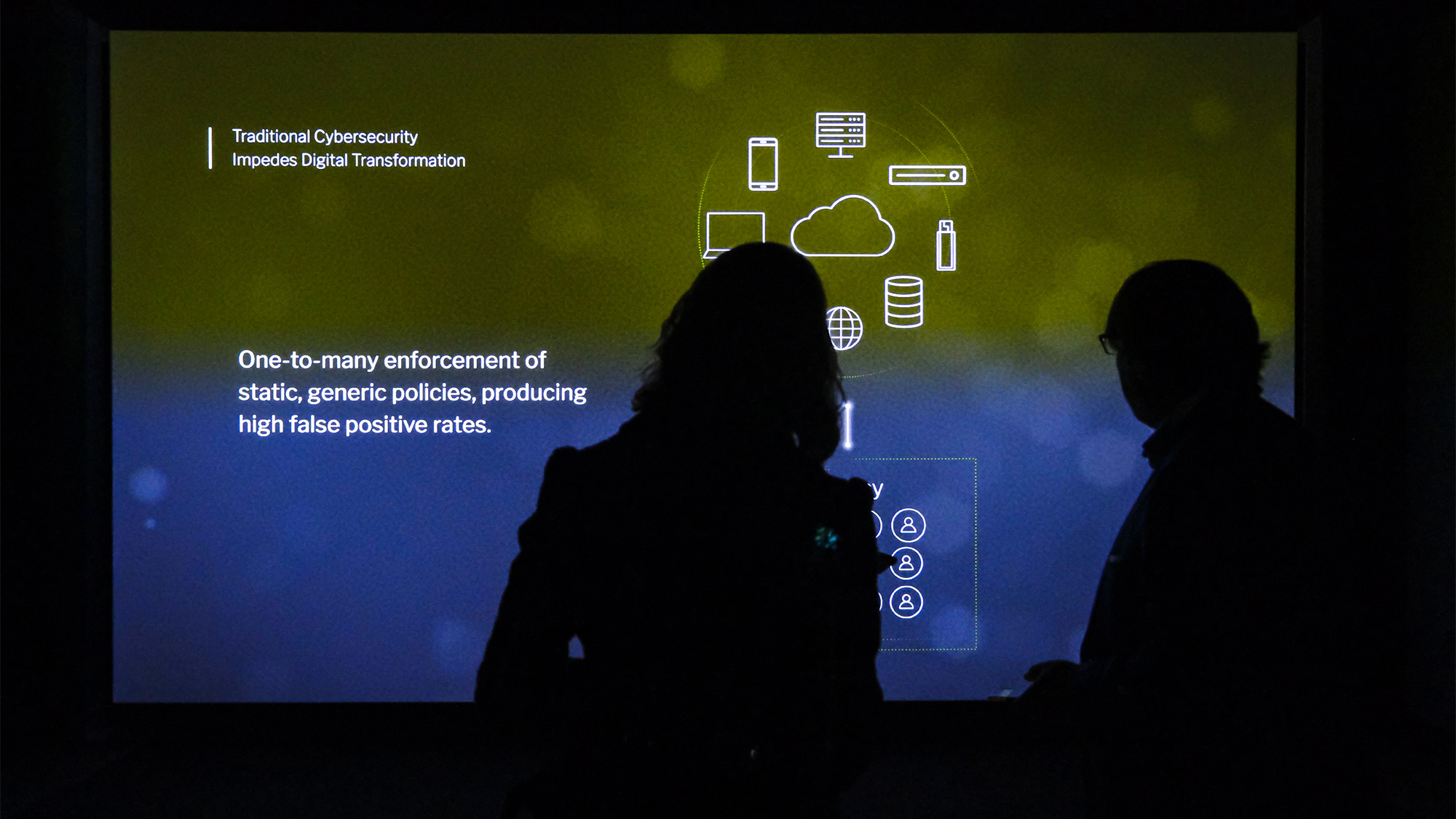 Courtesy of Forcepoint
Hybridized experience center experiences can also offer something new for the long-term. Meetings don't have to end, they can be the start of a new routine beyond the experience center, continuing the branding, engagement and collaborative process. This can happen through a new collective ritual that participants take part in daily, weekly, quarterly — any amount of times that the conversation can be continued remotely, via a reminder, or a piece of interactive technology that buzzes daily to prompt a thought or a memory.
Digital tools have a memory, too. Instead of wiping all those innovation center white boards clean after a meeting, the space can retain the knowledge shared, and when guests return, they feel as though they're coming back to a customized virtual space they helped to create.
This is a good time to reimagine how the experience center can exist as a hybrid space that is built collaboratively between hosts and guests and maintained as a virtual place to revisit throughout the year. The usefulness of remote accessibility will continue even after we begin to meet in person again. And the roles of technology facilitators who can create personal and productive connections in these multimedia facilities will be vital.
TOPICS IN THIS ARTICLE