Now is the Time to Start Shapeshifting Static Decor with Projection Mapping
Posted on Oct 25, 2018
When a brand-new location for one of the most profitable fine-dining chains in the U.S. opened its doors last month, TAO already had all the celebrity clout and star-chitecture cred necessary to draw attention to itself. Still, the establishment went one degree further to guarantee a little more social media notoriety and a little more flexibility in creating an instant refresh at any point in its hopefully long lifespan. It opted for the ultra-chic audiovisual offering currently making hashtag waves everywhere it appears: projection mapping.
Used in a more diminutive scale befitting a permanent indoor application, this particular application proves that projection mapping doesn't always have to be gigantic in scale or budget to make a place seem at least 80 percent cooler (Note: That is not a statistically valid percentage, rather it's based on my personal rating system of coolness). We're talking about some tailor-made, carefully cultivated animation of a static image or object that adds one more layer of visual engagement to a restaurant designed to captivate from the first instant.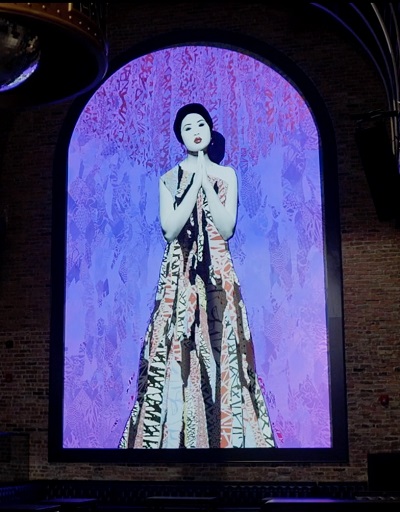 This combination of artistic finesse and technical acumen can be found at the new Chicago location of
TAO
which was designed by restaurant starchitects,
Rockwell Group
. The gigantic, 34,000-square-foot restaurant and nightclub was built into a windowless castle that has had many lives in the River North neighborhood. TAO likes windowless for all its locations, and that's certainly beneficial to the
3D projection mapping
created by the LAB at Rockwell to add dimension to this location's signature scene-setting 20-foot-tall Quan Yin statue.
That's just the first projection mapped object you'll find at TAO. Go further inside, up to the club level, and you'll find the projection mapping that got me thinking about this blog post. There on the wall is another multi-layered coolness enhancer for the space. In this case, the foundation for the video imagery is a 20-foot-tall mural by the street artist
Hush
. The work by itself is pretty stellar, but it's made even more mystical by projection mapping created by
Bravo Media
.
Seen in any variety of
visual rotations
, the piece is tasteful and gleeful at the same time, and according to David Title, a Partner with Bravo Media, Hush himself is pleased with the results. No wonder, as the content is thoughtfully programmed to incorporate the stylized textures and colors inherent to Hush's work, adding new patterns and enlivening the static bits with alternating backdrops and moving images that fill and refill the canvas according to the tempo and mood of the room.
"It can run in a passive mode and loop through content, but we also designed so it can be operated like a VJ, with real-time, live changes to the content, much like you would do with a live lighting designer," Title explains. "We built a large number of preset looks that can be mixed and matched. And the way the mapping is designed, you can also create content on the fly that fits into the map, and change the imagery on demand."
The mural implementation demonstrates how projection mapping possibilities might be realized for projects of all sizes, with a space entirely transformed in this case by the addition of single 12,000-lumen Epson projector. That was all it took to meet TAO's goal of adding excitement and more visual energy into the room, Title says, "and of course it's also a great thing for people to share on social media. It's already popping up around Instagram."
So with the right projector and irresistible content, it's possible to change any space with a pretty ideal "bang for your buck" ratio, both on the front end with hardware investment and on the back end with low-maintenance laser projections lasting 20,000 hours. That's a good thing, Title says, because demand is on the rise. "Everything from restaurants, hotels, offices, stores — everyone is looking for the next cool way to engage their visitors, and the bar is being raised. That's pushing people to explore things like projection mapping and interactive design. You can't just put up a video wall anymore and call it a day."
Even if you don't do nightclub work, you may be asked to create some projection mapping soon, Title observes. The pressure to create the impression of relevance is growing, even in the corporate sector. "When someone walks into a law office that claims to have a lot of interesting tech clients, and the display in lobby is innovative and dynamic and exciting, people think about that company differently. It makes that firm look really up to date."
So the next time you visit your corporate clients and see a static logo on their lobby wall, think about bringing the TAO experience to the office park. With a little finesse delivered by specialized AV intervention, the most static element of an architectural space or even a single-color company logo on the wall can become a magnet for social media attention.
TOPICS IN THIS ARTICLE