Market Update: Transportation Spending on Pro AV Expected to Recover by 2021
Posted on Sep 8, 2020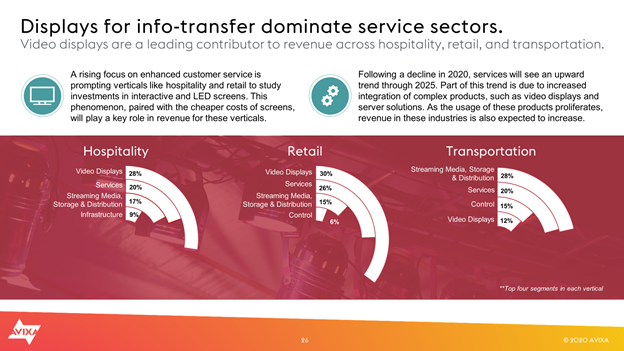 AVIXA's market research shows streaming media and services make up nearly half of transportation spending on pro AV.
The pandemic ground travel down to a minimum as restrictions were put in place, worldwide events were cancelled, and companies shifted to remote work and collaboration. Even as traffic going through major transportation hubs such as airports and train stations has decreased, the slowdown has not necessarily meant the halting of technology projects within them. Instead, long-term projects have continued and even expanded as health and safety guidelines add new requirements.
Transportation is One of the Few Markets Expected Return to Pre-COVID-19 Spending Levels Within One Year
The AVIXA® Industry Outlook and Trends Analysis (IOTA) shows transportation spending on pro AV solutions has fared better than other sectors during the pandemic fall-out. Global spending on pro AV solutions in transportation is expected to decline from $12.3B in 2019 to $11.7B in 2020, a drop of 5.4%. This compares with an average of 7.7% across all verticals. Further, spending in transportation hubs is expected to grow 10.5% in 2021, rising to $12.9B making this one of the few markets expected to return to pre-COVID-19 levels within one year.
What is driving this trend? The long-range planning that goes into transportation projects given their sheer scope is an important factor. While the pandemic was disruptive to business overall, many transportation projects were either underway or approved to start before the virus struck. This makes these projects more robust against cancellation, similar to projects in government or energy verticals. AV providers fortunate enough to have transportation in their project mix therefore saw a bit more stability in their revenues.
Digital Signage, Control Rooms, and Streaming Media Solutions Lead Transportation Investments
Moving forward, AVIXA's market intelligence predicts an acceleration and expansion of solution trends that had already existed in the market pre-COVID-19. Digital signage, already an area of increased investment in airports and other hubs, has taken on additional importance as a communication vehicle to convey safety guidelines and directives to travelers. Transportation hubs are planning to update their facilities to assure the health and safety of passengers. This centers on security, surveillance, and life safety solutions, which include cameras and other monitoring technology used in a more traditional security sense. Capabilities for monitoring passenger temperature or assist with symptom capture are a part of this as well.
As data proliferates, the control rooms throughout a travel facility used for security and safety must evolve to aggregate, analyze, and display the data as needed to serve the tasks at hand. Two-way interaction in signage makes it possible to capture some traveler information and data even as information is communicated out. Examples may be infrared scanning for temperature in monitoring stations, traffic flow, or display usage data.
Behind these solutions is an array of technologies that also reflect trends happening within the market. More and more investment is flowing into the back-end infrastructure used for distributing data and content around a facility. Streaming media, storage and distribution components represent 28% of the spending on AV products and services in the transportation market. Control systems, or the mechanisms for controlling lighting and environmental systems, are a related area adding another 15%. Each of these technologies is more IT in nature, demonstrating the broad base of skills that are required across projects in this, and many other, spaces. Network architecture and data security are chief among them, as is programming and customization.
Demand for Pro AV Services 20% of Transportation Market Spending
As more of the solutions shift away from hardware and more to software or cloud-based technology, integrators have also made the shift towards more programming and customization for transportation clients. Design and consultation are especially important in early stages of a project to ensure the technology is optimal for the space and then managed services and support contracts are needed to ensure up-time and upgrade pathing. These needs have combined to make services 20% of the overall AV solution spending for transportation. Data analytics and remote monitoring are next up as drivers of future growth in this area.
At AVIXA we are interested to see where the intersection of traveler needs, safety protocols, hub logistics, and technology advances takes us as we emerge from this challenging period.
Read Next: New Market Opportunities for Smart Displays
Digital signage thought leader John Wang shares his insight into the evolution of digital signage in response to the pandemic and how digital signage can be part of the solution to operating a business in the current environment.
TOPICS IN THIS ARTICLE