Market Intelligence in the AV Industry
Posted on Jul 24, 2018
How one company has leveraged AVIXA market intelligence to forge a path toward global success.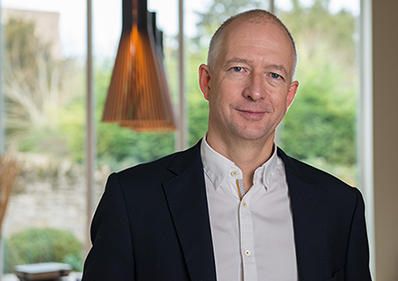 Jon Sidwick
Global Vice President — Maverick AV Solutions
When Jon Sidwick started at Maverick 20 years ago, the company was a small AV distributor operating mainly around its Basingstoke, Hampshire base. Over the past two decades, Sidwick has witnessed the company's steady growth — becoming one of the U.K.'s largest AV distributors, then encompassing IT, and, with his direct involvement, cementing its position as a successful international AV/IT distributor, doing business in Europe, the United States, and Asia-Pacific.
Sidwick, Global Vice President of Maverick and an AVIXA™ board member, frequently travels throughout Europe and beyond, facilitating teams in multiple locations to expand the company's global reach. Not only is it a fast-moving market that's constantly evolving, he says, it's a truly exciting time for the "wider vendor and technology landscape." Customers span all levels of audiovisual reseller and have grown in recent years to include the IT community — an additional level he describes as IT-led with significant AV expertise.
Despite its nonconformist ethos, the company is dedicated to utilizing industry-proven programs and resources; it has supported AVIXA education, training, and outreach since the firm's beginnings.
"I truly believe in being anarchic and open to change. We love doing things in weird and wonderful ways but underpinned with professionalism," says Sidwick. "AVIXA has always offered the latter to me. I feel it enables us to be more entrepreneurial but in a way that's anchored, where you know the people around you can deliver quality on the technical end."
As part of its quest for what Sidwick affectionately calls "world domination," Maverick relies heavily on market intelligence, notably AVIXA's AV Industry Outlook and Trends Analysis (IOTA) report, which provides global economic predictions and implications for the AV industry and includes market trends, sizing, and products and services revenue projections through 2022.
"The IOTA report really helps us understand new markets as we grow globally. It provides a strong view of the business from a geographical and product perspective to a level that enables us to analyze what's happening in a geographical region," says Sidwick. "It enables us to size markets and countries where we do business — and where we could expand, now and in the future."
The report was vital to the company's strategy to expand beyond its Europe base, and has proven useful in unexpected ways, including convincing external investors and shareholders, he says.
"We used it to plan taking the Maverick model to the U.S. market, specifically as a data source to present the plan, the opportunity, and validate the investment that we were making. It's been a reference point to enable people to make decisions on that involvement."
He sees immense value in the fact that it's an independent source of market research aimed squarely at the AV industry. "No other organization in our industry is truly independent, whereas AVIXA provides this unbiased platform for everything it produces. It absolutely benefits the industry," he says, adding that the report itself has value beyond merely informing upper management decisions.
"Aside from its value as a planning tool and to validate investment and keep people on task with the direction of their business, I've found that it also helps with working with your teams," he says. "If you can show the size of an opportunity to a team, it makes it a more powerful motivational and directional tool: Here are the figures to validate that market; this was why we're making the investment in you and why the opportunity you've got is strong in this particular space."
Sidwick is most energized when talking about working with teams and colleagues in this "people-based" business.
"The AV industry is big enough to be meaningful and small enough that it is still very friendly and accessible," he says. "Our work delivers instant value if it's done correctly, whether it's watching someone use an interactive whiteboard for the first time, seeing an incredible installation in a museum or in an airport, or watching people walk down the Las Vegas strip and experience the installations there for the first time. It turns people into kids: You can touch, feel, and impact the product we produce, and that's amazing to me."
The transformation of AV from a corporate luxury to a standard enterprise deployment solution is something else that fuels his enthusiasm. "The business of AV is dramatically changing as it moves into mainstream," he says. "The challenge that's going to deliver us as an industry is huge. It's a time of incredible opportunity, but we have to be able to adapt to our end users' requirements, and those things can change very quickly.
"Great decisions are made based on a mix of experience, intuition, and facts. In this incredibly exciting time of rapid change, having market information from AVIXA gives myself and the team the 'facts,' enabling us to make better, faster, and ultimately more successful decisions."
For more on the AV Industry Outlook and Trends Analysis report: https://www.avixa.org/insight/marketintel/IOTA
TOPICS IN THIS ARTICLE