Legacy Records Restaurant Elevates Dining With Carefully Curated Music and Acoustics
Posted on May 7, 2018
by Kirsten Nelson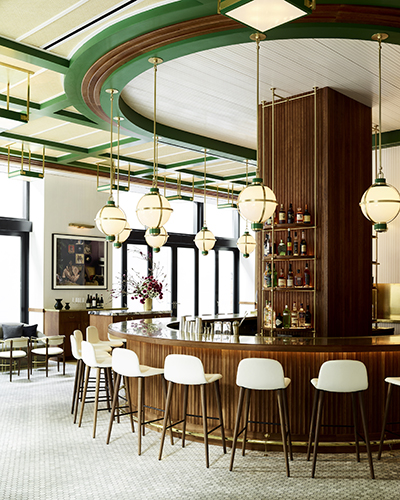 Photo Credit: Douglas Friedman
Fine dining really should have a sound, and that sound is the one created within Legacy Records. The meticulously designed new restaurant mingles precisely curated music and the luxury of proper acoustics to craft an atmosphere that feels comfortable and vibrant at the same time. Guests feel luxuriously enveloped and energized, connected to fellow diners and yet also able to enjoy their own conversations, which means they'll want to keep coming back.
Fittingly occupying a location formerly held by a recording studio of the same name, Legacy Records is establishing a new beachhead of exquisitely cool culture ahead of the massive wave of new openings soon to surround it in the sprawling Hudson Yards development on the far west side of Manhattan.
The restaurant is making the most of the blank slate. Perfectly poised to be a longstanding destination, demand for tables instantly exceeded capacity at Legacy Records when the restaurant opened its doors. But few in the cheerful crowds overflowing into the lobby and bar upstairs should feel surprised. This dining sensation is the third installment in an ongoing string of scene-altering restaurants produced by the Delicious Hospitality Group.
Music as much as food and beverage is considered essential to the flavor of Legacy Records' sibling dining destinations, Charlie Bird and Pasquale Jones, each of which have signature sounds of hip-hop and soul. Legacy Records is still establishing its atmosphere-setting playlist, which factors in time of day, crowd level, and type of food and drink service currently on offer. Like a good seasonal menu, the music will continue to evolve.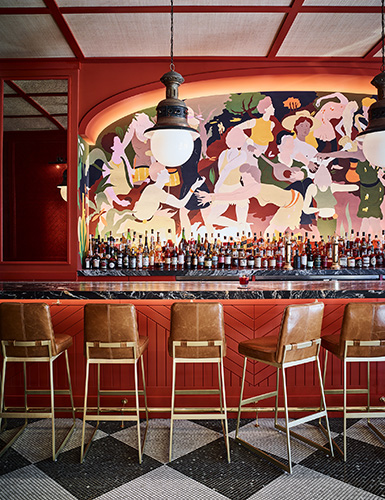 Photo Credit: Douglas Friedman
From the start, the sound of Legacy Records had to be distinctive, making a mark on a city block still very much in redevelopment. As a bonus, its particular location is the result of a very modern collaboration. Delicious Hospitality is an integral part of the lifestyle concept built into the chic new Henry Hall residential tower, which was developed by Imperial Companies to bring a boutique hotel feel to apartment living.
As part of a design by Ken Fulk, Legacy Records extends beyond its main floor bar and dining area into the adjacent double-height residential lobby and mezzanine bar area. In that opulently appointed space upstairs, the bar sprawls into a series of public and private rooms for drinking and dining.
Throughout the connected spaces, music and acoustics are constantly evolving considerations, emphasized Grant Reynolds, a partner with Delicious Hospitality. "Music is the thread that really is the one thing everybody is sharing at every single moment across the whole room," he said.
So, from the start of Delicious Hospitality's design process, music is talked about, both in terms of selection and the energy it contributes to the atmosphere. "The sound of the space is a detail that we think is really, really important," Reynolds said. "It can be really critical to how people experience a restaurant. The food and wine absolutely have to be good, but the thing that keeps people coming back is the energy of the space."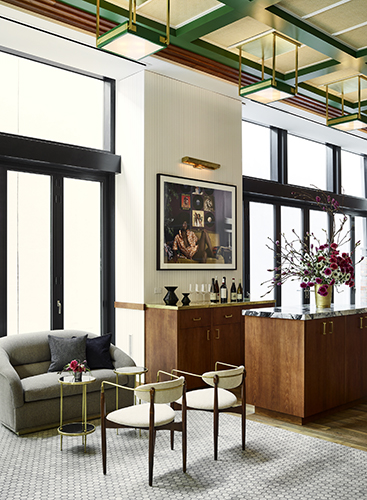 Photo Credit: Douglas Friedman
This attention to music is firmly connected to an understanding of the technology required to support it, he continued. "Quality of sound is equally important to the type of music."
Called in to execute that top-quality sound was Brooklyn-based OneButton, which provided a multi-zoned audio system that carries music throughout the multi-leveled space via Sonance in-ceiling speakers. Music can be selected and played in individual locations or across all rooms, and levels are adjusted to suit the mood of a space. For instance, the bar area, as the entrance to Legacy Records, is intentionally energized with higher-volume sound, whereas the dining area has subtly quieter music playback.
Ultimately, the goal is to provide atmosphere while allowing for intelligible conversation. That requires some science on OneButton's part. "What we've learned is that although the traditional choice was to use narrow bandwidth for restaurants, that actually increases the volume, because you end up competing more directly with human voice," explained Matt Emmi, Co-Founder of OneButton. "But if you expand that out into a fuller range of high frequencies and more pronounced low frequencies, you can lower the music volume, because then you're getting out of the way of the vocal range."
Contributing to the richer sound of the space was a serious investment in acoustics. Having already established a rule of true acoustical treatment in its other restaurants, Delicious Hospitality once again spent what Reynolds said "felt like hundreds of hours" on research and selection of materials for Legacy Records. The goal of such rigorous acoustic treatment, he elaborated, "not only dampens sound between floors but even more importantly controls the quality of the sound."
The study and practice of acoustic materials selection went pretty far and wide. Initially there was some pushback from those watching costs, but Legacy Records wouldn't back down. It had to have strategically placed high-quality acoustic foam panels behind wall treatments and across the ceiling. Even if, as was the case in one entirely teal-colored dining enclave, placing the acoustic material behind the ceiling covering would cause the color to be a shade lighter than that of adjoining walls. "It's a little bit of a design flaw, but an acoustic win," Reynolds said.
For a restaurant group to exhibit such acoustical understanding will likely elicit cheers from noise-sensitive diners everywhere. No wonder Legacy Records is already completely packed with cheerful patrons.
With the sound system performance and acoustics nailed down, now comes the fun part: music curation. That's where Charlie Bird's legendary bartender and Music Coordinator for all Delicious Hospitality locations, Charlie Reyes, comes in. He specializes in creating programming to match different times of day, meal service, and just general vibe shifts over time. Thanks to Charlie's curation, no matter the time of day, the music is as right as the enticingly designed lighting. It's always magic hour.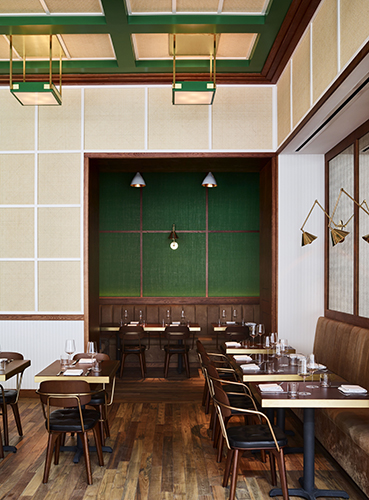 Photo Credit: Douglas Friedman
The thought process around music selection is analyzed on a per-track basis, Reynolds noted. Songs are moved around to different timeframes to match the tone of the desired experience, and some individual tunes may find themselves eliminated if they just don't work in the mix of restaurant atmosphere. "You can really feel if a song is off," Reynolds observed. "Sometimes it just happens to be maybe that song has too much bass or the vocals are a tone that makes you feel it in a different way. We're still tweaking that here every night."
Then, in a masterful way similar to how the audio engineers once adjusted loudness in the same location in the past, Legacy Records carefully accounts for noise floor. As loud spaces, restaurants need special care, Reynolds said. "It's important to relate to the volume that the restaurant is creating itself with the type of music that you're creating and also the volume. If you have a full room and the music isn't loud enough, the room can feel really flat. Where if the room is empty and the music is very loud, it can kill the whole dining experience."
With its thoughtful cultivation of the invisible enhancements to Legacy Records' meticulous design and impeccable food and beverage, Delicious Hospitality delivers on that magic element of experience. Just as the group has done with its neighborhood-redefining Charlie Bird and Pasquale Jones, it's paying attention to the sonic statement Legacy Records is making. When it resonates, a restaurant becomes a fixture within locales that are about to see massive growth, as will be the case with the Hudson Yards development. Set up good sound, and a restaurant will be able to simultaneously evolve with cultural shifts and maintain a foundation of premium hospitality. Creating a place that always feels like you're coming back to the best memory and also seeing ahead to the next big thing.
TOPICS IN THIS ARTICLE