It's a BrAVe New World
Posted on Apr 18, 2019
This story first appeared in Xperience, the official publication of AVIXA. For more articles, take a look inside.

By Pete Putman, CTS
If you monitor developments in mainstream electronics, you've surely noticed how short the technology pipeline has become. By "pipeline," we mean the time between when a new technology debuts as little more than a prototype to when it's available as a mass-market product.
What's even more intriguing is how an increasing number of gadgets originally intended for consumers have migrated into the commercial audiovisual world. Up until the turn of the century, the flow of new product development was predictable. Technological innovation always started in the broadcast and AV worlds with successful products like camcorders, computers, and flat-screen televisions first seeing light as expensive professional gear.
That's all changed. Now, the "tail wags the dog," as analysts like to say. Much of the technology we rely on every day was first developed for consumers. Think of huddle rooms where participants in a meeting collaborate and share ideas wirelessly, using their tablets and smartphones. Consider the increasing number of schools and universities that are streaming classes and course content online using YouTube channels. Closer to home, how about that 65-inch Ultra HDTV with high dynamic range you just bought to watch Netflix?
The fact is, the dividing lines between "professional" and "consumer" electronics are largely blurred, and in many cases, have disappeared. One good example is the so-called Internet of Things (IoT) category of devices, where any number of products (appliances, doorbell cameras, HVAC systems, refrigerators, and TVs) can communicate with each other over a home or office wireless network. These devices can configure themselves and respond to commands from a voice recognition system ― no keypads to push, no codes to enter, and no remotes to fiddle with.
Here are a few of the technology trends that will redefine audiovisual experiences in the years ahead. Catch them at InfoComm 2019.
Even Higher Resolution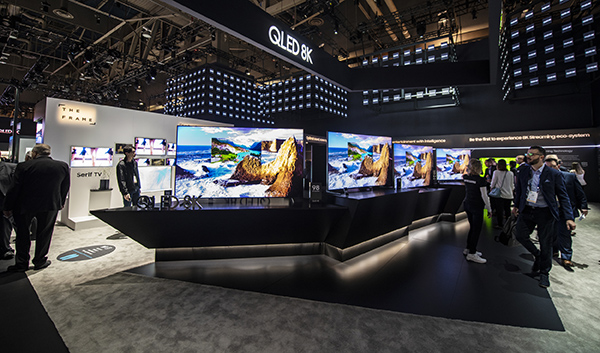 Let's start with 8K video and displays. "8K?!" you ask. To the average person, there seems to be an ongoing and illogical race by manufacturers to get to the next higher level of resolution. Why, it was just six years ago that the first 4K/Ultra HD displays appeared on the market, and now we're already talking about 8K. Are we being premature? Is 8K for real?
Yes, and no. The display panels used in large monitors and televisions increasingly come from manufacturing lines in China, and economies of scale have recently forced down the prices of finished 4K display panels to the point where there is little profit in making them. That's what's behind the move to 8K panels, which are being constructed on even larger fabrication lines. And it's not just about more pixels on the screen: The displays are getting larger, with 65-inch, 75-inch, 85-inch, and even 98-inch products in the pipeline.
For several years, corporate, education, and other users of display technology have been gravitating toward large LCD monitors and TVs for presentation and other purposes. And the move to 8K may hasten that trend once prices become competitive. Numerous markets are interested in 8K, including command and control, process control, virtual reality and simulation, medical imaging, mapping and geography, and immersive entertainment. You'll see more than a few 8K products at InfoComm 2019.
Next-Generation Projection
Lamps are going out all over the world — the lamps inside projectors, that is. Projector makers are slowly saying goodbye to traditional, short-arc bulbs in favor of solid-state lighting that uses light-emitting diodes up to about 1,000 lumens and laser-phosphor light engines for higher brightness levels.
Although this trend has been in the works for a while, we're just starting to see prices come down. The next generation of projectors brings obvious advantages: no lamp changes and a longer product lifespan. But it also represents a new, innovative lease on life for a category of AV solution that has been under pressure from ever-larger flat-panel displays.
Large, economical LCD screens are attractive for small to medium-sized meeting rooms and classrooms, but at screen sizes above 70 inches, projection still represents a more economical way to create large images, especially now that it can be achieved with no lamps to replace or filters to clean. And more projectors are adding image warping and mapping software for projection on non-linear surfaces, as well as concave and convex screens, an AV experience LCD monitors struggle to create (for now).
The Humble LED and Flexible Screens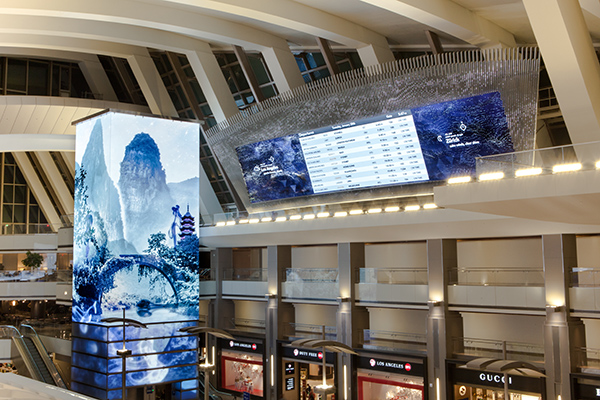 Who could have seen this coming? The once-humble light-emitting diode (LED) is poised to become the dominant display technology. You see them everywhere nowadays as LED walls and displays have moved from Times Square and stadiums to university lecture halls, student centers, corporate lobbies, shopping malls, airports and train stations, bank lobbies, and even background sets for TV news broadcasts.
What's made all this possible is a class of fine-pitch "mini" LEDs that can produce images with extreme detail, even when viewed at short distances. LED walls (made up of smaller individual tiles) can also produce very bright images with high dynamic range and ultra-saturated colors. Enough manufacturers are selling mini LED tiles now that pricing is becoming very competitive.
The modular nature of LEDs has great appeal for digital signage: They are easy to transport, can be stacked in any configuration, and some are even being built into curved and hemispheric designs. The rental and staging market has taken particular notice of LED displays, with the result that most musical acts and many touring Broadway shows now use LED walls instead of projectors for image magnification and virtual sets and backdrops.
There is a next step for LED technology and it's called "micro LED," consisting of millions of super-tiny red, green, and blue chips that will eventually be used for televisions, computer screens, tablets, and smartphones. In January, one manufacturer demonstrated a micro LED near-to-eye display with Full HD resolution that measured just .57 inches, while another brand showcased a complete 75-inch micro LED 8K TV.
What's more, advances in display-panel manufacturing have made it possible to turn out displays in just about any size you'd want. Super-wide, curved LCD monitors are favored by gamers, while tall, skinny LCD and organic light-emitting diode (OLED) displays appeal to retailers. It's now possible to make transparent (see-through) and reflective (mirror) displays for unusual applications.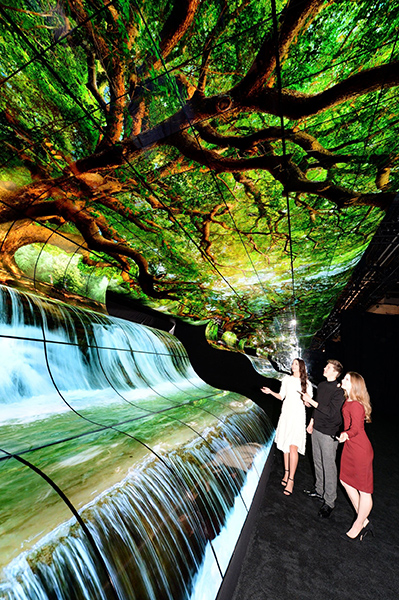 And after much rumor and development, flexible OLED displays are now being manufactured. These can be warped, curved, wrapped around poles, and even folded to fit in your pocket. At least two prototypes for foldable smartphones have been shown publicly and should be on the market by the end of this year, along with a foldable tablet. Look for at least one manufacturer to demonstrate curved display technology for digital signage at InfoComm.
Wireless Connectivity
To connect everything, a new class of wireless devices will be coming to market this year, using near-field connectivity and millimeter radio wave frequencies. What that means is a wide range of connections ― display, audio, control, even power ― can be made simply by placing a compact transmitter and receiver close to each other, typically within about 10 millimeters.
With one technology that operates in the 60 GHz radio band, you can instantly connect a tablet to a television simply by placing the tablet in a dock. You can also transfer large data files within seconds over a wireless USB connection. 8K video content has been connected wirelessly to a 75-inch TV simply by locking the back of the TV into a supporting bracket and stand. A similar approach allows individual LED wall tiles to be removed and replaced quickly, using magnets to dock and hold the tile in place.
Other developments in wireless connectivity have made the "cordless" classroom possible. The latest Wi-Fi technology, known as channel-bonding, enables anyone to share screens and present high frame rate video from their mobile devices, all through a central wireless hub that connects to an external TV or display. These hubs were once expensive products, but their costs have come way down in the past three years.
AI and Machine Learning
Artificial intelligence has arrived. As you read earlier, IoT represents a new way to connect gadgets and devices to a network and to each other. Most pieces of AV hardware now support some type of network connection (usually wired), while smaller devices like smartphones rely on wireless connectivity. Both types can connect easily to a network, which makes them discoverable to anyone (and any other device) on that network. That's the first piece of the puzzle.
Current network-based control systems can identify a connected device – say, a light dimmer – load the appropriate drivers, and create an icon on a touchscreen so you can raise and lower the lights. That touchscreen could be a dedicated display in the room, or it could be your tablet or smartphone. The command strings and operation are all in the background, but your operation is intuitive. Swipe up to raise light levels and swipe down to lower them.
Where things get interesting is in the control system's ability to remember where you set your light levels a few days ago and offer those settings as a suggestion. And how, exactly would the AV system communicate with you? By using one of the many voice recognition systems already available to consumers ― "Hey Google, Alexa, Siri, or Bixby." All these speech recognition interfaces added a new wrinkle this year: You can ask any of them to recall choices you made previously, from music you streamed for lunch to TV channels you watched the night before or during the past weekend.
This form of artificial intelligence adds a key component, and that's machine learning –the second piece of the puzzle. As you execute a series of voice or physical commands, they are stored in memory as preferences. You could walk into a meeting room and turn on selected pieces of equipment, lower the lights, and activate a videoconferencing link. All of those commands together become a "macro" command that can go by any name you want. The next time you enter the room, you simply tell the voice assistant to use "My Room" settings, and it's done.
Sound far-fetched? Not at all. One 2019 premium LCD TV lets you control a robot vacuum, monitor your washer and dryer, check your front door camera, surf the internet, raise or lower your thermostat, operate an air purifier, and order take-out. Another connected TV suggests music you might like based on previous playlists or TV programs similar to those you watched recently.
AI and machine learning have also shown up in futuristic automobiles. One car features a camera watching your face to see if you were driving distracted or dozing off at the wheel. Yet another demonstration of facial recognition shows what emotions you are feeling, coupled with sensors to monitor your body temperature, pulse rate, and respiratory rate. The car's AI voice can then inquire about your well-being or alert you that you were about to drive off the road.
Sounds That's All Around
One of the latest developments in audio playback is spatial sound (a.k.a. 3D sound), a technique that uses multiple speakers and some clever phasing and positioning to make it sound like dialogue, music, and effects are near you — just above, behind, or zipping by. Spatial sound is the latest step in the evolution of surround sound, and perhaps the last until transducers are actually implanted in our heads.
There are several flavors of spatial sound. The best known is Dolby's Atmos system, but Japanese broadcaster NHK has also shown a 22.2-channel spatial sound system to go with its 8K Hi-Vision television broadcasts. Microsoft includes Windows Sonic with the Windows 10 operating system and it can work with both built-in speakers and headphones. In January, Sony announced its 360 Reality Audio system, developed with Fraunhofer IIS and based on the MPEG-H 3D Audio specification. (Variations of the technique are used to project audio in cars: Even though the speakers are mounted in a headrest, the sound seems to be coming from the dashboard and windshield.)
Where might you use spatial sound? The most obvious application is virtual reality, or a virtual environment you create for viewing through specialized eyewear or on large, immersive displays. MPEG-H audio can be used for video, movie, and music tracks, and ostensibly for a more immersive version of videoconferencing when combined with panoramic, high-resolution video.
AV Over IT Networks
One over-arching trend is the move away from traditional AV signal switching and distribution to network-centric signal management. Sending AV over IT networks is still relatively new but expect to see many solution providers showing ways to capitalize on economical, ubiquitous network infrastructures.
Prices for 10 Gb network switches continue to fall, and several options required for moving AV applications over IT networks (support for jumbo frames and IGMP snooping, to get a little techy) are now standard features. We should even see few 10 Gb network switches with a combination of Cat-6, SFP optical, and HDMI ports at InfoComm. The idea of a direct HDMI connection into a switch is clever, as it eliminates the need for an external codec (an encoder/decoder) and some cabling.
You still need a codec at the network switch, and it will be interesting to see which formats companies adopt: low-latency JPEG-based versions, and/or higher-latency, high-efficiency MPEG (H.264 and H.265) iterations. Blue River NT is the underlying codec for the popular SDVoE system. You'll also hear about something called VVC (Versatile Video Codec), the next step forward from H.265 and projected to be finished next year. Developers say VVC will help with emerging AV applications, such as 360-degree, omnidirectional immersive multimedia and high-dynamic-range (HDR) video.
Looking Ahead
These are just some of the emerging technologies and trends you'll hear about in June. The question now is, how quickly will AV integrators, experience designers, and customers across all industries adopt them? We're more likely to see the rapid adoption of advanced display technologies, for instance, than AI-based control systems, primarily because of security and privacy issues with the latter. But make no mistake, all these technologies will find their way into future solutions.
Remember: The tail still wags the dog.
Join Pete Putman and other technologists at Orlando's Orange County Convention Center for Emerging Trends Day, June 11, the "Super" Tuesday before the InfoComm show begins.
TOPICS IN THIS ARTICLE