IP-Based Broadcast Video Production Using Robotic Cameras
Posted on Feb 18, 2021
In their own words, PTZOptics' Director of Marketing Paul Richards and Director of Channel Development William Golde describe how Miami-based Broadcast Beat television studio is using their robotic PTZ cameras in IP-based broadcast video production.
Director of Marketing Paul Richards began his career in pro AV sales before starting PTZOptics and sister company HuddleCamHD, in 2014. Also known as the "chief streaming officer," Richards hosts educational livestreams, bringing the companies into the broadcast space.
Director of Channel Development William Golde's background is in film production and sales, which led him to channel sales in AV. He manages channel sales for PTZOptics and HuddleCamHD
The Brief
Paul Richards: In 2020, Broadcast Beat, a well-known live-streaming and production company in Miami, Florida, wanted to update their studios. They wanted to get rid of a lot of things that were holding them back from a production standpoint, and they wanted to incorporate pan-tilt-zoom cameras. Up to that point, they had been using large over-the-shoulder cameras, each of which required a tripod, took up a lot of space, and needed a dedicated camera operator. We had worked with the owner, Paul Salazar, on providing segments for the NAB show in Las Vegas, where they first started using PTZ cameras to host the NAB show live. It was such a great experience, they inquired about using them at their studio in Miami. The idea was to have PTZ cameras inside each Autoscript teleprompter to provide greater automation.
In this setup, everything can be operated from the control room, using a NewTek TriCaster video production switcher. The talent in the studio reads the words on the teleprompter and above it, they see a screen that lets them see what's going live. It's a cool-looking television studio; you literally just see three teleprompters. In the control room, the teleprompter controller also has control of the PTZ cameras, and these have the ability to remotely zoom in and out, pan, and tilt, with five to 10 different camera presets for different shots. With three cameras with 10 presets each, that gives about 30 different angles to choose from, which is a great production value. Because high-quality production is the business Broadcast Beat is in, this is a way for them to upgrade their video production capabilities and do more with fewer people, thus lowering their overhead costs.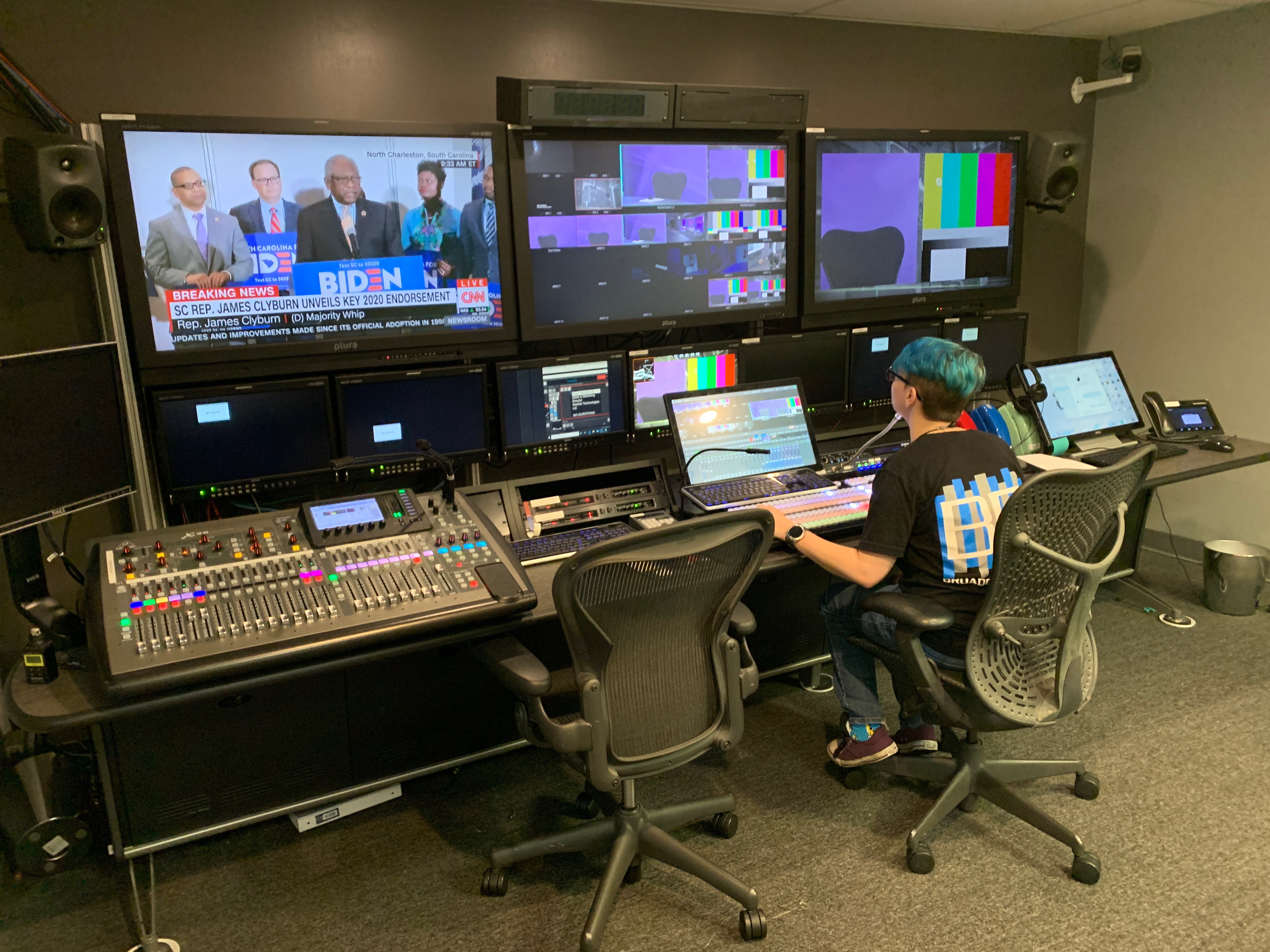 The Goal
PR: Reducing operating costs and increasing production quality and profitability were the main goals. That could be achieved by not needing camera operators. You can use a joystick, which we sell, but it's even better if the controls are built into the production switch they're using. The production director is already employed and calling the shots; their job is to decide which camera shot goes where, so they need to be in control of the shots. Controlling the cameras directly from the production switch revolutionizes control of the cameras and allows the producer to do two jobs at once and to do their job better: you just click the image and the camera just goes there. For this kind of application, that experience is better than a hardware joystick. Broadcast Beat is a small studio; you have 30 shots and the production director just switches between shots. There are other companies that are doing this, but our cameras are a lot less expensive. For Broadcast Beat to say ours is good enough quality for television and we can get three of them for the price of one of many of the others on the market, was part of achieving the goal.
The Work
PR: In 2020, the Autoscript teleprompters were made wider, so the space inside the teleprompter is wider, enabling them to accommodate the PTZ cameras. Prior to this, most teleprompters weren't wide enough to use PTZ cameras properly. Our cameras also have NDI capabilities, which is an IP video production protocol developed by NewTek. This is brand new technology in PTZ cameras. This IP distribution and control with PoE capabilities further reduces costs and increases what's possible.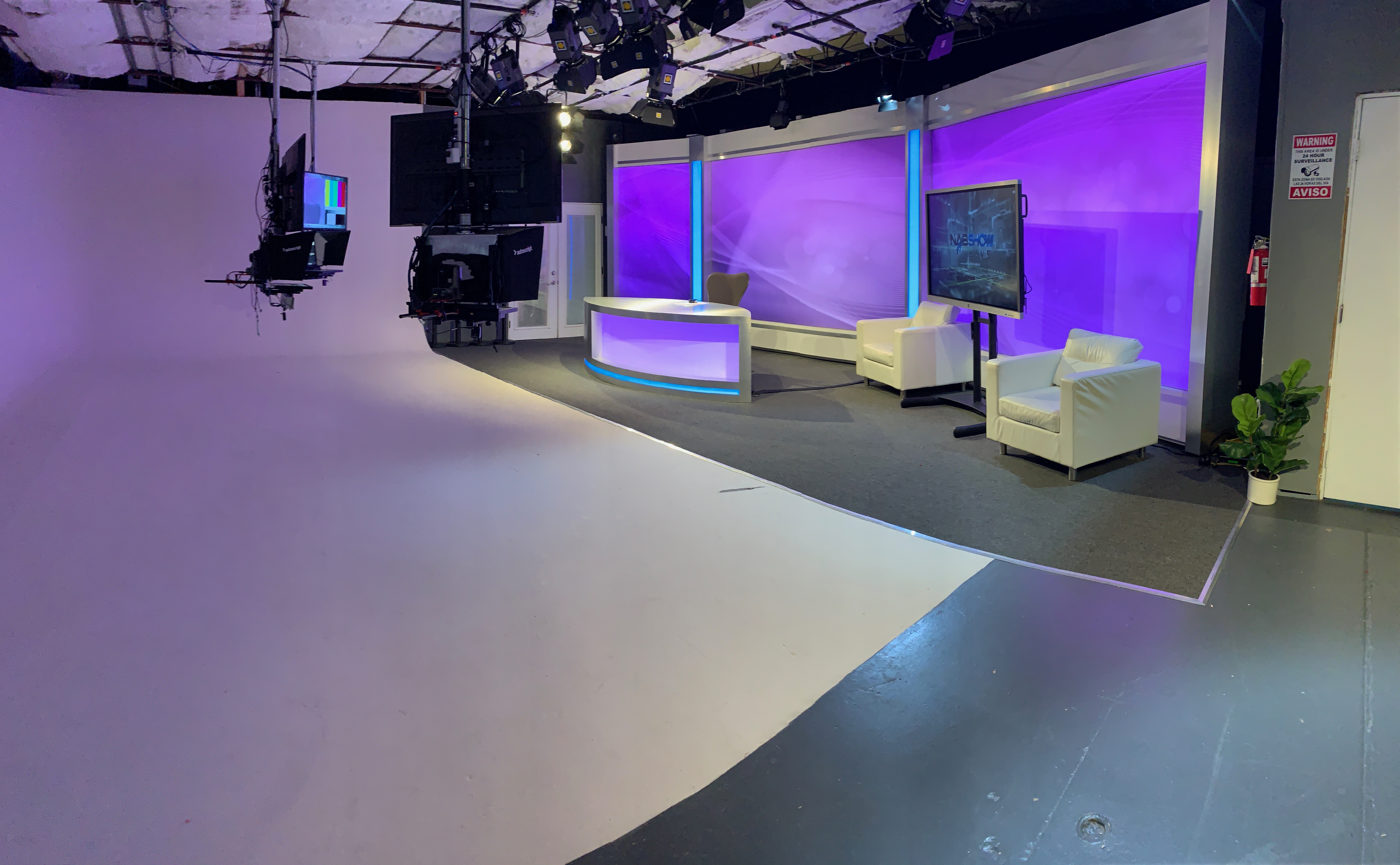 These PTZ cameras use a single Ethernet cable to power, control, and send NDI video. So technology integrators no longer need to run SDI cabling or use SDI capture hardware; everything can run over the existing network. Broadcast Beat always wants to use the latest and greatest production capabilities. With NDI now the standard for IP video production quality and workflow, they wanted to have all NDI cameras in their studio. The other big thing is that we worked with NewTek to build the pan-tilt-zoom controls directly into the NewTek TriCaster. We are able to have an OpenAPI and off-camera open-source camera control protocols, and our goal is to integrate with other companies' technologies wherever it benefits our end users.
William Golde: We went at the marketplace from a stance of taking this idea of open-source technology and allowing our camera and systems to be compatible with a whole range of technology in the industry. The industry from when we started was end-to-end, so we approached it with: "Hey, we're going to work with everyone." Our ability to integrate and adapt within a streamlined workflow is what stands out.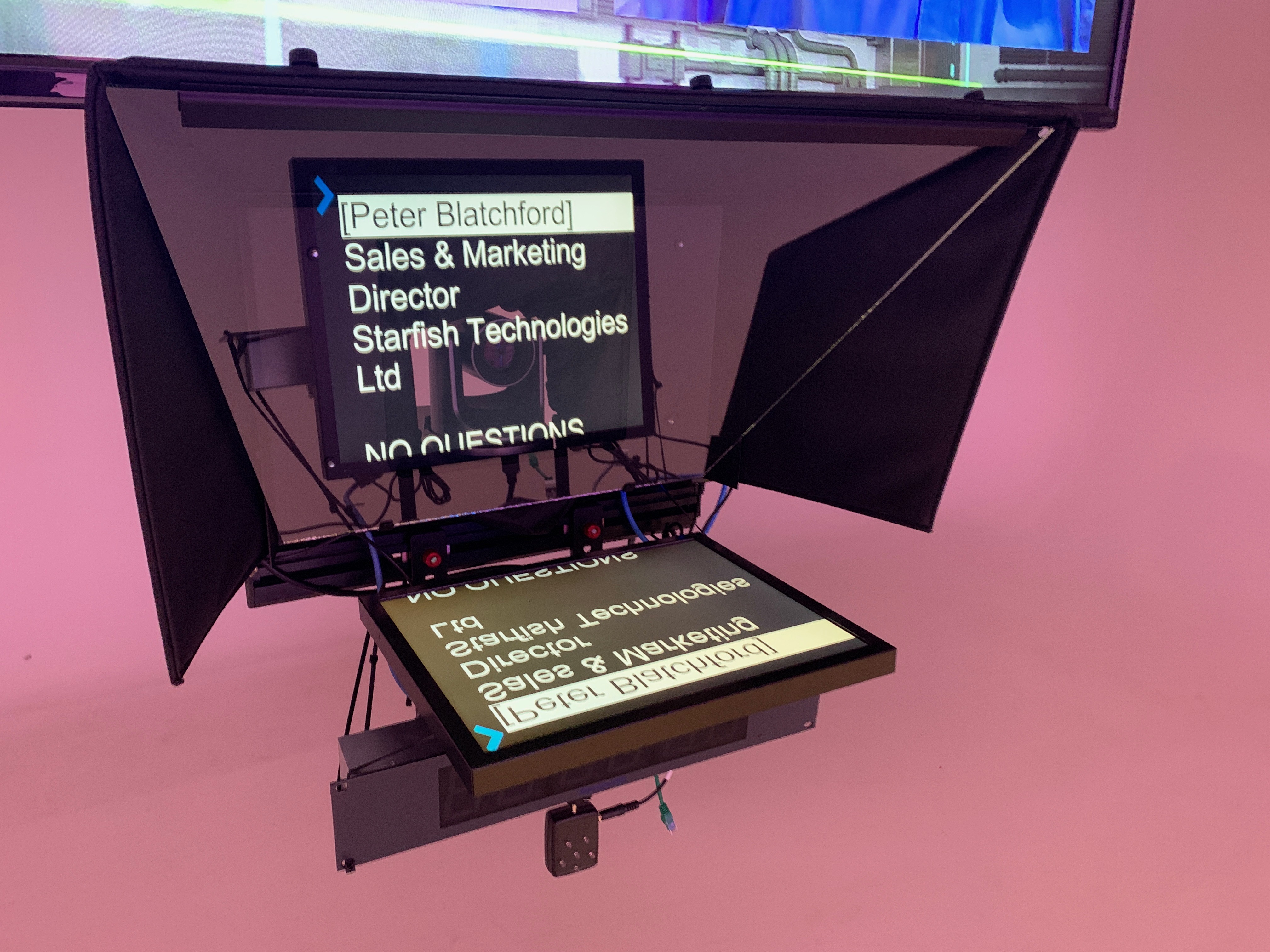 The Challenge
WG: One of the main challenges we needed to overcome was IP infrastructure. With any system like this and dealing with broadcast professionals, trying to get those people to conceptualize removing AV equipment and virtualize this onto their network is a challenge. We joke with them that "It's OK to remove the video cable; it will work." The biggest challenge from a sales standpoint is getting people to shift their mindset and understand the workflow. We show our customers they can cut costs, simplify infrastructure, manage workflows, and produce SMPTE broadcast quality with a single person managing the entire production from one hub. That gear shift can be a challenge, but that's the ultimate success of the production.
PR: With an IP production protocol, you're dealing with networks. We had to explain fundamental IP challenges to Broadcast Beat. For example, every camera needs an IP address. They experienced some growing pains, initially wanting to use every bell and whistle and every advanced networking capability possible. We supplied the cameras and we support the cameras, but they needed to upgrade their networking hardware in order to achieve additional capabilities.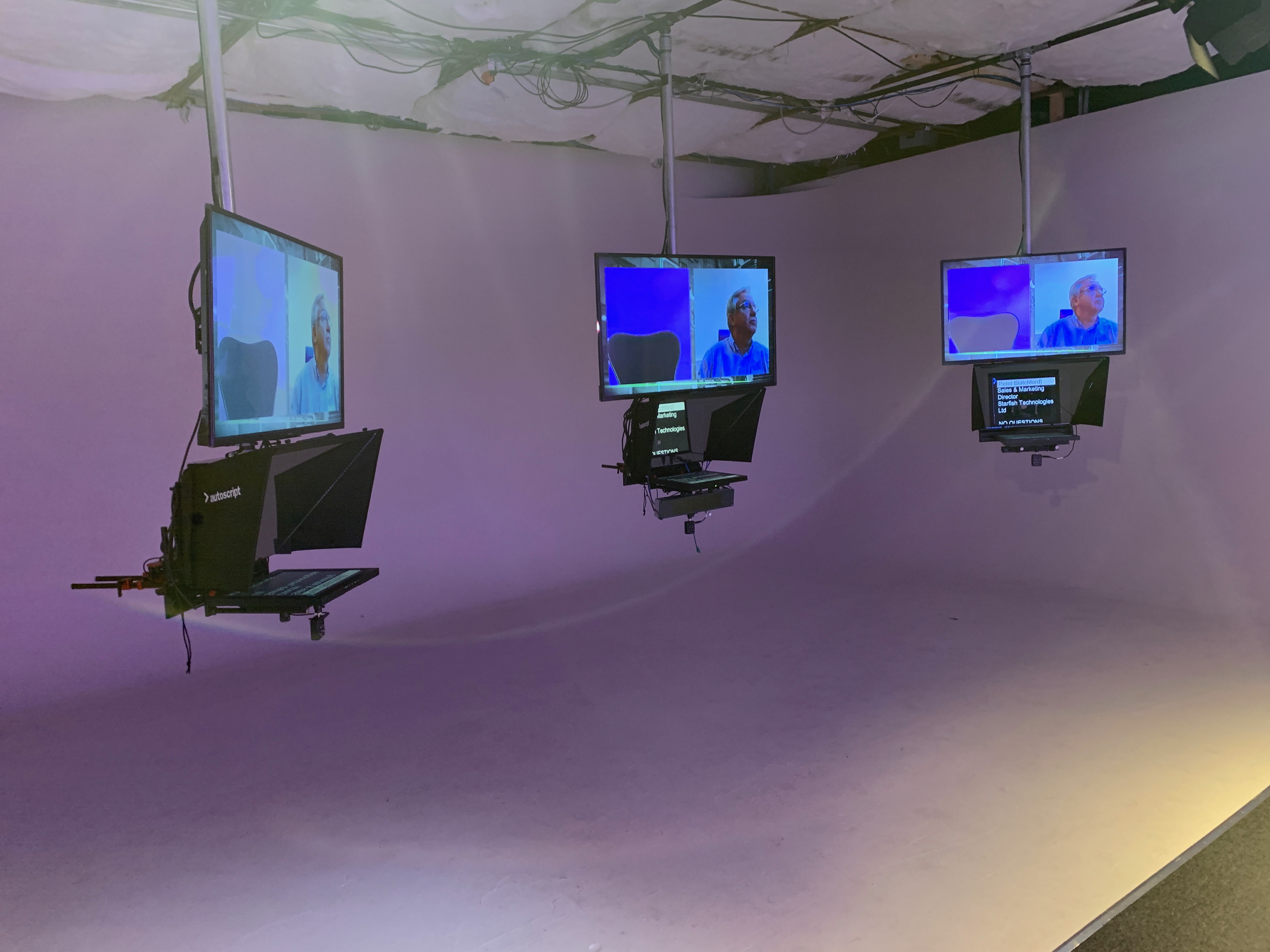 The other challenge was on the video quality end of things. We were replacing $10K cameras with $2K cameras. We had to tweak and tune it to really get it right. For example, they have really nice video production lighting and that's set to a specific color temperature to very nicely light the talent on stage. But if you don't match the camera's temperature and white balance to the temperature of the lights, you can start getting funny skin tones. For TV and video production lights, every single light needs to be adjusted to the correct color temperature. The PTZOptics camera at that time had new firmware, with a white balancing feature to match the PTZOptics white balance temperature to the lights. That was revolutionary. Another feature they really wanted was called motion sync, which at that time was beta (now it's available freely). At the time, most PTZ cameras would pan and tilt and then they would zoom. That gave a bit of a robotic feel to the camera movements. We would tell our customers when you want to move camera B, do it off-camera, and then cut to the camera once it's been moved, so the viewer never sees the camera moving. Broadcast Beat wanted to have a more human feel; they wanted to show a more subtle camera movement. To achieve motion sync, we needed to triangulate movement between cameras A and B, so the pan, tilt, and zoom motions all happen at once. We were in the process of working on that, as we knew that customers wanted it. That was innovative but challenging. Ultimately, we were able to deliver on what Broadcast Beat wanted, and it's now available to all our customers.
The Successes
PR: Putting a PTZ camera in a teleprompter is a great idea. A lot of people are scared to get on camera, and we understand that the talent should feel confident on camera. Providing them with the teleprompter and giving them the script makes the talent look better. The PTZ camera allows the technical director to do their job more efficiently. The simple act of putting the camera into the teleprompter creates a premium experience.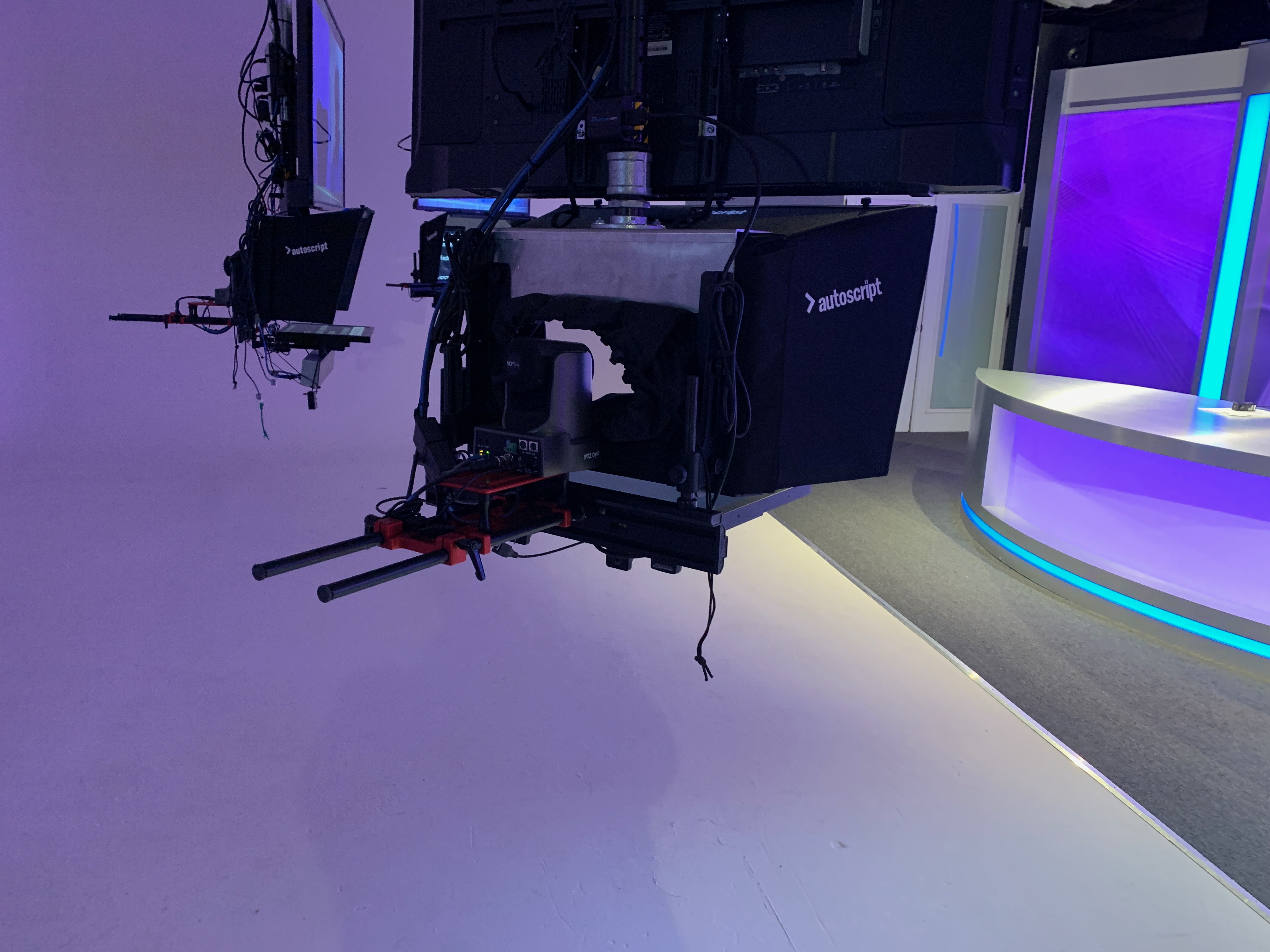 We've increased Broadcast Beat's profitability. Employing three camera operators isn't cheap. We've reduced their costs. How much we've increased the video production quality is in the eye of the beholder. Video production is their business. This really is our leading case study in the broadcast industry. Our slogan for a long time was "broadcast quality made affordable." We did well in education, houses of worship, and in corporate environments, however, we weren't known for television. This was one of the first times that TV studios started to realize these cameras are good enough now.
WG: I tell people all the time that our cameras can accomplish what used to have to fit in a TV truck and cost hundreds of thousands of dollars. You can now do it with $5K and a decent internet connection.
The measure of success is client satisfaction. At the end of this project, Broadcast Beat was extremely happy with the install and its ability to meet their need. Something as simple as putting a PTZ camera in a teleprompter should be easy, but it really wasn't. Designing and developing the product from that point onward and to get Broadcast Beat to feel like they now have a useful studio, especially in these times, was critical. For this, our measure of the success was the adaptation of the technology for the use of the space. Ten years ago, this would have been unattainable.