Growth in Performance Solutions
Posted on Oct 30, 2018
Ask people within the commercial AV industry what they think the hot areas of growth are, and the chances are good they will say one of two things: conferencing and collaboration technology, or digital signage. This is certainly with good reason. Walk around the halls of InfoComm or Integrated Systems Europe (ISE) and those two categories will dominate the show floor with the latest offerings from vendors.
But there is another segment that might not pop up in answer to that question…one that might perhaps be overlooked as "old school" these days: solutions geared toward performance and entertainment in fixed-venue settings. Put another way, I'm talking about permanent facilities that have the purpose of entertaining with audio or video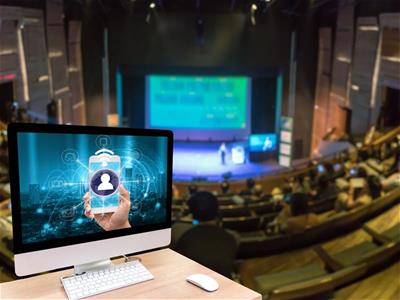 content, as distinguished from the temporary fixtures put in place for live events. Theaters, auditoriums, concert halls and stages of all sizes are markets here, ranging from professionally installed media rooms or home theaters to large-scale cinemas and performing arts stages.
Stopping to think about these types of projects, many would probably nod in agreement. But less understood, perhaps, is just how big this phenomenon already is—and will become. According to the latest version of AVIXA's Industry Outlook and Trends Analysis (IOTA), published this September, performance and entertainment solutions are expected to grow at more than double the industry's overall average growth rate, or 11.5 percent from this year to 2023. That puts these solutions on track to rise from the $16.6 billion they garnered globally this year to $28.7 billion in 2023. At that point, they will represent 13 percent of all commercial AV solution revenues, closing in on conferencing and collaboration as the largest segment.
The important callout is that these solutions cut across vertical markets. One might intuitively recognize the place they have in the residential, cinema, or venues and events markets, because theaters and stages are core to those areas. Hospitality—particularly larger resorts, hotels, cruise ships and casinos—represents another vertical in which these investments take place. But also think about a more traditional market, like corporate.
Corporate spaces might include larger auditoriums that are purpose-built with more of a performance emphasis than a collaborative one. In other words, there are spaces in which content is being delivered one way to an audience, rather than being delivered back and forth in a more interactive mode. Point being, entertainment solutions are like many others in that they are built to serve a specific purpose, but they're applied in different ways across many markets. That makes expertise in this area a potential entry point to other client types.
One might be wondering how, in an age in which collaboration is a major theme, performance solutions or spaces—applications with more of a one-way communication style—are expected to do so well. Aren't corporations moving away from larger auditoriums and toward smaller huddle spaces that foster small-group interaction through conferencing and collaboration systems? The answer is that both categories of space are coexisting thanks to their usefulness in serving distinct needs and advances in technology. In the case of performance and entertainment, one has only to look at some recent headliner events to get a feel for the innovations that are fueling the segment.
Global events provide a window into what technology trends are on the rise, and other markets watch and take notes on them. Look at the World Cup and Winter Olympics as examples. Lighting innovations and projection mapping are two things that featured prominently. Those technologies are also showing up in other fixed-venue locations, fueling a large portion of the solution growth. Direct-view LED screens are another example. Although most often thought of as a potential digital signage technology, these screens are increasingly being considered for cinema installations, as price points continue to decline. Corporate auditoriums might similarly shift their installations through time, particularly as 4K/ultra HD becomes a more compelling upgrade driver.
Certainly, projection still has a competitive edge, thanks to continued technological innovation there and creative deployment, but analysts say direct-view LED is the technology to watch. Both, however, contribute to the wave of upgrades and new installations happening. Both also must be fed by content-distribution systems, which are evolving more and more toward digital- or IP-driven back-ends, requiring investments there. This trend also affects the audio equipment side, which, in many cases, is being upgraded to accommodate the distribution changes. In all, this makes for a dynamic opportunity for integrators at the forefront.
All of this—and the many other changes taking place in the commercial AV industry—is why AVIXA has started to update its forecasts each year, shifting from an every-other-year approach in the past. Less frequent updates simply can't keep up, and they're quickly out of date. Our first series of annual IOTA reports was released in 2017, and the 2018 reports are available now. Check out the reports to learn how all the various solutions—from collaboration to performance—are playing out.
Additional information can be found at www.avixa.org/iota
TOPICS IN THIS ARTICLE