Entertainment Events from a Social Distance Combine Live, Install, and Remote Expertise
Posted on Sep 2, 2020
Early in the pandemic shutdown, musicians took the lead in reconnecting the suddenly house-bound with a feeling of togetherness. There were all manner of minimal livestream attempts at first, but the breakthrough moments truly ignited when creative technologists, production designers, and engineers from the sound, video and lighting fields got together to captivate audiences that previously were merely captive.
Now, six months in, the experiments have yielded new models that are establishing a new foundation for what will come next in entertainment. The "hybrid" scenario is very much in swing, and new discoveries are happening through the calibration and recalibration of blended remote and in-venue entertainment experiences. It may be that in the stop-and-restart of large-venue use, we discover new ways to improve the in-person experience and generate new sources of revenue for years to come.
Collaborating for the Future
Over the summer, entertainment emerged from the "live from home" phase and into a more advanced version of remote production and even some real-world, outdoor events. The advent of drive-in movies and concerts, and the restart of the NBA and MLB seasons quickly provided new ideas for what works and what does not in evolving models of entertainment delivery.
Along with this continued phase of experimentation has come a new willingness among audiences to appreciate less-than-perfect production value as the kinks are worked out in real time. But the advancement has been rapid, particularly because unlikely collaborators are coming together to share expertise.
In this rare moment when reinvention is rapidly occurring in music, film, television, sports, streaming, networking and AI fields, discoveries can be revealed from any direction. "There are different solutions that are happening in every one of these sub-industries, and what we need to do is see what's happening next to us and consider how it might apply to what we do," observes Daniel White, a senior experiential media producer.
As we move into virtual gala season, we will likely see another phase of rapid evolution as more clients and event creators become familiar with basics in chroma-keying and mixed reality production options, where video game elements and LED surfaces deployed from floor to ceiling can help enliven new worlds on screen.
"Virtual events are going to have to get plussed up with some production values," White notes. "A lot of it will be about what can we do on screen and how we can integrate prerecorded content with live. And then what pieces of technology do we need so that we can move in-between those things. There are spaces for professionals in our field to pivot into, definitely. There's going to be a lot of borrowing, and it's going to be a competitive space that we're all going to be in for a couple of years as we try to sort this out."
Boosting Audience Participation
Clair Global has been involved in many aspects of the reinvention of large venues and live events, including drive-in concerts, live-streamed music performances and reconfiguration of stadiums for remote crowds.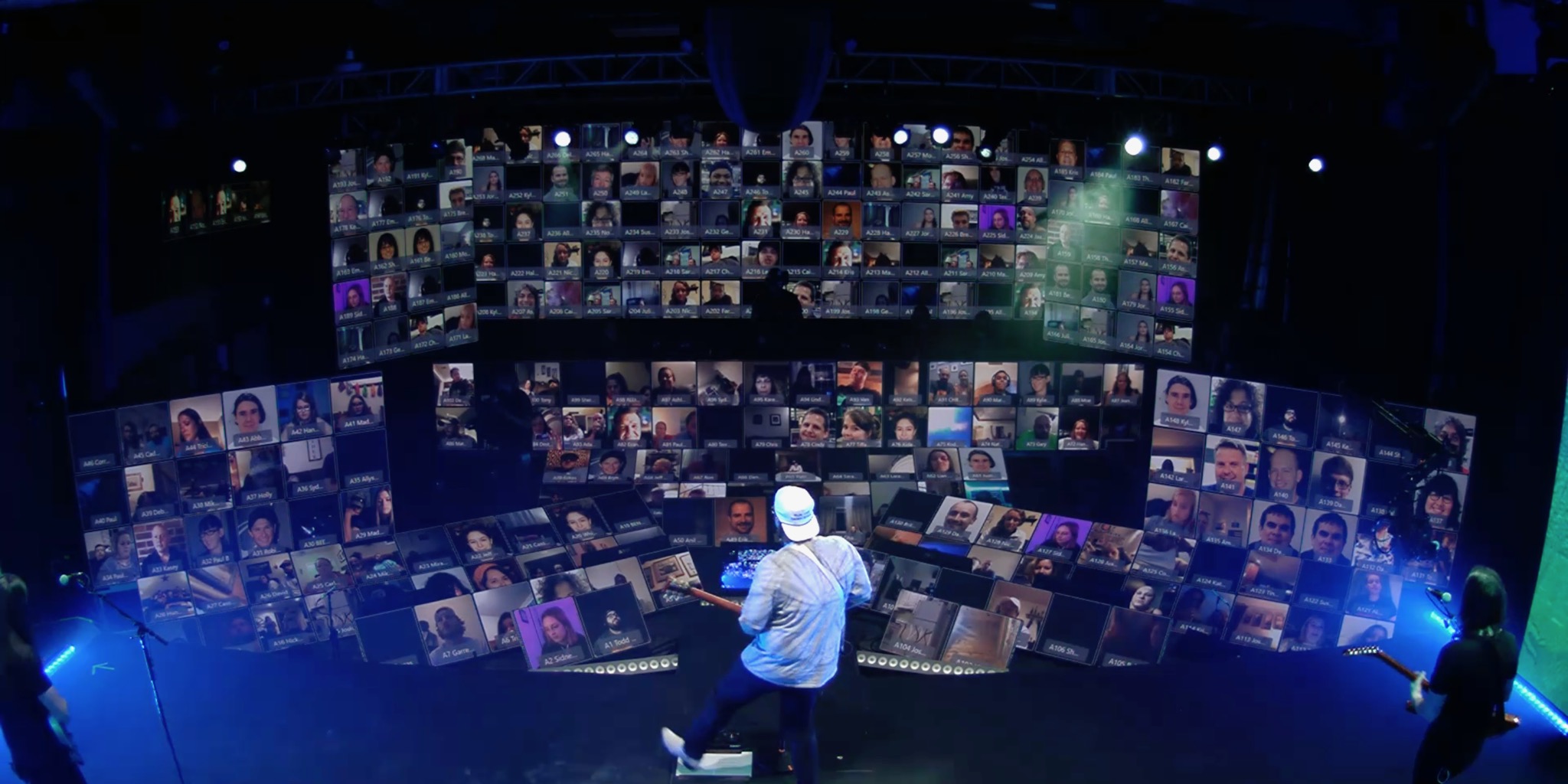 Clair Global's Virtual Live Audience setup at the S4 Room in Nashville
Early in the pandemic, Clair Global committed to keeping its team working, and so the reinvention began, prompting new collaborations among the company's touring rental, installation, and networking teams. "Our divisions are collaborating a lot more than in the past," observes Kelsey Gingrich, Vice President of Product and Integration with Clair Global. "Some of it is just that we're having to come up with unique solutions, and it blurs the lines between the live production world and the traditional install world."
This is true from a business standpoint as well as a technological one, he notes. While full-scale permanent installs are still happening, "some venues are interested in a managed service that our rental team can bring to the table, because some of these solutions might be a little more temporary."
One of the temporary solutions that has come to fore is the drive-in concert option. In addition to traditional PA offerings available for venues where that coverage makes sense, Clair Global immediately got to work on providing wider audience support with FCC-compliant FM broadcasting options. The company can provide eight FM frequencies in a 1,000-foot by 1,000-foot coverage area, with customizable capabilities for single- or multi-zone setups and additional language support.
And should the client prefer to broadcast via WI-Fi, Clair Global can also provide a customized web portal for smart-phone access to not only a high-quality audio stream, but also venue details, concession orders, sponsorship offerings with managed email lists, or any other details the venue or concert production team wants to include. The transition to these offerings was fairly smooth, Gingrich explains, because it brings in "a lot of that of what we're providing for the festival space and other events from a high-density networking perspective. We can do a scaled down version of that at a drive-in show."
Related: AV Is Key to Telling Stories From a Distance
As we continue into the winter months, and as artists long for a connection with their audiences, Clair Global has been developing its Virtual Live Audience offering. Currently operating from the company's S4 Room rehearsal space in Nashville, this new socially distanced stage and limited-capacity crew setup allows artists to see and engage with their fans real-time over video connection.
Beyond just a standard Zoom wall, the rows of audience member video screens extending outward from the stage can be customized to show fans at different sizes or viewing configurations to create a crowd effect. And the audience layout can change throughout the show.
Live bi-directional audio also connects the artist with the remote fans, for real-time cheering and interaction. "It's extremely low-latency, so it's a lot more like having a real conversation," Gingrich notes. "It allows that level of connection that you would really miss if you are just performing in an empty space."
This browser-based concert connection is enabled by Clair Global's advanced networking offerings. In the lowest latency mode, which is less than 500 milliseconds, the audience video grid is rendered on-site and then sent to the video wall. Alternatively, the grid can be rendered off-site with a latency of about 750 milliseconds. Live crowd noise from the remote feed can also be added to the production mix, depending on what the artist prefers.
The artists who have tried Virtual Live Audience so far have liked it, Gingrich says: "There's a lot of excitement around, 'Wow, the energy is coming back into these shows.'"
Related: Road Stories From the Crew Behind Lizzo's 'Cuz I Love You Too' Tour
Driven to Innovate
The drive-in concert situation took some getting used to, but for live audio production and integration pros like ATK Audiotek, adjustments, agility, and yes, "hustle," are what the business is all about.
"Whether you're an integrator or a sound company, if you have some cash and you're tenacious and you have a lot of personal investment, you're going to ride this thing out the best you can," observes Michael MacDonald, President of ATK Audiotek. "But the interesting thing is how creative you can get."
Creativity is certainly a strength of the business, as ATK adjusts its practices to protect personnel and artists and creates new systems for sanitizing equipment between shows. With the reduction of live event work, the company is repurposing audio equipment for projects like crowd noise in stadiums and some out-there prospects like testing aircraft systems. There's even the possibility of helping television networks with production space. "I'm out hustling jobs like that," MacDonald says.
On the live-sound production side, gear lists have changed from 250 loudspeakers, around a dozen RF mics and some hard-wired mics to something more like 24 speakers and 60 wireless handheld stick mics, and then possibly even more wired mics.
As time goes on, the drive-in concerts are starting to work better, with promoters organizing two- and three-parking-spot setups to create 4,000-seat venues, with mid- to large-stadium audio systems installed in sound bays. But even with the sound and spacing issues improving, the economics might not work out so well, MacDonald cautions. "Because you're going from 12,000-seat amphitheaters on a summer tour to now being in a 1,000-seat, drive-in movie theater. In terms of a business model, it's hard to get enough revenue density when everybody's spread out across that big of an area."
What's Next?
But truly, the creativity is key, concludes White. "The cross-pollination is really the thing that's going to save us, and I that's what I keep coming back to when I talk to people," he says. In conversations for his work on permanent installations and live events, both independently and in his role as Senior Media Producer at AV&C, and trending outward to his friends in filmmaking, television and video art, White has the opportunity to see a lot of new ideas in action.
"What I'm thinking is that we need to break down these walls," he says. "We need to go and borrow from this place and bring it to that, and that's the way we're going to solve these problems. That's the challenge. Because if you look at it, most industries were humming along smoothly and then this thing came out of the blue and disrupted so much. And people are like, how do I get back to what I was doing? And that's not the thing. We can't go back. We have to figure out a way to go forward."
Read Next: "The Task Is To Keep Everyone Safe, But Still Design It So That It's Beautiful."