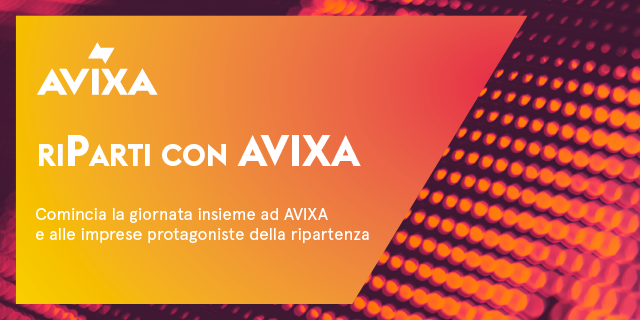 "riParti con AVIXA" è una serie di appuntamenti tra il fisico e il virtuale per iniziare la giornata prendendo un caffè con l'Italian Advisory Group di AVIXA e le imprese protagoniste della ripartenza, condividendo storie di cambiamento e idee di innovazione. Roberto Vogliolo, Gualtiero Anselmetti e Adriano D'Alessio, insieme a Valeria Rapa, intervisteranno professionisti di diverse realtà che grazie anche alle tecnologie AV sono riusciti ad affrontare le sfide di questi ultimi mesi e ad emergere nel proprio campo.
Guarda la registrazione della prima puntata, in cui Roberto Vogliolo dell'Italian Advisory Group di AVIXA ha intervistato Luca Facta, Segretario di Confcooperative Federsolidarietà e Sanità Piemonte.
Guarda la registrazione della seconda puntata, in cui Adriano D'Alessio dell'Italian Advisory Group di AVIXA ha intervistato Marco Betti e Marco Arcangeli di AVS Group.
Guarda la registrazione della terza puntata, in cui Roberto Vogliolo ha intervistato Tamara Jalanbou, Responsabile Comunicazione e Promozione di Colser, per conoscere da vicino questa cooperativa di multiservizi attiva nel welfare e di parlare insieme dell'incontro tra questo tipo di realtà e le tecnologie AV.
I RELATORI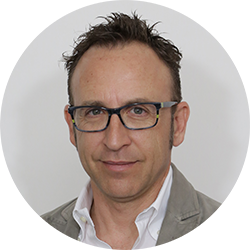 ADRIANO D'ALESSIO
Country Manager Italia, Lightware Visual Engineering Italia
AVIXA Italian Advisory Group
Dopo diversi anni trascorsi nel Broadcast, in cui ha lavorato prima come tecnico e poi come commerciale, Adriano D'Alessio attualmente dirige l'ufficio italiano di Lightware Visual Engineering, azienda ungherese leader nel mercato A/V Pro. L'esperienza maturata lo ha portato ad una scelta motivata nella convinzione che "La multimedialità è un posto speciale in cui puoi combinare tutte le tue abilità; un luogo in cui tutto può facilmente cambiare a seconda di come lo si guarda".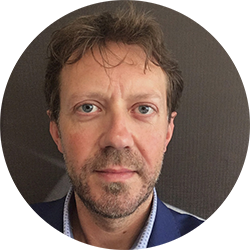 GUALTIERO ANSELMETTI
Sales Manager, Satnet srl
AVIXA Italian Advisory Group
Grazie ad un solido background IT dovutogli sia dagli studi sia dai suoi lavori come sysadmin e sviluppatore negli anni Novanta, Gualtiero è un entusiasta sostenitore della convergenza AV/IT. Lavora nel settore AV dal 2000 e in soli pochi anni come tech manager ha sviluppato una profonda competenza ed esperienza in campo Audio/Video/Control, Videoconferencing e Collaboration solutions. Dal 2003 è Sales Manager di Satnet.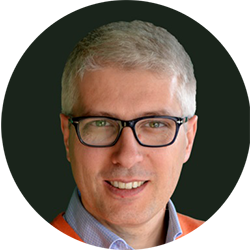 ROBERTO VOGLIOLO
Co-founder & President, Redrim sc
AVIXA Italian Advisory Group
Classe '66, laureato in Ingegneria Elettronica al Politecnico di Torino, si definisce un "ingegnere creativo" ed è un imprenditore visionario appassionato di ogni forma di innovazione. Ha svolto per molti anni attività di ricerca e sviluppo nel campo delle telecomunicazioni, delle tecnologie multimediali e della user experience, collaborando con importanti realtà internazionali, ed è attualmente membro dell'Italian Advisory Group di AVIXA (AudioVisual Integrated eXperience Association). Fondatore della cooperativa Redrim, prima community italiana di professionisti dell'innovazione, è un convinto sostenitore della cooperazione come modello di impresa e di sviluppo sociale ed è membro del consiglio nazionale di Confcooperative Lavoro & Servizi.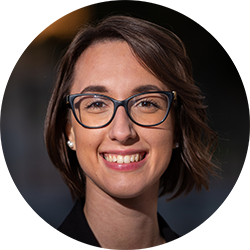 VALERIA RAPA
Program Coordinator Europe, AVIXA
Laureata in Lingue e Culture per il Turismo, Valeria Rapa è Program Coordinator Europe di AVIXA. Si occupa delle relazioni e dei contatti con gli associati di AVIXA in Italia, Francia, Malta, Benelux e Nord Europa. Partecipa all'organizzazione e gestione di corsi ed eventi in Europa, focalizzandosi nello specifico su tutti i progetti e le iniziative di AVIXA in Italia e per i professionisti italiani del mondo audiovideo.
Per qualsiasi ulteriore dubbio, domanda o curiosità contattare Valeria Rapa.

Upcoming Events
Inside Look: The U.S. Naval Academy's Crown Jewel: Creating the Akerson Theater
In our panel's discussion, we'll examine the intricate design process that went into bringing the center to life, along with the world-class technology and monumental collaborative effort needed to create this remarkable experience.