Highly qualified AV professionals are in demand across our industry. That's because there are not enough of them. If you've ever been in a hiring position, you have lived this truth.
But we're not doomed to a bleak future: Far from it. Once people experience the AV industry, they're hooked. We're part of a vibrant, exciting community — with lots of opportunities for young people.
Electronics & Engineering Pte Ltd

When Joe Fong, Deputy Managing Director at Electronics & Engineering Pte Ltd in Singapore, discovered AVIXA's Foundation Internship Program, he was excited to take his company's commitment from a national to a worldwide level. Fong's company had already been actively promoting the industry to students at Nanyang Polytechnic, a nearby university.
He believes that we all have roles to play in growing the business and developing future leaders.
"We are proud to see the next generation willing to join this industry with career paths in design, consultancy, system programming, engineering, sales, project management and facility management," says Fong.
According to Fong, developing qualified AV professionals should not be competitive territory for companies. We all have a stake in the future. "We need to jointly promote and raise the standard of professionals in this industry to benefit the clients, the companies and the professionals of the AV industry," says Fong.
---
Grupo Niza

Maru Gaitán, CEO at Grupo Niza, was passionate about brining young people into the industry before she became involved with AVIXA's Foundation Internship Program. "The industry needs more prepared people. It's quite a challenge we are facing," says Gaitán. Her peers in Mexico agreed and, together, they worked create a program to introduce university students to AV, sharing AVIXA training. "It's like opening a new world — one that they could not have imagined — to students who were not aware of the opportunities in our industry." For Gaitán, joining forces with the AVIXA Foundation Internship Program has been a very rewarding endeavor — a way for her to help students find work, even at a time of economic challenges in Mexico. The internship program has also created a way to give back to the industry, and ultimately, having talented workers means an improved customer experience. Gaitán sees the internship program as a bridge to help people — and ultimately, everyone wins.
---
SecureTech360, LLC

At SecureTech360, LLC, in Washington, D.C., it just seemed to make sense for their team to be a part of the internship program. "As a company, we believe in the power of education, especially in the field of technology. It is crucial for our company to continue to educate our workforce in order to stay competitive in such a rapidly growing field," says Tahanee Karim, M.B.A., Vice President of Contracts/ New Business Relations. Karim was surprised at how simple the application process worked for them. Their whole team is excited to be part of the program. She says that she would encourage more companies to become internship sponsors. "As a business, you have the opportunity to develop your future workforce by providing an internship program."
---
Unified AV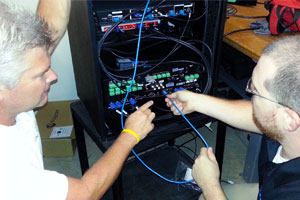 Like most internship sponsors, Scott Wood, CTS-D, CTS-I, DMC-E-4K, CQD, from Unified AV, wanted to support the AV industry by giving valuable work experience to new professionals.
But one of the surprises for him was how beneficial the program has been for his company too. "The AVIXA Foundation internship creates an avenue for a consistent influx of new talent — a valuable asset," says Wood. "By the end of the program, we'll have a candidate trained in our policies who can move right into full-time work."
For Wood, the coaching and online training that AVIXA provides the students has been a welcome bonus. It's really made the whole process easier for him to manage.
The AVIXA Foundation internship program is an all-around good situation — a great way to put students to work right out of college— according to Wood. Not only do students get experience and a route to a full-time career, companies can prepare recruits instead of scrambling to hire when the need arises.
---
Zdi, Inc.

"The AV industry as a whole is hungry for a younger generation of hardworking, passionate and knowledgeable people," says Jeremy Caldera, CTS®-D, CTS-I, from Zdi, Inc.
Caldera recently signed Zdi, Inc. up as a sponsor for the AVIXA Foundation Internship Program. At the time, he was looking into starting his own internship program for Zdi in conjunction with the Columbia College Audio Arts and Acoustics Department, but when he heard about this program, he thought that it was a good fit.
The pro-AV industry's fastest-growing internship and mentoring program, AVIXA's Foundation internship is designed to mentor young professionals who are entering the audiovisual industry. For students, the benefits are clear: a scholarship and industry experience.
"I think it is an important program as it not only helps finance students' education, it requires them to have that one year of part-time experience," says Caldera. "That experience is more valuable than anything for the student as they have the potential to learn so much more 'real world' knowledge that you cannot teach in school."
AV companies get a chance to mold the next generation employees, and gain insight into mentoring, coaching, and if all works out, maybe even end up with a new employee. For Caldera and Zdi it is still early for them to realize the full benefits of the internship for the company's future. "Already, though, it's been very helpful having someone on staff that can help with all different aspects of our projects."
But this program is about so much more than staffing help. It's been a personal journey for Caldera, getting the chance to share "not just what we are doing but why we are doing it." Teaching someone who is seeing the possibilities of AV for the first time is fun. It's a way to refresh your own passion and feel good about what you are doing.
"The experience so far has been great," says Caldera. "Our student, Stanton, has been learning the ins and outs of our industry and how crazy it can be. He has been very receptive to the process and is a quick learner."
"I encourage more companies to become sponsors as it is not only beneficial to the companies but the industry as a whole."