To Go or not Gogh?: Van Gogh Immersive Experience
Posted on Dec 21, 2021
When you're immediately greeted with larger-than-life Instagram-able 3D sunflowers, you know you're at the "Van Gogh: The Immersive Experience" in Washington, D.C. You're welcomed with traces of "Starry Night" on your VIP badge, brushed into the gallery, and grounded with Van Gogh's life story written on the wall.

While I was thrilled to pay homage to the post-impressionist artist Vincent van Gogh, we know what I was here for… the audiovisual technology, the projections, and the technological masterpieces. Naturally, my attention was immediately captured by the projection mapping sculpture of Van Gogh upon entrance. The moving map held me there long enough to shift my attention back to the wall and commit to reading his chronological life story. This set the tone for the exhibit and prepared me to experience his life through an immersive lens.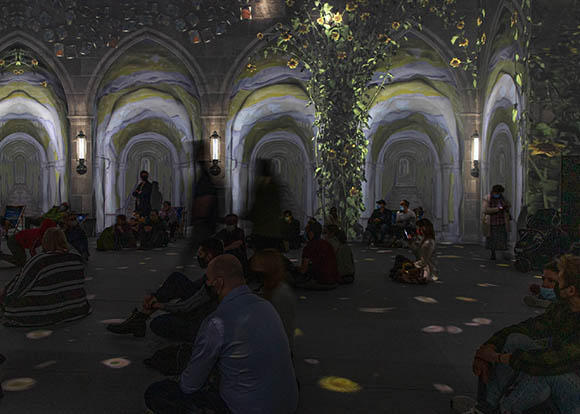 Almost instantly the space drives you to recognize Van Gogh, first as a human, secondly as a man, and thirdly an artist, by wayfinding guests from room to room, with walls, installs, and projections of Van Gogh's art. His works are paired with music, directional acoustics, documentaries, and ultimately leading to the feature of the 20,000 square foot immersive building, the immersive room.

Pulling back the black-out curtains and stepping into the room immediately simulated stepping into a painting. What do 360-degree floor-to-ceiling projections feel like? Imagine you've been drawn into a painting, swirling around brush strokes, sometimes rising, at moments falling, and at all times swept up. You are literally sitting inside of the painting and, thanks to the narration, acoustics and subwoofers— sitting inside of his head. Now that's immersion.

Immersive art has been taking the post-pandemic world by storm with the ability to touch less and feel more. One Contemporary Immersive Artist, Massimiliano Siccardi, is another example of designers taking Van Gogh's works to an immersive projection room exhibit with "Immersive Van Gogh Experience" touring in Europe and now Chicago. In this interview with the YouTuber Artrageous with Nate, Siccardi shares, "I look at Van Gogh as a man, not just a painter. In this case, what I want is when people get into the room, they see inside his mind and see with his eyes rather than just looking at his paintings."

A common argument in the art world is digital projections distort your ability to see the finite, particularly the brush stroke, one of the most appreciated textures of painted art. It's a valid argument, as this may have been the only downfall of viewing projected art versus a typical piece. However, what was unanimously felt was an experiential journey by way of tapping into Van Gogh's emotions through all modes of learning. One of the guests I spoke with, Megan Rieker, also happened to be an artist and art teacher and shares why the immersive route allows everyone to experience art differently.

"All the different stages cover everyone's different learning capabilities, you have the kinesthetic way where you're hands-on, there is the visual, and the academic side, the reading... so, I admire that as an art teacher."

She felt this experience added more value to the world of art than took away from the traditional ways we are encouraged to explore art. In fact, she felt that "there are things that you all [in the audiovisual industry] can do here that you can't do that with any other medium" in terms of fully perceiving and appreciating the art and the artist's journey.
A bonus and VIP perk is the virtual reality headsets tucked away in another room right before you complete the tour. The VR experience narrates visitors by walking with the artist near his home in Arles, France, showcasing prominent locations of work inspiration.

Technology can change the way we view and know art. I can attest that going to this museum as a gallery novice truly taught me how to attend an art gallery with purpose. The technological enhancements allowed my digital-first brain to slow down and absorb art with intention. Art galleries always felt a bit out of reach for me, a feeling that "this is not for us" … the middle class… the minority. This space made me feel safe, seen, and welcomed.

Art is not just for any one type of person. It's meant to be felt by all demographics, walks of life, and learning styles. Audiovisual technology can do that, it can help us understand deeper, connect further, and in this case allow us to frame art differently. For a traditional artist, technologist, or digital enthusiast— my recommendation? Gogh.
TOPICS IN THIS ARTICLE