The AV Inside This Iconic Barcelona Tower Can Change Your View of the City
Posted on Aug 14, 2023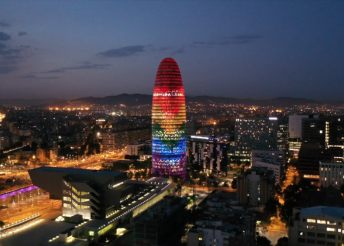 In one of the latest videos of the How'd They Do That? series, AVIXA spoke with Aleix Pratdepàdua and Eugenio Civera about the Mirador Torre Glòries, an observation deck at the top of one of the most iconic buildings in Barcelona.

Located between Avinguda Diagonal and Carrer Badajoz, the Torre Glòries is a massive 38-story skyscraper. This building was designed by French architect Jean Nouvel and intended to resemble the shape of a geyser rising into the air. It can be hard to stand out in a place known for its architecture, but with its unique shape and AV additions, the Torre Glòries certainly is a sight to see.

So, what are its AV marvels? For starters, the outside of the tower has features like temperature sensors. The sensors regulate the opening and closing of the window blinds, reducing energy consumption for air conditioning. And the building is well known for its nocturnal illumination, using 4,500 LED devices. While you may be familiar with this building due to the colorful show it puts on at night, it's the AV on the inside that's going to truly change how you view the city, as can be seen in the video.
READ MORE AND WATCH THE VIDEO IN AVIXA'S XCHANGE
TOPICS IN THIS ARTICLE