Teaching from Your Truck: A Truly Mobile Office Built on the Fundamental Concepts of AV Design
Posted on Jan 28, 2021
While far from over, we have an end of the COVID pandemic in sight with the administration of vaccines. It might be some time before we return to normal, but as, and especially after, we defeat the virus that has brought so many changes to our work environments, we shouldn't lose the innovation and lessons learned from our going through it.
One lesson well-learned in the past year was the need not only for more accessible learning, but also for flexibility in how and where we do our work. In some instances, this led to new approaches to both training and delivery. Here is one of our stories.
Our Senior Staff Instructor, Chuck Espinoza, had a problem. He had recently moved away from the hustle and bustle of Northern Virginia to the tranquil bucolic countryside of Central Virginia. Use to regularly travelling to destinations across the globe, he made sure he had easy access to an airport, but once COVID hit, that placid farm became a problem. When AVIXA transitioned to Distance Learning that put much more stress on his home network, or, as Chuck semi-affectionately calls it, his "FarmNET".
Not to be deterred, he put his AV brain to work on how to better the experience of our Distance Learners and came up with a unique and innovative solution to the problem of teaching from home. He transformed his truck into a mobile office solution, complete with multiple monitors, a doc cam, and lighting.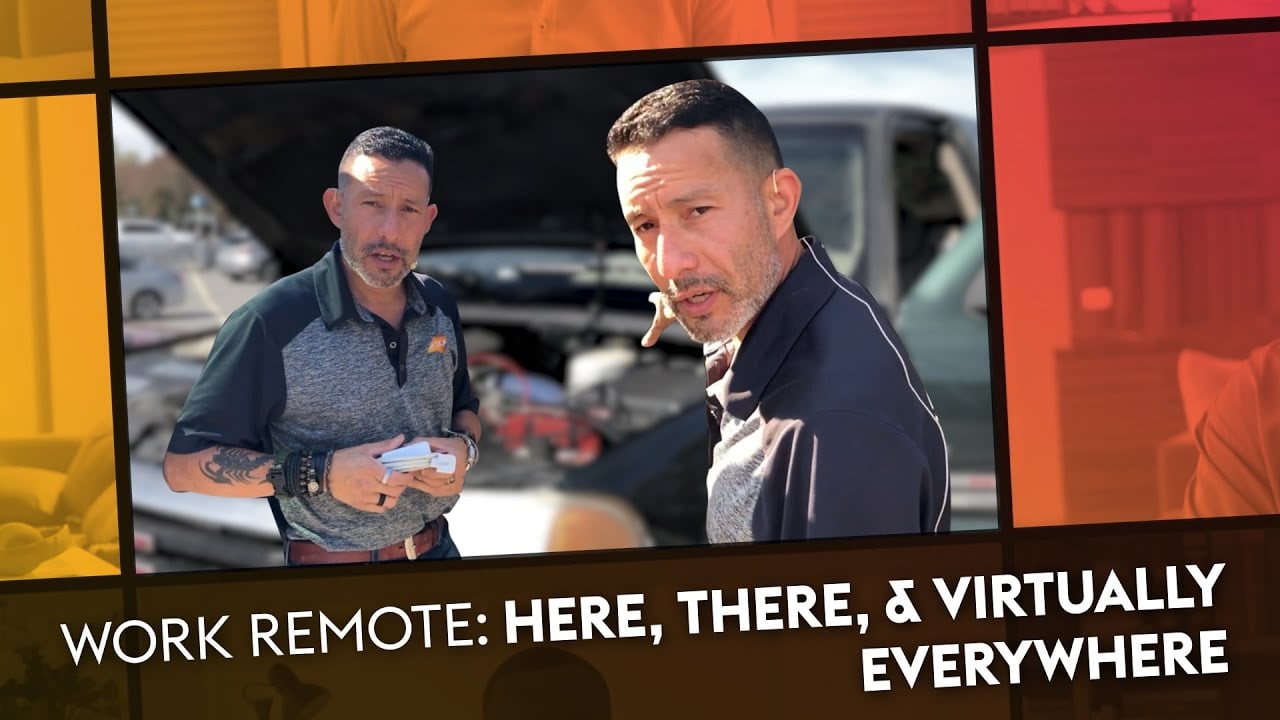 Watch Here, There, and Everywhere on Chuck's Mobile Office on our Learn with AVIXA YouTube channel.
I sat down with Chuck to discuss the unique challenges he tackled in creating a truly mobile office, and how his AV knowledge came into play into its construction and design.
So, what possessed you to create a mobile office?
The mobile office was created very much out of need. I live on a farm and the Internet is not so good. I have satellite Internet with a twenty-five meg download, which is more than enough for video conferencing, but at only a three meg upload, it's really getting close to the edge of acceptability.
But the latency really killed me. I had anywhere from a two and a half to a three and a half second lag. That's twenty-five hundred milliseconds to thirty-five hundred milliseconds of latency from the time my signal gets to satellite to the far end. For reference, we recommend less than one hundred and fifty milliseconds.
So even if I did have a full twenty-five meg download and three meg upload, that latency makes conversations very unnatural. There's a lot of pausing, a lot of not knowing when to speak and consequently speaking over people.
I decided to go mobile. I did a bunch of testing to use the hot spot on my cell phone. And I found a couple of cell towers around the area where I could get anywhere from one hundred two hundred megs down and anywhere from thirty to sixty megs up. But the killer was I was getting thirty-three millisecond to seventy-five millisecond latency. That was great! Now that I had good connectivity, I just had to build the office.
And you decided to go truly mobile and build it in the cab of your truck. What did you need to purchase and install to get yourself up and running?
Of all the things that I needed that I did not have at home, the big thing was a better internet connection.
First and foremost, I needed someplace that I could get internet. Off my cellphone, I can hotspot as long as it has good reception.
I had to find a place that was by a tower that I could park for an extended period and no one would care. So now, how do I make this happen is the next thing. What things do I need AV-wise? It's no different from any AV install so I approached it like any AV system. For any AV system, you need to think about power.
Just like in AV Design, I figured out how many watts I was going to need - total. I was going to use my laptop, pulling max off the power supply, I have a couple of ring lights in here, I have a doc cam, I'm charging my phones, etc. What things do I need to successfully build an AV system in my vehicle? Power.
To make this work you need a power inverter for your vehicle. I needed to tap somewhere off the DC power of my truck with a power inverter to convert DC to AC power. I needed to get an inverter that is capable of the wattage I needed and clamp it to a post I have installed off the alternator. I needed about 200 watts total. I needed an inverter that was at least capable of 300 watts, so I bought a 400 watt.
Next, I needed to get that power from outside of the vehicle to something that is inside the vehicle and it's something that is going to be permanent. I don't recommend people do this unless you really know what you're doing. I have a background in auto mechanics, and I know electrical really well but I'm not an electrician. If this were for someone else, I wouldn't do it, but it's just for me.
I got twelve-gauge cable that would support positive, negative, and ground for my AV system. I wired that up to my three-pronged plug. I pulled the cable through the firewall of the truck where all the cables come in. It's sealed so I had to reseal it. I pulled it through underneath the dash and on the passenger side of my vehicle. I installed a three-prong outlet. I just wired up that cable that I pulled. Now, I have a power plug that plugs into the inverter under the hood, it goes through the protection of the firewall area, it goes to the outlet and everything. I can just leave it.
If you're not comfortable working on your vehicle, or if you're not comfortable doing electrical, don't try this. If you are? Great.
It's impressive that you could make a mobile office work in such a small space like a truck cab. How has it been received? Do you tell people where you are? Does that become a teaching tool?
Yes and no. When I'm doing a presentation, like for a manufacturer, they don't want to know that I'm in a car. They don't care. I'm doing a presentation on networking or audio or video, and it has nothing to do with my mobile office. I put my digital background on and it looks like I'm in a studio or in a home office or wherever.
During design classes, during prep classes – when we're talking about these things, and especially while I'm doing more detailed classes – I do a reveal. "Hey, everybody, I know we've been here for four hours, so I'm going to show you guys what this is all about." I take my digital background off and show them like there's a big box store right there. I point out the cell tower, show that there's the bed of my truck. And then I see the look on people's faces like, "we would have never known."
If you do it and do it well, no one's the wiser. If you do it well and show people--it really brings up conversation about how flexible we can be. You know, people would never guess you're in a car.
Nowadays we must be mobile and remote. I can operate from anywhere as long as I have cell phone service and can park.
So – sometimes I put it out there as a teaching tool, sometimes I don't. Depends on the situation. But any time I do throw it out, it becomes a topic that we talk about. I try to tell people that this whole thing is the fundamentals of AV design; you need acoustic gain for your microphone, your potential acoustic gain of getting that microphone closer, getting less volume because you have your loudspeakers closer. You know, that's all the same math we do for design conference room systems.
For camera angle, I only have two feet to work with. With limited space I need to know what my shot is going to be. When you're designing rooms, you have to worry about Sound Transmission Index (STI). Well, what's the STI of my front window? I don't know, but I know these pillows really help out. We can math the heck out of it, but I just throw some pillows in there and I'm good. All of those things that you do when you're designing an AV space, you do it when you're designing any AV space.
The more your fundamentals are rooted in your brain and the more that those are the things you think about when designing a room, the easier it's going to be setting up your mobile office.
For more on Chuck's mobile office and for AVIXA's tips and tricks to better Work Remote, you can find links to our whole suite of videos here.
Even if there is light at the end of the pandemic tunnel, we hope that the spirit of innovation developed during dark days continue to shine forth. May we take with us the lessons learned through our experiences and continue to blaze brightly in the post-COVID world.
Thank you to Chuck for pulling out all the stops to keep our Distance Learning classes running and running smoothly. His innovation during this troubled time has kept AVIXA Learning on track.