There is a famous saying: "Content is King". This is as true in the audiovisual world as it is in every other human experience arena. Creative content designers are the storytellers behind the scenes bringing AV systems to life in public and entertainment venues around the world. The pairing of creative content and AV technology is vital to create these amazing integrated experiences. The AVIXA Digital Art Challenge celebrates the incredible talent and skills of content creators by spotlighting the art and the artists they truly are.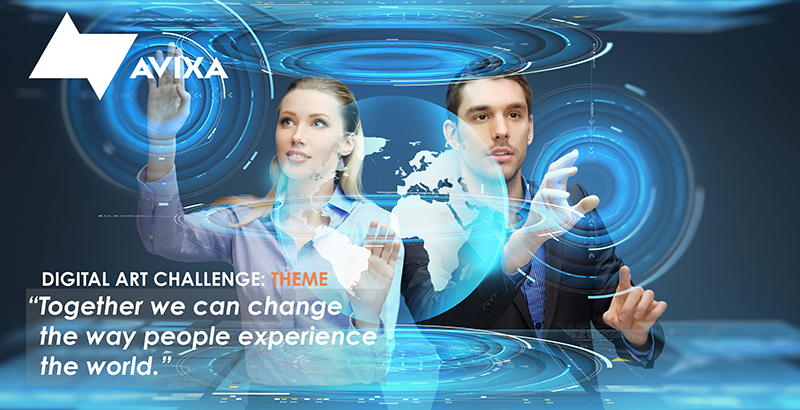 Being recognized as an AVIXA DAC winner will demonstrate on an international stage the caliber of your work and talents. Each winner's work will be prominently showcased in the AVIXA DAC pavilion at the ISE 2021 trade show in Barcelona, Spain, where the Audiovisual and Integrated Experience Association (AVIXA™) will employ amazing interactive technology and large screen LED walls to enhance the impact and experience. If you are a design student, design school, freelancer, or design firm, AVIXA encourages you to enter the contest with your own original work for a chance to shine.
The contest is open to creative design students and professionals in the following categories:
| | |
| --- | --- |
| Individual | Team |
| Design Students | Design Schools |
| Design Professionals | Design Firms |
Contestants are tasked with creating a 1 minute video (still or motion) with audio that creatively illustrates the contest theme:
TOGETHER, WE CAN CHANGE THE WAY PEOPLE EXPERIENCE THE WORLD
Entries will be selected as finalists by a panel of judges from a cross section of the art and AV industries. All finalists will be published on the AVIXA DAC website for public display and voting. Category winners will be selected by popular vote and awarded by AVIXA at the Integrated Systems Europe (ISE) trade show in Barcelona.
Key Dates
| | |
| --- | --- |
| Entries Open | February 11, 2020 |
| Entries Close | September 1, 2020 |
| Finalists Announced and Published | October 1, 2020 |
| Public Voting | October 1 – December 31, 2020 |
| Category Winners Announced | January 11, 2021 |
| Awards Presented at ISE Barcelona, Spain | February 4, 2021 |
Upcoming Events
Integrate
Integrate is Australia's premier annual AV and Integration trade show. This two-day event is a hub of activity for local and global brands to showcase solutions and products to AV technicians and corporate end users, meet with buyers, integrators and distributors, and celebrate the latest industry developments.