The Task Is To Keep Everyone Safe, But Still Design It So That It's Beautiful
Posted on Sep 2, 2020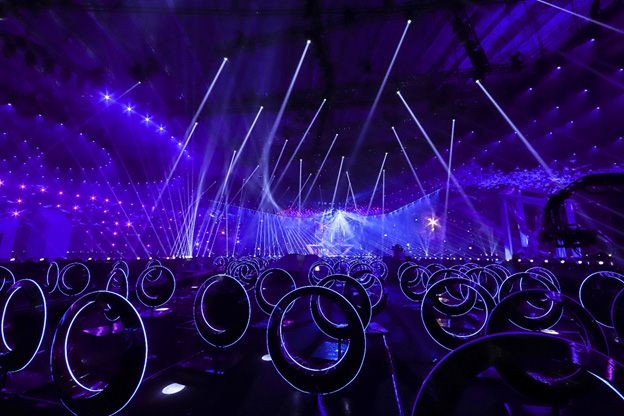 Vita Motus created sculptural seating with integrated lighting elements for a socially-distant live event in China. Photo courtesy Vita Motus.
Innovation on virtual events began early in the pandemic for Vita Motus, which felt the earliest effects of the shutdown when work paused on the televised concert productions it produces in China. A rapid refocus toward digital capabilities revealed a vast cache of virtual offerings that Vita Motus had already produced. As part of its R&D process, the multidisciplinary firm's designs are built in the video game creation tool Unreal Engine, which allows clients to explore possible stage and production designs in an interactive pre-visualization model.
For each project, several design ideas are generated, and once artists make their selection for a live production, the unused models remain in Vita Motus' archives. When in-person events were suddenly not an option anymore, this vast cache of carefully researched and cultivated scenic concepts became a valuable catalog of options for artists and festivals looking to go virtual. "We had a Google Drive chock full of all these assets in the gaming engine already," recalls Heather Shaw, Founder, CEO and Chief Designer of Vita Motus, so the immediate question was, "How we can pull some of that material into what could be the next living-room livestream?"
Related: TIDE Generator: Creating Connection and Empathy Remotely
But this was more than an exercise in creating fancy backdrops for virtual shows — Vita Motus's designs would be activated by a dynamic integration with live-streaming. By early March, when the shutdown was just becoming real in the U.S., Shaw and her team had already created a tool for allowing DJs to play live in a virtual equivalent of the bassPOD created by Vita Motus every year at the real-life Electric Daisy Carnival. The virtual setup also allowed the Mumbai-based VJs who create content for the bassPOD to live-stream content on various surfaces in the online venue.
Vita Motus took it a step further and also created a tool for live streaming the lighting into the scene. "It's a full lighting rig that mimics the physical lights in the actual world," Shaw explains, "and we had a lighting designer triggering those lights from his living room with a grandMA lighting console in real time. So, it's just all happening live."
From there, Vita Motus evolved its offerings for live music, so bands could play sets in elaborately designed virtual spaces. The cost of producing live music, which requires FOH engineers and a full crew, was a bit much for some artists in the early days of the pandemic, so more economical pre-recorded options were developed. But even that factor is evolving rapidly, as artists settle in for an indefinite reduction of in-person event options. Investments in virtual and hybrid solutions will likely see an uptick as musicians and DJs seek ways to connect with fans.
The innovation continued rapidly, and Vita Motus soon expanded its offerings to incorporate remote audiences into the scenes, using chroma-key setups for either live or pre-recorded presence of community members. Shortly thereafter, the team was asked to create a dynamic live-streamed virtual venue for Showtime's "The Chi With Love" event. "That was also supposed to be a livestream from home, but because we were able to do the virtual world, everyone was green-screened inside of the space, and it was a little more dynamic," Shaw notes.
Now Vita Motus is on the other side of this prolonged shutdown scenario in some ways, as the firm has begun producing socially distanced show and stage designs for in-person events that have resumed in China. Embracing the opportunity to maintain social distancing precautions while also creating a visually stunning scenic element, Vita Motus designed sculptural seating with integrated lighting elements, "so it fills up the audience floor with production and sculpture," Shaw describes.
Lighting shows can extend across the illuminated socially distanced seating and create a new dimension, proving that we can make these new scenarios even more spectacular as events adapt. The new standards for how audiences will gather will be challenging, but it's an opportunity to make something new.
The key is to remember that even while we're trying to achieve something that adheres to strict guidelines — as so much in AV and experience design must do, abiding by the laws of physics and the properties of how humans perceive sensory elements — the experience can still be memorable. "It's redesigning what we thought was once the functional aspect of things," Shaw says about creating Vita Motus' artistic interpretation of seating elements. "Because that's what design is, right? Design has a lot of function to it. And now the task is to keep everyone safe, but still design it so that it's beautiful."
Read Next: Top 5 Takeaways for Live Events from InfoComm 2020 Connected