Orlando's Steinmetz Hall: One of the Most Acoustically Perfect Spaces
Posted on Jul 12, 2022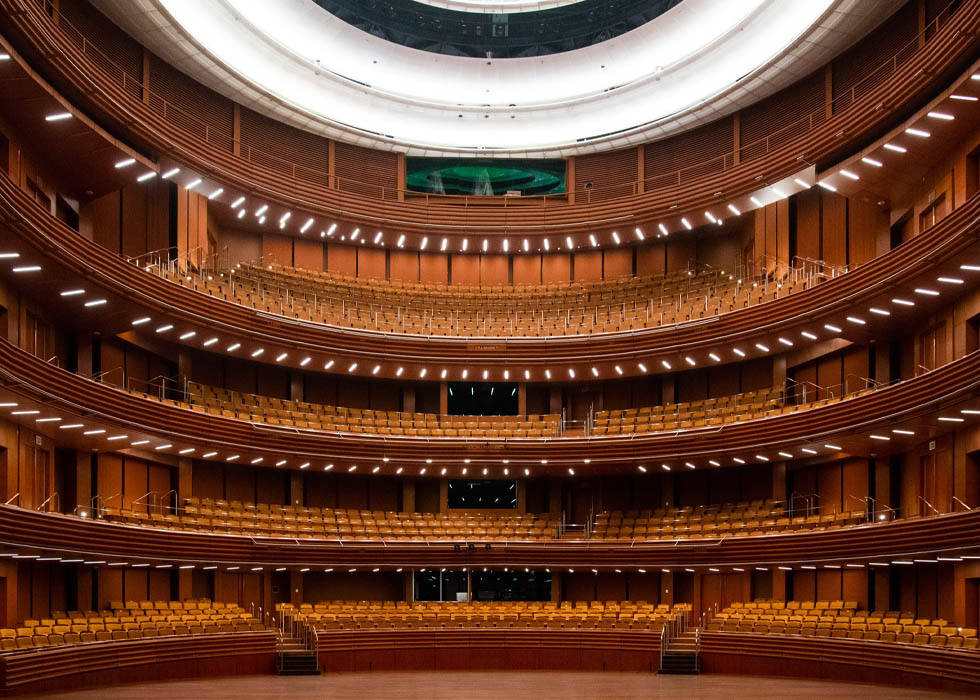 It has been eight years since the Dr. Phillips Center for the Performing Arts opened its doors in Orlando, FL. And with the addition of Steinmetz Hall, Dr. Phillips Center has become complete. But 'concert hall' doesn't even begin to describe Steinmetz Hall; mechanical wonder is more like it.
Steinmetz Hall is said to be one of the world's most acoustically perfect spaces. Designed to achieve an N1 sound rating, the lowest level at which humans can detect sound, it's great for both amplified and unamplified events.
The multi-form venue is also one of the few theaters around the globe that can transform in shape, seating, and sound. The stage, walls, and floor lengthen, shorten, or lower to adapt to seating arrangements and layouts for various performances. It is designed so each attendee can still see and hear without obstruction with a capacity ranging from 1,597 to 1,741 people.
Its seventeen-hundred cherry wood seats with tamarind faux leather were provided by Series Seating. And these seats add to its charm and wonder by moving in and out of the floor. The theatre's design is accomplished using innovative technology.
Cassette
As Steinmetz Hall is a multi-form theatre, it easily transforms to accommodate for a wide range of performances. One moment it can be arranged for a ballet and the next to a concert hall with 360-degree seating. A complex "cassette" structure is the key to its movement.
The cassette, cassette towers, proscenium portal, motive systems, and rigging were all done through Wenger/JR Clancy. The cassette system is moved using Serapid rigid chains, and the side towers are moved on air casters.
"Once in place, the five-level cassette appears to be part of the main room, brilliantly achieving full circulation in the room and coupling seamlessly to the rest of the concert hall," said Michael Nishball, principal equipment designer at Theatre Projects, in an article.
And as Scott Crossfield, director of design at Theatre Projects, said in an article by David Barbour written for Lighting & Sound America magazine, "That's the true test of a multi-form theatre; the audience should never see how the tricks are done."
Take a look at how it moves here.
N1 Rating
How is Steinmetz Hall's N1 rating achieved? Inside, there are special acoustic panels that move while huge rubber pads with air in them diminish vibration under the hall. Steinmetz Hall's N1 rating basically works by isolating the room using the rubber pads at its base. Florida soil tends to transmit noises well, so that aspect was kept in mind during the theatre's creation to prevent noise from the outside trying to reach in.
Some of the features include its cherry wood interior, which is a friendly surface for audio, and a system of 70 adjustable banners installed by Wenger/JR Clancy. Different fabric options were pondered over to attain a range of symphonic adjustability, before eventually deciding on a heavy wool serge in two layers.
The sound system was specified by Pete Cosmos and Tom Clark, working with Stages Consultants. There are left, center, and right arrays. The LCR speakers are from d&b audiotechnik's V-Series. The auditorium's console is a DiGiCo SD9, and road shows can tie in their drive lines from their mixing system into the loudspeakers using any combination of AES, analog, or Dante.
Superstars such as Jennifer Hudson, Lyle Lovett, cellist Yo-Yo Ma with pianist Kathryn Stott, and the best of Orlando's performing arts have played there. Upcoming shows include David Spade, Champions of Magic, Disney Princess The Concert, and Daniel Tosh.
"Arts and culture are the soul of our city," stated Orlando Mayor Buddy Dyer in this article. "The building itself is just bricks and mortar, but [it's about] what happens inside that building for so many people, the memories that they make, the shows they see together as a family."
With its flexible structure and audio quality, the long-awaited Steinmetz Hall is truly an acoustic feat that couldn't have been created without help from various companies and individuals, many of them AV professionals. Next time you're in Orlando, consider checking it out.

TOPICS IN THIS ARTICLE