How the Latest Audiovisual Technologies Are Reshaping Sports Venues
Posted on Oct 7, 2019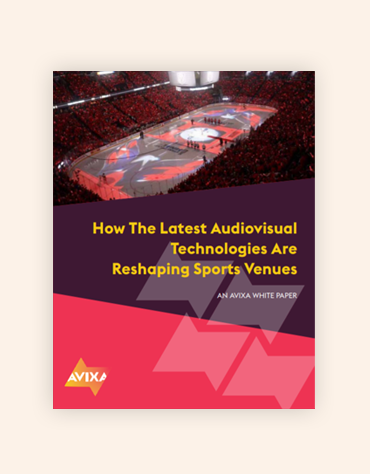 Have you been to a hockey or basketball game lately? Watched your favorite team on the diamond, or on the gridiron? You can't help but notice how sports teams, amateur and professional, have elevated the fan experience with advanced AV solutions. From high-brightness LED scoreboards, signboards, and "ribbons" that encircle stadiums to powerful, full-range audio reinforcement systems that perform double duty for games and concerts, stadiums, arenas, and ballparks are leading the way with some pretty clever uses of AV technology.
The Cleveland Cavaliers has done "immersive" projection mapping one better, working with Quince to add a new dimension to halftime shows and 60-second timeouts. Using a combination of 3D mapping techniques and video content produced by the Cavaliers' own QTV team, the Quicken Loans Arena basketball court was transformed into an immersive environment featuring an enormous, classic Pong-style game with participants competing against each other from each end of the court.
Known as the "Cavaliers Arcade" and sponsored by various companies, this fun competition has fans come down from their seats to each end of the court to battle it out. For the full-court game, selected fans compete against one another using motiontracking rackets to pass the virtual ball back and forth from one end of the court to the other. The draw for teams and sponsors is that during a timeout or a long stoppage in play, fans are still paying attention to the court surface. In addition, sponsors are just as interested after the event when the experience is all over social media, websites, and other online platforms.
The Quince Imaging team continues to develop additional programming for on-court entertainment — keeping the fans' focus on the court during the pregame, timeouts, and halftime. Other NHL and NBA teams have taken notice, asking how they can use projection mapping and Quince software to improve branding and elevate the fan experience with postgame entertainment.
Fill out the form below to receive the full article.