How AV Firms and Customers Can Bond Over Digital Signage
Posted on Dec 6, 2019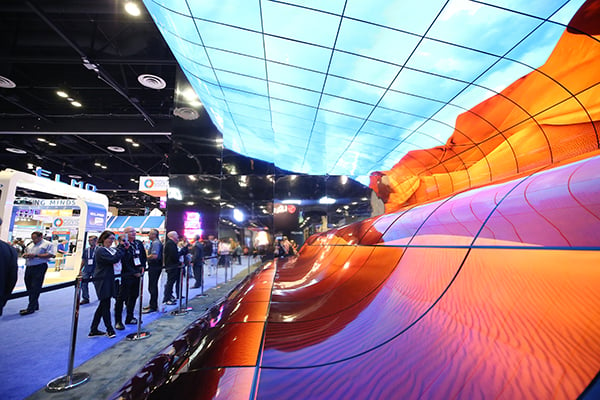 Digital Signage exhibit at InfoComm 2019
We talk a lot about pro AV being less focused on technology and more about solutions to customers' needs. Perhaps no other pro-AV application exemplifies this more than digital signage. Put simply, AV companies won't exactly get rich selling digital signage products — low-margin displays, players, network devices. But to succeed where the lucrative opportunities are, integrators may need to look in the mirror and assess whether they can deliver what digital signage customers need, according to industry thought leaders.
"When you see how margins are falling, integrators are basically forced to look at different ways [of making money]," said Florian Rotberg, Managing Director of Invidis Consulting. "And when you talk about digital signage, it's all about combining content — creative stuff — with hardware, software, and managed services. That's where the market is heading."
Digital signage isn't something that anyone can just set and forget — neither customers nor integrators. Customers that believe they can soon understand their mistake, and integrators that grasp the post-install opportunities of digital signage solutions stand to succeed long after the switch is flipped on a new signage network.
"Building a digital signage network is like giving birth to a baby. It's one thing to give birth to a baby, but to clothe and feed it until it's 27 years old is quite another thing," said John Melillo, Senior Vice President of the Digital Media Group at Diversified. "The cost … of the gear is pennies compared to the cost to use it well. That's really the conversation that needs to happen. You can buy the greatest projector in the world, but if you really want to love it seven years down the line, you better feed it good stuff."
Rotberg and Melillo spoke about opportunities in digital signage at AVIXA's 2019 AV Executive Conference in New Orleans, along with Rachel Abrams, Associate Principal at Arup, and Phil Lenger, President of Show+Tell. The panel underscored the growing opportunity in designing digital signage solutions and offered some fresh ideas that could help providers excel.
"We see lots of potential in better understanding the customer and really supporting them," Rotberg said.
Digital Signage Content Can Be Emotional
According to AVIXA's 2019 Industry Outlook and Trends Analysis (IOTA) report, the market for digital signage solutions is projected to grow faster than conferencing and collaboration, learning, content distribution and media, and even live events. Global revenues should hit more than $34 billion this year, researchers say, and grow almost 6 percent annually through 2024. In fact, AVIXA estimates show that digital signage will soon be the industry's biggest solution category.
But what makes digital signage a compelling application of AV technology is something AV companies can't claim as their own expertise: content creation. Content experts come at digital signage projects from many different fields. AV companies would do well to develop content expertise, said the AVEC panel, but not only for the obvious reason of having a high-margin service to offer. Content also builds relationships and insight.
"The great thing about content is it's quite an emotional thing," Rotberg told AVEC attendees. "And it's very difficult to tender. We always advise integrators to go into this content game because it helps you get great insight and you have an emotional relationship with the customer."
Depending on the digital signage solution, working on content with a customer can mean weekly or even daily collaboration, for example in the case of retail installations where offers and branding change frequently. "When you do the content pieces, that gives you really good insight about a customer and what they need in the future," Rotberg said. "With content, you can really build something. You get this unfair advantage where next time [they need signage], they say 'Yes, I want to keep you.'"
That trusted relationship with an AV integrator and content creator will be critical to the coming growth in digital signage solutions. The market has seen what's possible with digital signage technology, and the technology itself has gotten better and cheaper. Now instead of "doing" digital signage, companies are focusing on doing digital signage well. And content is a key measure.
"We're going through a phase that all the technologies go through, which is that [digital signage] is becoming affordable enough that a lot of people are able to put it everywhere," said Lenger. "Then you start to see a lot of novice mistakes. Whenever you see imagery of lava lamps and clouds, it's because no one thought about what was going to go on that LED."
When his team works on a digital signage project, said Diversified's Melillo, they always look ahead. "We want to talk about Day Two before we advise on what's built for Day One, because they're going to live with that."
Data Gives Signage Customers — and Integrators — Insight
And as digital signage customers seek more data in order to measure the effectiveness of their efforts, the feedback loop can help AV companies provide better service and build closer relationships. Often, the success or failure of a digital signage solution comes down to how well it's integrated into a space. And the interplay of technology and space is right in the AV integrator's wheelhouse.
"A building is a living thing," Arup's Abrams explained. "It's also telling us information about itself." The owner of that space wants to effectively engage tenants, visitors, or customers based on useful information. "And often mediated through screens," Abrams said. "Think of the physical environment as a way to give form to a narrative."
Today, there are so many ways that a space tells its story through digital signage and data analytics that customers need help discerning the key details, particularly in retail spaces. Understanding which data is important or, in an increasingly regulated world, which data customers can collect and use, is an ongoing conversation. "That's where the back and forth relationship gets very strong," Lenger said.
"There's always a temptation to collect lots of data because it's so simple, you just put in a sensor or a camera," Rotberg explained to the AVEC audience. "Most customers have more data than they can analyze. It's not about collecting as much as possible, but rather asking where it really makes sense."
Rotberg recommends flipping around the conversation about data and asking digital signage customers for their five biggest pain points, then identifying what kind of data might address them.
As with content, data and analytics capabilities can help build stronger relationships with digital signage customers because they give the integrator actionable insight and allow them to offer better solutions. "If you're working with a brand or an entity, you want to absorb their goals and intent," Melillo said.
"Customers don't wake up in the morning saying I need digital signage," Rotberg concluded. "They want to create experiences …. The technology is just a tool."
TOPICS IN THIS ARTICLE