Designing for Human Factors in Tech-Enhanced Bank Branches
Posted on Nov 5, 2018
by Kirsten Nelson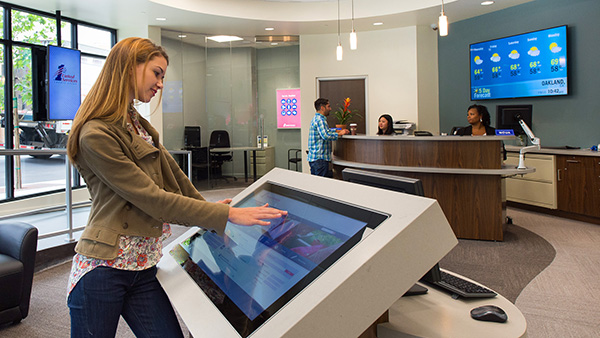 Here's a new truth borne of the customer experience era: A visit to the bank can be pleasant and productive — like visiting a coffee shop.
With advances in mobile banking and the ubiquity of ATMs, one may wonder why banks aren't doing away with the branch experience completely. But when a customer needs something more than a transaction — to talk with an advisor or get a loan — their choice of financial institution still depends on something old-fashioned: physical proximity and experience. Which branch is closest? And from there, which offers trusted, friendly service?
On a surface level, many banks are ditching somber hardwoods and marble, and remodeling with designs that feel more like cafes or hotel lobbies, in some cases complete with brightly painted cruiser bicycles available on loan.
Then beneath the cosmetic level, in more and more cases, there lies a carefully considered methodology for how a branch can provide a useful and engaging experience when most of the transactions that were formerly handled by human tellers are now conducted online or via app-based banking. Far from disappointed with the shift, financial institutions are encouraging customers to enjoy a bit more flexibility and time-saving ease by getting those tasks done with the phone in their pocket. Now a branch visit means a customer has questions or needs that require a more personal, advisory role.
The first step is to make the branch feel comfortable; second is the thoughtful addition of audiovisual technology for ease-of-access to expertise and financial products. And, along the way, use AV to engage bank customers with information and brand messaging to ensure the wait for any of the above doesn't feel too long.


We Still Need You, Branches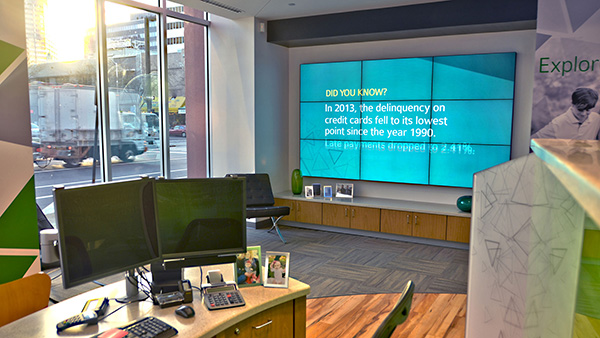 The paradox has financial institutions stepping up the pace of technology deployments in physical locations. With real estate at a premium, and the traditional bank teller increasingly sidelined by interactive teller machines (ITMs), banks and credit unions are examining how to best connect their in-house expertise with customers. Now that the majority of transactional processes are handled by technology, a bank's most valuable asset in customer attraction and retention is the consultative sale. And that means customers need convenient, meaningful, technology-enabled interactions with people who can help them.
Although pundits talk about machines replacing humans, many markets, including banking, are using technology to make connections among people. For example, in remote locations, where financial expertise might not be available, customers can connect with a bank's specialists via dedicated videoconferencing rooms. In cities, it's becoming easier and faster for customers to immediately feel their needs have been addressed when they walk in the door, thanks to digital concierges and good old-fashioned human greeters (well, sometimes they're robots) wielding wireless tablets.
Gone are the days when a bank branch asserted a financial institution's merit with materials and an experience that reflected a cold, aloof authority. Now it's all about the model that retail figured out long ago. Greet a customer with a friendly and engaging, "How can I help you today?" Whether that welcome message is prompted by a screen or a person will depend on a number of factors, the combination of which dictates where and how audiovisual technologies will be used in bank branches. Here, AV experience designers will want to bring all their best retail and hospitality knowledge, blended with an understanding of immersive and interactive brand engagement, to help deliver the front end of banking's customer-centric makeover.


Technology Built for Customer Needs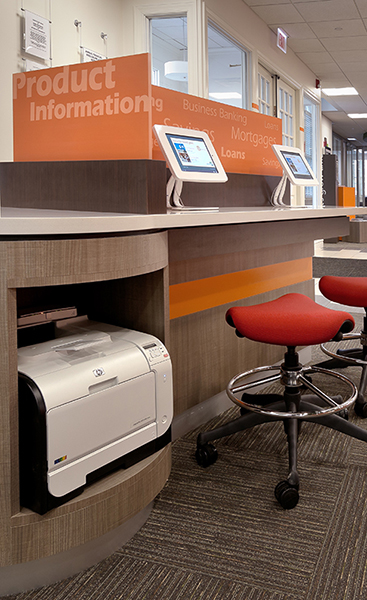 Welcome to the age of the "Smart Branch," which consulting firm McKinsey & Co. has helpfully laid out for financial institutions and their technological partners in its report A Bank Branch for the Digital Age. Along with providing a prescription for banks and credit unions, McKinsey's advice also presents an opportunity for AV designers, integrators, content creators and experience designers:
"Digital technology should not be an add-on to existing practices and processes. It should be built into customer interactions and employees' day-to-day work. The goal should be to migrate more than 90 percent of simple customer activities to assisted or self-service formats; to have simple, unified, paperless processes for sales and service; and to use next-generation analytics to deliver personalized offers that are truly relevant for customers. While traditional bank branches are reactive and service oriented, smart branches are proactive and focused squarely on customer needs."
Customer needs first. We've heard that before in AV. So how can audiovisual technology help make a bank branch more useful in an online world? Well, it can do what AV does best — help people feel more connected, both to bank personnel and information.
Basically, when people go into a bank now, they're seeking something they can't accomplish online or with a phone call. In the best circumstances, they're seeking a trusted advisor. In more cases than anyone cares to admit, they're probably frustrated with something that's gone wrong, and they need to get it fixed in person.
The first step is to look at the branch experience overall, as a source of engagement and resolution. At which moments in the customer journey can technology provide an assist?
In addition to the McKinsey report, financial institutions are also referring to research by ForeSee, which, according to an article published by Financial Brand, provides proof of "Why The Customer Journey In Banking Will Never Be 'Digital Only'":
[The bank customer] journey is complex and almost always includes multiple touchpoints. Consumers that start their journey digitally don't necessarily complete their transaction digitally. In fact, according to the ForeSee Experience Index, overall, nearly two-thirds (61%) of consumers start their journey in a digital channel when opening a new account, while more than half (58%) of those end up in a branch.
The fact is, even though it might seem like people are going to the bank less, they're actually doing more banking than ever, from an app-based or online transaction standpoint. The ease with which customers can connect with their financial information is enabling much more frequent contact, and therefore prompting more opportunities for deeper conversations about financial products. Those conversations can be helped along with digital signage, interactive displays, and videoconferencing.
This mixture of goals and purposes, dictated by the needs of local demographics, is comparable to another type of business that is revamping its physical locations: retail. The "hub and spoke" tactic, where a brand builds a few large-scale flagship locations and supports those with smaller, purpose-specific or neighborhood-personalized outposts, has already taken hold in banking. And just as in retail, the size and goals of a location will determine technological outlay.
"As transactions have fallen and the use of technology increases, that has dictated that the size of the branch has declined pretty significantly across the board over the last 8-10 years, and with that there's been a tremendous amount of technology that's been deployed in these locations," notes Brian Nutt, Founder and CEO of Codigo.
Some of these "high-tech" branches are certainly gaining a lot of attention, but as they become the norm, there's been a refinement to how the tools of the audiovisual trade are best utilized in relation to the architectural design and practical purpose of a branch location. Particularly as the evolution of bank branches generally tends to decrease the number of people working in a branch. That's where technology can help, Nutt says. "As you have a declining footprint, then you have a declining headcount, and as you have that, you remove individuals and their specialties. The well of knowledge becomes shallower, unless you supplement those who remain in the branch with technology and help them to provide the most up-to-date information. Whether that's with the ITM, where you pick up a phone and look at someone and interact with them, or an interactive display, or larger video wall, or digital signage showing latest information. You can't take away the access to that knowledge."


A Custom-Tailored Experience
As financial institutions revamp their physical spaces and realign the flow of branch design, there's one component that's ready to fit into any size or communications scenario: audiovisual technology. Easily scaled up or down, AV gear can fit one purpose today and evolve to meet new needs tomorrow. Fortunately, the goals of the banking market segment are well in line with what communications technologies provide elsewhere: flexible, adaptable means for connections between people.
Anthony Burnett, Chief Evangelist with Level5, a design and construction firm specializing in financial institutions, describes how the physical flow of a branch design is augmented by technology. The first step happens right inside the door, when customers are essentially "triaged" by some combination of human and technology. The specific tools or techniques employed here are determined by a bank's brand experience goals and the size and functionality of that particular branch location.
In any case, via interactive screen, video concierge, or human intervention, the goal, Burnett advises, is to "identify problems quicker, talk to a customer, provide information, and maybe that can be served by a digital screen with branding messages, or it's a more detailed conversation."
From there, the Level5 approach to bank branch experience design is to "Think in Zones." Burnett writes about this design tactic in his blog post on the subject: "As the function takes shape, then the desired experience is layered on top of the function."
The zones are determined by a customer's movement through a space, dictated by time after they enter. After the first impression is made, there follows:
The 1-5-Minute Zone, where self-service, assisted self-service, or teller-assisted decisions are made
The 5-20-Minute Zone, where consultants, manager access, and full-screen video help customers or members solve larger concerns or questions
The Support Zone, where a work room, break rooms and storage support the process
The Bonus Add-on, which is something extra, like a community room
There are opportunities to integrate audiovisual and digital technologies throughout such a customer journey.
Creating Excitement With AV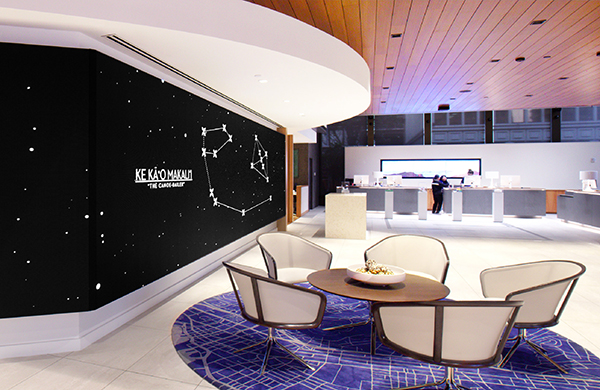 When addressing human factors in the branch experience, it's important not to forget excitement. This is where AV can dazzle and engage. And maybe it can also provide distraction or soothing energy during a long wait.
"AV can have a profound effect on the ambience of any architectural space," observes Daniel Routman, Director of Innovation with Ford Audio-Video. "It can inject energy through loud music and bright flashy lights. It can induce calmness through soothing sounds and natural images. And it can inspire creativity through the use of visual art and harmonious music. The AV system becomes a part of the architecture and its atmosphere, much more than just electronics attached to the wall."
AV absolutely creates atmosphere at the Bank of Hawaii, where Ford Audio-Video installed a 33-foot LED wall in the lobby. "This is a high-traffic section of the bank where you would typically see static artwork and promotional messaging, which sets a monotonous tone for the customers who frequent the bank," Routman says. "By utilizing an LED video wall that encompasses the entire surface, they are able to produce a unique experience for the customer every time they visit. This change of scenery can produce a psychological effect on people. It brings a sense of excitement, which makes doing mundane tasks like depositing checks more enjoyable."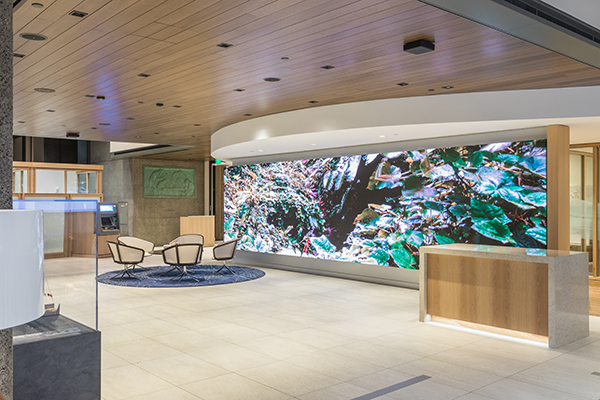 When working with such a large-scale display, Routman emphasizes the importance of quality content to the success of the design: "If the goal is to wow the customer and to trigger emotions every time they walk in, you must invest in the production of high-resolution, artistic content."
He also adds a note that would align with branding initiatives: "You also can't ignore the fact that there is a luxury factor at play — the LED wall is now a status symbol, which shows off the success of a business and attracts high-end clients."
There it is. Perception is everything in the industrywide bank branch refresh, and there will be abundant opportunity to guide and reinforce the technology decisions that will best deliver a brand experience and enhanced connections among people. As financial institutions reach out to branding agencies, builders and digital marketing resources, the expertise of the AV experience designer and integrator can help to ensure that the branch experience is a little more fun and engaging.
TOPICS IN THIS ARTICLE