Collaboration is About Workstreams: How AV Companies Can Position Themselves to Succeed
Posted on Nov 22, 2019
In pro AV, conferencing and collaboration has long been a well understood AV solution, driving billions of dollars in global revenue for manufacturers, integrators, service providers, and others. AVIXA's 2019 Industry Outlook and Trends Analysis (IOTA) estimates the worldwide market for pro AV products and services supporting conferencing and collaboration solutions hit almost $39 billion this year and stands to grow 3.1 percent annually in the years ahead.
And for as long as conferencing and collaboration took place in, well, conference rooms, the pro AV industry's value proposition was also well understood: Building so-called videoconferencing systems that allowed people to meet with remote counterparts using audio and video.
But of course, things have changed — rapidly. On the one hand, more collaboration now takes place online, via software-based solutions such as Cisco Webex and Microsoft Teams. On the other hand, there's been a rapid rise in "out-of-the-box" meeting room solutions, such as BlueJeans, Lifesize, and Zoom. And now, the two hands are shaking in the middle: Most recently, Microsoft and Zoom announced plans to enable users of Teams and Zoom Rooms to join each other's meetings.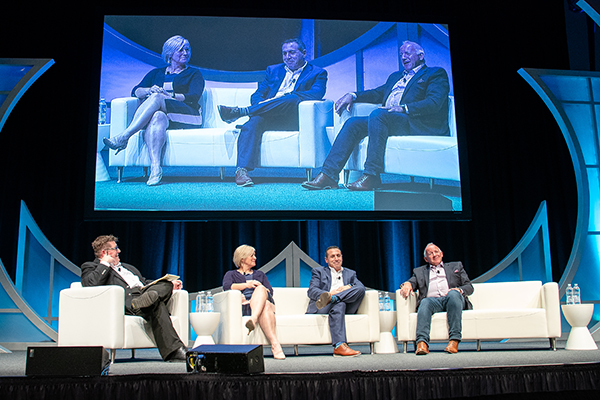 Tim Albright, President, AVNation Media; Jane Hammersley, Director, Maverick AV Solutions; Joe Laezza, Senior Vice Presidente, AVI-SPL; e Julian Phillips, Executive Vice President, Whitlock
What does all this mean for pro AV and the industry's long-held understanding of conferencing and collaboration? It means AV's role in collaboration solutions will evolve in new and important ways.
"One of the things we all have to remember as technologists is that collaboration, fundamentally, is a human endeavor, not a piece of technology," said Julian Phillips, Executive Vice President at Whitlock, during a panel discussion at AVIXA's 2019 AV Executive Conference in New Orleans. "We tend to get obsessed by system inputs and outputs …. The horizon ahead of us is trying to understand that what most enterprises need is to improve the way human beings work together. We have to look not just at the technology inputs and outputs, but also at the inputs and the outputs of the space and how it actually operates."
To help reach that understanding, there are a few things AV companies should keep in mind when positioning themselves as conferencing and collaboration providers.
The PowerPoint Analogy
To appreciate an AV integrator's role in conferencing and collaboration, it helps to appreciate another major technology trend that fueled corporate AV systems: Microsoft PowerPoint.
"That was the thing that basically created content-sharing in a room and drove most of the installations we did over a long period of time," Phillips told AVEC 2019 attendees. Conference room solutions became defined by the AV equipment necessary to present to groups of people.
"The next big wave is now Microsoft Office and Teams," Phillips said. "Teams is basically the thing that bridges not just audio and video and presence, but it also brings workflow, data, and artificial intelligence. What we're really talking about is a unified workstream and we [AV companies] are participants in the workstream revolution. In the same way that we benefited by selling PowerPoint into conference rooms, we're going to benefit by helping our customers go to a unified workstream."
Think of workstream collaboration as the next evolution of unified communications, and as envisioned by experts, it clearly encompasses audiovisual solutions. Gartner defines workstream collaboration as a market made up of "products that deliver a persistent conversational workspace for group collaboration and can be arranged into public or private channels. Products in this market can be used within an enterprise or become multi-party between organizations at the workspace or channel level."
Workstream collaboration, therefore, is about more than technology, or Teams, or even videoconferencing. "[Collaboration] is becoming less about the technology and more about the use cases and outcomes," said Joe Laezza, Senior Vice President of Global Accounts for AVI-SPL. "Don't worry about the technology; worry about the workflow."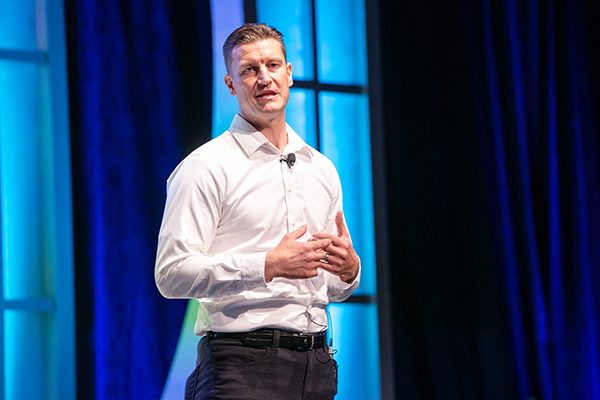 Mark Coxon, Tangram Interiors, speaking at the AV Executive Conference
Collaboration Should be Frictionless
Understanding the workstream means going beyond the collaboration technology that seems to change every year (and has its roots in IT) and understanding the many ways people collaborate and how technology can fit seamlessly into those use cases.
"The use case is that the user community can walk in and just use the technology and there's no friction. That's where the [AV industry] will absolutely flourish," said Laezza. "I see a lot of fear, uncertainty, and doubt in the AV space, and it comes from thinking 'God, everything's becoming commoditized.' I see a great opportunity to leverage our understanding of movement throughout a space."
Workstream collaboration is necessarily fluid. It happens in many ways, at many times, and among many disparate people. When companies think of collaboration as something employees do, not where they do it (a conference room) or what they do it with (collaboration technology), they recognize its ad hoc nature. And that's what AV technology needs to support.
"We used to look at the corner office as the pinnacle … and that big board room was the prestigious meeting space and everything else was forgotten," said Jane Hammersley, Director of Global Alliances and Collaboration for Maverick AV Solutions. "Now that's turned around. Smaller spaces are forcing standardization throughout organizations …. Put into that business workflow: Whether we're in our office, our own desk, at home, in a coffee shop, in a huddle space, in a meeting space, that workflow has to be seamless."
And it must work then and there, wherever collaboration happens. AV solutions should evolve to support "activity-based working," said Mark Coxon, CTS-D, CTS-I, Sales Director, Technology, at Tangram Interiors. The example he gives is a pair of colleagues, working on a project, who happen to run into each other in the corporate café and have a problem to hash out on the spot.
"They need a place to sit," Coxon said. "Does that place need technology? Do they need to be able to access information? What if they need to bring in someone from operations really quick to answer a question? They want to tackle that problem now; they don't want to schedule a meeting, go get their laptops, and hold a formal meeting."
The technology to support such collaboration exists. AV firms, with their understanding of space and experience, can design it into a workflow.
"The common theme is simplification," said Laezza. "And it's a good thing to reverse-engineer to accommodate the outcomes. We're growing up as an industry; we recognize that it's the end-user experience that's more important than anything."
In Addition to BYOD, Think BYOA
And, yes, today's collaboration solutions need to support a new generation of workers — digital natives who've been redefining workstreams for years. We've all heard of bring-your-own-device (BYOD), and depending on the user case, today's workspace may need to support BYOD. But in terms of workstream collaboration, companies also need to think in terms of bring-your-own-application, Laezza told AVEC attendees.
"Kids are coming out of college and they're coming into the workplace and you tell them to collaborate. They think, 'Well I do it a certain way that might be different than what the business does. Why can't I use what I use?'" Laezza explained. "Fine," he continued, "enable the environment to let them do that."
One of AVI-SPL's largest customers, PwC, does exactly that. "The reason they're doing it is because they have to attract or retain high-quality talent, and a generation that doesn't tolerate the idea that you come into our place and we give you the tools to work," Laezza said. "They just work."
In that case, the stakeholders within a business continue to multiply. The more parties contributing to applicable use cases, the more and better information AV companies have in order to create high-value, collaboration workspaces. "HR is actually a big stakeholder in getting the right facilities," said Hammersley. "If you haven't got the right facilities for people to meet, collaborate, have empowerment sessions, meetings, you're not going to get the right people."
Start New Conversations With Customers, Partners
Joining the workstream and enabling better collaboration may take changing the conversation between technologists and customers. Whitlock's Phillips says he's developed a technique he calls "you know how when." Talking to technology customers about collaboration solutions, Phillips says, the conversation goes something like:
"You know how when you're planning to move into a new building and the architects and all the space designers … decide what they're going to do, usually about six months or a year before they talk to the technology guys?" he told the AVEC audience, simulating a pitch to a prospective collaboration client. "And you know how you, as a technology person, get brought in way too late and by the time you can create a better outcome, you end up compromising the solution? No one wins, and it's more expensive than it needs to be. Well, we're here to solve that problem and integrate that process. But it does mean that you're going to have to bring us into the conversation a lot earlier than you traditionally have."
Succeeding in the collaboration market and joining the workstream will also mean thinking beyond AV. Coxon's Tangram Interiors is traditionally a workspace furniture company that understands the role of technology in spaces. Maverick AV has built out 22 Smart Meeting Experience Centers to help customers envision workstream collaboration. "We put in height-adjustable tables, as an example, because to collaborate you need to be able to be mobile and move around. People are more creative when they're free from the meeting space," said Hammersley. "Working with furniture manufacturers, talking to IT manufacturers, [understanding] what process people are going to use … and actually having a space that can be used by everybody is particularly important."
Just don't wait for customers to ask what you think. The collaboration market moves quickly, and the workstream is swollen with participants. But for all the technology at their disposal, customers are just beginning to clamor for better ways to collaborate. The AV industry's unique understanding of audio, video, and space makes it an indispensable partner.
"Do not turn up to your next customer meeting and say, 'Tell me what you want and I will be a solution provider.' Because they don't know," warned Phillips. "The biggest value you can bring to a customer right now is tell them something they don't know and have solutions and partnerships that actually help them … move to the new world [of collaboration] as quickly as possible."
TOPICS IN THIS ARTICLE