Inside the New CTS-I Certified Technology Specialist – Installation Exam Guide
Posted on Mar 30, 2021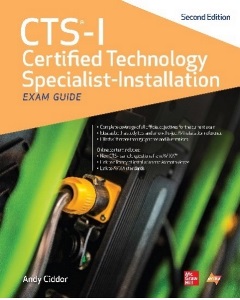 AVIXA™, the Audiovisual and Integrated Experience Association, is pleased to announce the release of its CTS-I® Certified Technology Specialist™- Installation Exam Guide, Second Edition. For over 30 years, AVIXA has administered the CTS program, which is recognized worldwide as the leading AV professional credential. There are three CTS credentials: general (CTS), design (CTS-D), and installation (CTS-I).
Through its seventeen chapters, this book provides a comprehensive look at the job tasks one can expect to be covered in the latest release of the CTS-I exam. While the professional installation of AV technology is built upon decades of refined industry best practices, it also continues to incorporate many changes driven by technology evolution and the pursuit of the "ultimate" user experience. Author Andy Ciddor continues to bring his experienced, yet approachable, writing style to this book following the well-received CTS 3rd Edition released in 2019.

Behind the scenes, AVIXA staff, and a working group of AVIXA SME volunteers, provided peer review input as part of the technical edit process. Starting with a review of the CTS-I Exam Guide 1 st edition and cross-checking to AVIXA's extensive learning and standards content, the technical edit function highlighted prospective content updates. Then as the new chapters were developed by Mr. Ciddor, the SME working group provided further consensus input toward what now makes the CTS-I Exam Guide 2 nd edition. As a picture may be worth a "thousand words" – the team also included skilled instructional design graphic artists who vetted examples of products, projects, and/or technical diagrams from AVIXA partners, technical image repositories and even created new original ones, to best depict the topic being covered.
Whether it's an e-book on one's mobile device or a bound book in the side pocket of the service van, this will no doubt be a "go-to" reference for all field engineers and technicians- well beyond its value in exam preparation. How do you properly interpret the specification sheet on that new microphone being used? What's the proper project documentation you should expect (and others of you) before, during, and after the installation? How can you optimize digital video transport, networks, and settings to ensure predictable performance? What *is* the "right" tool for the job? Find out all this and more by obtaining your copy "hot off the press"! Buy on Amazon or on Barnes and Noble.
TOPICS IN THIS ARTICLE