How Digital Signage Can Benefit Retailers
Posted on Jan 22, 2018
By Tim Kridel, Special to AVIXA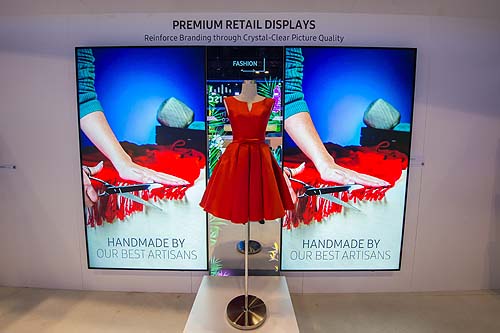 Digital signage is a broad, deep category of technologies and applications that go by many names, including "digital out-of-home," "place-based media," "narrowcasting" and "captive audience networks." The common denominator is that they're all designed to provide people with information they can act on, typically at any given moment and wherever they happen to see the message.
In the process, digital signage gives businesses new opportunities to make money, save money, and sometimes both. Retail stores use digital signage for a variety of reasons, many applicable to other verticals. Here are a few ways retailers can use digital signage to generate positive business outcomes:
To Build Awareness of Products and Services to Increase Sales
Eye-catching multimedia content is an ideal way to draw shoppers' attention to certain products and services, such as new or discounted items. This benefit also applies to other verticals. Hotels, hospitals, and dental offices aren't retailers per se, but they often use digital signage to build awareness of their spas, gift shops and whitening services, respectively.
This awareness is particularly valuable for products that aren't on display in the store due to limited space. When the digital signage is in a display window or just outside, it also helps lure passers-by. "[With] services and products that are not visible to customers, you have good ways of getting uplift," says Florian Rotberg, Managing Director of invidis consulting, which specializes in digital signage.
To Educate and Excite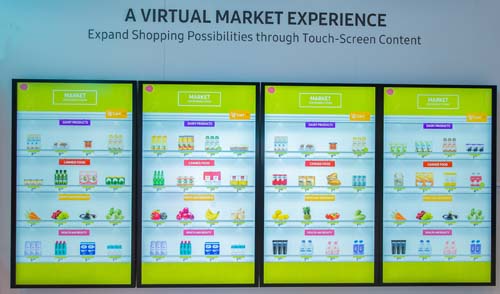 Digital signage can boost sales by highlighting features that would normally require a salesperson's help. Posters and other in-store print collateral can provide information about a product or service, but the amount is limited by the size of the collateral and how much time the average shopper is willing to spend reading. That information is static, so the collateral must be rewritten, reprinted and redistributed if it turns out that the first version isn't compelling, or to counter a competitor's sudden change.
By comparison, a well-produced video can show more quickly and effectively than a brochure how a product works. And if the video doesn't achieve the sales-lift goal, a new version can be downloaded to every store's signage network in minutes, and without requiring any involvement by each store's staff. Touchscreen digital signage also can enable shoppers to learn about specific product features while skipping ones they don't care about.
To Provide Self-Service
Touchscreen digital signage also lets retailers cater to shoppers who prefer self-service, such as learning about a product's features and availability rather than hunting down a sale associate. Some consumers also simply don't want to deal with another human. "They don't have a salesperson who's bothering them, and a lot of people like that," says Joe Bocchiaro, The Sextant Group Principal Consultant.
Some retailers use interactive digital signage to enable customers to configure and order products. One example is a premium furniture manufacturer with a chain of small, urban showrooms. After viewing and trying various materials and colors in the showroom, customers then use "configurator" signage to create their customized piece. Roughly 30 percent of customers who use the configurator go on to either place their order in the store or from home, Rotberg says.
Finally, self-service also is an opportunity for retailers to learn about how, and how many, consumers use interactive digital signage. Those insights can be useful for deciding whether and how to use self-service kiosks to minimize staff, as quick-serve restaurants such as McDonald's are now doing.
To Allow for Price Flexibility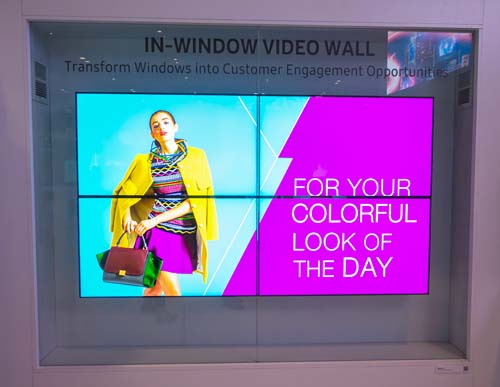 Unlike print collateral, digital signage can be updated quickly and remotely with new pricing and promotional information. This capability helps retailers compete not only against brick-and-mortar rivals, but also online retailers. Digital signage helps retailers address the growing problem of "showrooming," where shoppers in a store use their smartphone to see whether they can get a better deal from other retailers and online retailers.
For years retailers such as Kohl's have been using electronic shelf labels to maximize pricing flexibility and improve competitiveness. "Electronic shelf labels are becoming more and more important because retailers are changing prices during the day because Amazon changes them, and most customers do price comparisons," Rotberg says. "Electronic shelf labels are part of the digital signage world."
Quick-service restaurants such as McDonald's and Dunkin' Donuts are increasingly replacing static menus boards with digital signage. "This gives the owner greater control over menu changes, enabling them to quickly and easily update pricing to reflect a happy hour special or adjust based on inventory updates, ultimately helping drive efficiencies and incremental revenue," says Kevin Schroll, Samsung Electronics America Director of Smart Signage.
Larger-format digital signage can provide additional pricing and promotional flexibility. For example, larger displays can provide more information about, say, a rebate, which can be just as effective as a price cut when it comes to spurring sales. Electronic shelf labels are too small to support touchscreen interactivity, so a larger display could enable shoppers to find out if the discount applies to versions of the product not on the shelf but available for home shipment.
Finally, digital signage of any size also gives retailers more pricing flexibility based on location. When people shop online retailers, such as Amazon, the price they see often is based on their proximity to a fulfillment warehouse. Digital signage lets brick-and-mortar retailers adjust the pricing in each store to reflect location-specific costs, such as the cost of doing business there and the local competitive environment. Granted, print collateral could achieve many of these benefits, but it requires more lead time and employee involvement to make those changes on a regular basis at each store.
The experiences of one garden center illustrate these benefits. By adding electronic shelf labels, it eliminated six person-hours per week previously spent updating printed tags. The electronic shelf labels also reduced customer complaints about pricing errors by a factor of 10. The overall result was "better control and management of profit margins," Rotberg says. "Sales performance has improved, ensuring that precise daily targets are met."
Digital signage is an effective way to disseminate information among employees and customers. The technology has been around for decades, and its usage continues to grow. That resiliency illustrates reach and impact of digital signage.
TOPICS IN THIS ARTICLE