Getting to Know Leandro Insua, CTS
Posted on Oct 14, 2019
"I took my CTS certification as a personal challenge and a validation of knowledge"
More and more professionals in the AV industry are seeking the CTS certification that AVIXA provides to all its members, and this is the case of Leandro Insua who is currently working as a manager in the Pre-Sales area at ICAP GLOBAL Argentina, and also advises several projects in the Headquarters in Chile, Colombia, and Spain.
His career began 15 years ago in the IT world, and five years ago, he focused more on the AV industry, during his years of experience in the industry. The most important thing for him has been to take his preparation very seriously: "I have taken my professional career very seriously, looking to improve myself in the technologies that I dominate, but being very attentive to world trends," says the Insua Engineer.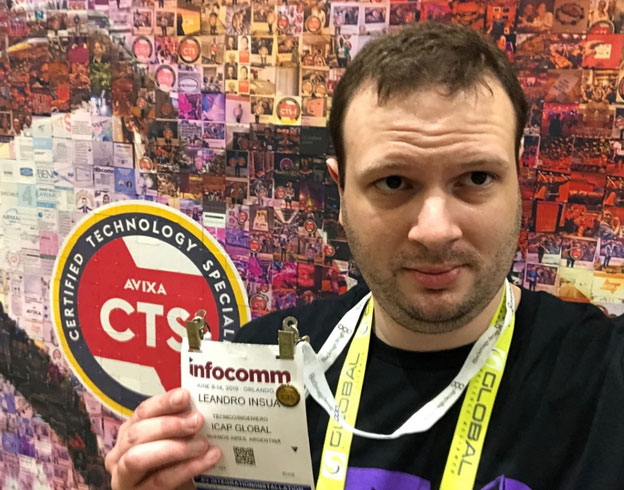 Leandro Insua, CTS
The CTS certification is a tool that provides professionals in the AV industry, validating the knowledge they have acquired for years in the practice and execution of their audiovisual projects and for Leandro, this is the first step to enter the audiovisual world and have a recognition that is validated worldwide. "Certifying myself as CTS gives added value to my profession and allows me to have operational efficiency, since time savings have a direct impact on being able to attend projects in a more dynamic way." 
For AVIXA, seeing more and more AV professionals become certified as CTS is a motivation to continue providing more training spaces to all our members. "Definitely, my perception was somewhat distant from reality. AVIXA has shown me to be extremely relevant in regards to the AV industry, developing various standards and contributing best practices together to the collective experience of its members," says Leandro.
The invitation of the Insua Engineer for all those who are not yet CTS is: "They must do it without hesitation, the CTS certification is the first international AV recognition that sets a serious and measurable parameter. It is a real certification, which provides great tools to those who want to be part of the audiovisual world." All resources, training, and certifications are available to each of our AVIXA members, so you are invited to be part of all these benefits.
TOPICS IN THIS ARTICLE