Developing the CTS Exam Guide Trilogy – A Long and Meandering Journey
Posted on Mar 14, 2023
My journey to editing the three CTS exam guides has followed a long, convoluted, and far-from-obvious path. It began with my childhood fascination for how things work, particularly things that worked remotely, like radio and electricity, and that fascination has just kept expanding and evolving. I loved my crystal-set radio and had my dad help me to rig a long-wire antenna to extend its range and that of the huge wooden valve radio with multiple short-wave bands I had inherited from my grandparents.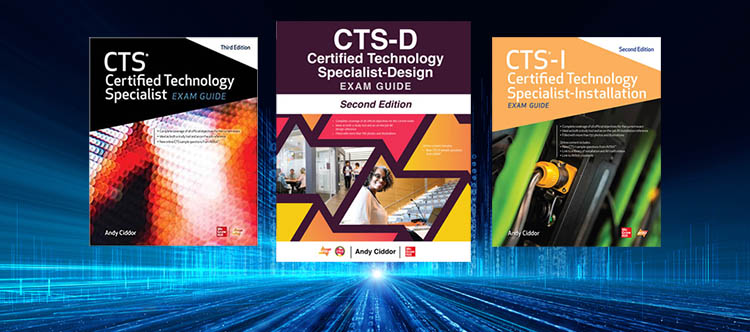 Early Career
I later became involved with amateur (HAM) radio through the Scout Jamboree-on-the-Air. In my early teens, I pleaded for a soldering iron and a multimeter for birthday presents. In high school, I joined the military cadets solely to become a Signaler and get access to (WWII-vintage) communications equipment.
At school, I loved to set up slide, film-strip, and later overhead projectors and audio-tape replay systems in my classes, and became a 16mm projectionist, showing shorts and feature films for the school's film society. I had no idea that this would later be called audiovisual equipment. I also began singing in various choirs and the chorus of the school's musical productions. Still, my interest quickly shifted backstage to "electrics," the department covering lighting, sound, effects, and communications.
I became a little obsessed with lighting, especially when remote-controlled thyristor dimming became available for small-scale productions. I lit so many community and university drama, musical, and dance productions in my late teens that I was politely invited to abandon my university psychology studies and only return when I had decided to study rather than be a lighting designer. I still haven't returned.
I went into professional theatre for a few years as a lighting designer and electrics tech but was seduced by the technological magic of (soon-to-be-color) broadcast television, where I eventually became a senior lighting director, video director of photography, and technical producer. On leaving television, I took up a teaching position at a performing arts academy, running a course in lighting and sound. There I taught lighting, video, optics, visual perception, electronics, production management, and eventually, IT and CAD. During this time, I became deeply absorbed in digital computing and began writing software for lighting and production management, introducing CAD and IT into live production. I also accidentally became the academy's IT manager for most of the journey up to Y2K.
In reality, none of these events happened in a linear sequence. Indeed, many occurred in parallel. I continued work in community theatre, freelanced in professional theatre, and developed digital devices while in television. I also worked as a technical systems consultant, producer, director of photography, production electrician, production manager, applications programmer, web developer, and IT consultant during the decades I was teaching at the performing arts academy.
Technical Writing Was a Logical Progression
About 30 years ago, I serendipitously discovered I was a competent technical writer. Certainly, my jobs for decades had involved explaining technological concepts to crews, clients, administration, employers, and students; but I had never done much of it in writing. I have a form of dyslexia that makes writing things down on paper pure torture. Even after more than forty years with computers, I can only type with my two middle fingers, but the letters are usually jumbled out of sequence, so it never occurred to me that I could write.
Once I had a few dozen pieces published in industry magazines around the world, I quit my tenured job in academia to become a freelance writer and technical consultant, something else I really enjoyed doing. Because I now had a solid background in digital technologies, my transition from analog to digital AV was mostly seamless. I found myself helping others make that journey; through my systems designs, the articles I wrote, and the seminars I conducted at conferences and trade shows.
As a writer, I took on a wide variety of assignments, from technology tutorials and case studies, to industry news, product information sheets, and even humor. By sheer fluke, I discovered that I really enjoyed working with product developers to write user guides and technical manuals, whilst contributing to the development of the user interfaces and product features. Other than developing computer software, writing manuals remains one of the most exciting and satisfying pursuits among my many careers.
My writing work took a much more serious turn when I undertook the job of developing, launching, and editing our region's first professional AV magazine. In that process I became even more deeply embedded in the AV industry. I have always believed in the incredible value of professional associations and have been an active member and contributor to many of them. I even co-launched my country's professional lighting industry association and became its president and CEO for its first 14 years. It was, therefore, natural to develop a close relationship between the AV magazine and AVIXA (then InfoComm), to promote its aims and publicize its activities in our region. One of the projects I most admire is the CTS program and its aim of training and developing a high level of professional skill across the industry. I was also impressed by its commitment to producing useful industry standards.
After some exciting years as a magazine editor and, attempting to launch a couple more titles in the audiovisual area, I decided that I would like to stretch my wings a bit further, looking for projects that would develop the technical depth of my writing abilities beyond feature articles, case studies, product reviews, and endlessly chasing writers to acquire images at sufficient resolution for quality print publication.
Editing Exam Guides for a Leading Technical Publisher
Then came technical publisher, McGraw Hill Education, who had been given my name by some of those I'd worked with at AVIXA. McGraw Hill approached me to work with AVIXA's subject matter experts to revise, extend, polish, internationalize, and if possible, future proof, the three CTS Exam Guides that they jointly publish every few years.
And thus began what has been a five-year adventure in book publishing with the CTS, CTS-I, and most-recently, CTS-D, Exam Guides: one of the most exciting and rewarding periods of my life. I love taking the reader through the journey to comprehending technical material and offering them an understanding of the underlying ideas. Even more, I am enthralled with the task of looking into forthcoming advances in our technologies and seeing how they might affect our industry practices during the period that each book will be in use before its next revision.
Developing the CTS Exam Guide trilogy has entailed distilling all the skills in technology practice, teaching, researching, editing, and writing that I have randomly acquired during my disparate collection of occupations. I hope these guides can assist many readers to enhance their audiovisual knowledge and skills.
TOPICS IN THIS ARTICLE