A Closer Look at Corporate Events
Posted on Dec 5, 2019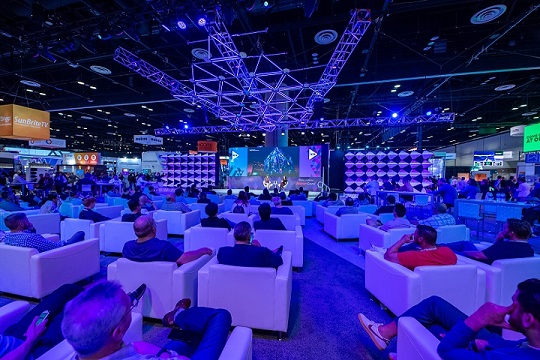 One of the forest-for-trees issues within the broad pro-AV industry is an assumption that, at the forest level, project work in this space is all about the sale and permanent installation of audiovisual technologies. But a trip down into the trees reveals a different reality. While integrated solutions are a sizable portion of the industry, temporary utilization through pop-up events or experiences is an important component of the AV solution set, generating strong revenues.
Because of this contribution, and to help facilitate broader understanding of it, AVIXA has dedicated two distinct studies on live events in 2019. This is in addition to on-going efforts to measure the revenues they bring to pro AV. The following are some of the key findings of the most recent of the two studies covering the corporate events space:
Corporate events represent a growing market — with dynamics distinct from both the installed AV and performance markets.
Of the $247 billion global AV market in 2019, the live events market represents $26.7 billion — a sizeable portion of the market. "Live events" includes both live performance events (touring concerts primarily) and corporate events. But the fact that the corporate events market is not a separate AV vertical market but rather a set of solutions that cut across all AV vertical markets means corporate live events represent great opportunity for growth. And corporate events growth dovetails with the booming global business travel market (worth more than US $1.3 trillion in 2017) — good news by any measure.
Attendees are treating "work events" as if they're leisure events, showing attendance discretion based on high expectations for technology benefits and performance.
A corporate live event at a convention or trade show, although work related, often has to compete with concurrent and competing events, so the attendees have choices about which event to attend. In addition, respondents frequently attend events that are not directly required for their job. Thus, they are not a "captive audience" and their responses to our survey questions reveal what providers can do to make them excited to attend. For example, in an industry where most of the activity has been on a stage at the front of a room, "interactive touch displays" topped the list of what most enhanced an event for our attendees. Digital signage also came to the fore in our survey as a desired/requested tech solution, for better wayfinding and event personalization among other things.
The end users — the gatekeepers to the attendees — are spending more on technology, while demanding better solutions and better workflow.
The end user — often the event producer or meeting planner — is responsible for arranging for the provision of AV gear and/or AV services for the corporate event. And they spend a significantly higher percentage of their total event budgets on AV than customers in AV integration projects or in AV for the entertainment/performance market. Half of the event producers/meeting planners surveyed plan to increase the amount of owned gear in their inventory. They also see direct benefits of using great AV for their events, with increased interest in new solutions such as creating digital archives of the events and doing more streaming of their events.
The dynamics of the AV provider are unique in corporate events: They are both the end user of AV gear and the services provider for a new kind of experiential demand.
The corporate live event AV service providers are the end users of AV gear: They either buy AV equipment for their own inventory to use in their customers' events or they rent AV equipment for them. They balance the amount of each activity according to their own changing financial position and exposure, their pipeline of jobs, their customers' needs, and the evolving market, including the emergence of new technology products and solutions. As AV providers, their most promising market is providing experiential technology and services, and these go beyond virtual reality (VR) and augmented reality (AR). The VR headset is fun, but top AV stagers and gear providers are looking beyond that; a new kind of "collective VR" is more appealing in this market and is catching on fast.
Of course, this is only a sampling of the extensive research represented by the report. In its pages you will find the results of three distinct surveys to the various components of the corporate events value chain – including audiences, meeting planners and events producers, and live events solution providers themselves. In total, the report forms a comprehensive look at the market for constituents who are either looking to enter the temporary solutions space or who are already serving it. Make sure to take a look at www.avixa.org/MOAR.
TOPICS IN THIS ARTICLE