CTS-D Prep in London, QEII Centre
CTS-D Prep can help ease your nerves and boost your confidence before you take the CTS-D exam. In this virtual learning opportunity, three days a week for two weeks, you will practice your test-taking skills and focus on specific areas of AV design you need to focus your study time.
REGISTER NOW
GBP | EUR
Who Should Take this Course
Professionals who:
Are a current CTS® holder
Have minimum of two years' experience in audiovisual design
Assess client needs
Prepare AV design documents
Coordinate and collaborate with other trades to create AV systems that satisfy client requirements
Course Features
Explore the CTS®-D exam format
Learn test-taking strategies and what to expect the day of the exam
Review design terminology and AV design math skills
Study the processes associated with designing an AV environment and infrastructure
Identify CTS-D exam study needs with drills and exercises including concepts, math formulas, vocabulary and diagrams
Prerequisites
To enroll in this course you will need to be a current CTS holder and have a minimum of two years' experience in audiovisual design.

It is strongly recommended that students have in-depth knowledge of AV math or have taken AV Math for Design Online. Students should also have experience in system verification or have taken Elements of Setup and Verification Online. Additionally, the CTS-D candidate should take AV Design 1: Environment, AV Design 2: Infrastructure and AV Design 3: Applied Design — or be experienced designers.
We recommend purchasing the CTS-D Exam Guide, and the CTS-D Exam Guide Supplement.
Course Fees
List/Basic: £720.00 / €828.00
Premium/Elite: £648.00 / €745.00
REGISTER NOW
GBP | EUR

CTS: 24 | CTS-D: 24 | CTS-I: 24 | Max: 24

Instructor: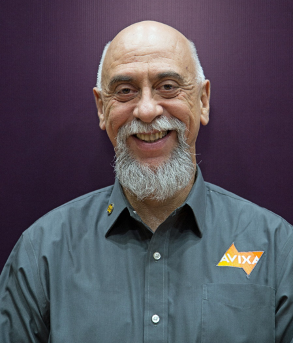 Nelson Baumgratz, CTS-D, AVIXA
Nelson Baumgratz, CTS®-D, is a Civil Engineer (UFMG) and has a master's degree in technologies of intelligence and digital design (PUC-SP). He has spent more than 35 years in AV-related industries, ranging from TV transmitter design and manufacturing to IT consulting and software systems design. Baumgratz also has a strong background in electronics, music and architecture, having ventured for more than two decades in these areas before committing to the AV industry.
Starting in the pro-AV world in 2004, he was Chief AV Engineer for ON Projeções in Brazil for a few years, leading several award-winning projects including a training and educational program for the company.
From 2008 to 2013 he was co-owner of EAV — Engenharia Audiovisual, an AV engineering design company in Brazil, along with other fellow CTS® professionals, developing and performing AV designs, systems integration and maintenance, and also developing technical training material for custom in-company training.
Nelson has been a member of AVIXA University™'s faculty since 2008, teaching all over Latin America, in the U.S. during InfoComm trade shows, and also in South Africa, teaching for SACIA (South Africa Communications Industry Association).
In 2012, Nelson was awarded AVIXA's "Educator of the Year ", as recognition of his work in developing the skills and knowledge of others in the AV industry. In 2014 Nelson has started a new career as AVIXA's Country Manager for Brazil, developing membership and serving members in the country, and also pushing the organization's educational program in Latin America. Nelson is also a member of AES — Audio Engineering Society.
Important Note
Completion of this program in no way guarantees that you will pass the CTS-D exam, nor will this program cover all the topics listed in the test outline.
By registering for this course, you are not signing up for the CTS-D exam. The CTS-D exam must be applied for, paid for and then scheduled separately at a Pearson VUE Testing Center.
Please refer to the CTS-D Candidate Handbook or avixa.org/ctsd for details
Event Information
Date
05-07 September 2023
Time
9:00 AM - 7:00 PM
UTC
Type
Training