With a goal of taking their academic and athletic recruitment programs to the next level, the Naval Academy Athletic Association recently unveiled the Ron Terwilliger '63 Center for Student-Athletes —a tech-focused, integrated space that gives their organization a competitive edge in the recruitment process while celebrating the achievements of Navy student-athletes. The crown jewel of this student-athlete center is the Akerson Theater — an immersive, 180-degree theater that integrates stunning audio and visuals that communicate how students and recruits can be part of the organization's storied history. In our panel's discussion, we'll examine the intricate design process that went into bringing the center to life, along with the world-class technology and monumental collaborative effort needed to create this remarkable experience.
Elevating the Familiar: How strategic content and technology can heighten any experience into something memorable.
Dissecting the Experience: Each component of the Akerson Theater was thoughtfully planned with the understanding that every element of a project is vitally important.
No Limitations: Thought leaders and experts in very different fields can collaborate to create the remarkable, regardless of industry.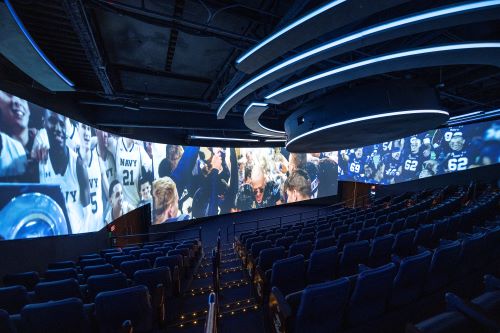 Sponsored by:

Presenters:

Patrick McMahon
Lead Interactive Producer
Dimensional Innovations
Patrick has been at DI for five years; he joined the team initially as a web developer and later progressed into a Lead Interactive Producer position.
He acts in a variety of roles on Tech projects, including Project Manager for stand-alone projects or as part of a broader team on more large-scale projects.
Patrick's greatest achievement to date was coordinating the design and implementation of the Cleveland Clinic Children's interactive motion wall that won a 2019 APEX Award.
This interactive goal is to entertain patients for an extended time while still feeling flexible enough that a patient could stop at any time when called for their appointment.
Patrick works with Design, Fabrication, and Project Management teams regularly, as well as interfacing with our clients from initial design to their technical teams.

Brian Silvey
Creative Director - Interactive Technology
Dimensional Innovations
As Creative Director for Interactive & Technology, Brian focuses on developing design and digital solutions for many of Dimensional Innovations' largest clients.
With a background in graphic and user interface design, Brian has applied his talents to connecting brands to consumers through technology and engaging design.
Throughout his extensive career at DI, Brian has a proven track record of successfully transforming clients' visions and goals into powerful, branded designs with user-centric features, whether it's an education exhibit design, an innovative healthcare experience or a cutting-edge interactive for a professional or collegiate sports team.
Brian graduated from the Kansas City Art Institute with a degree in graphic design.
Specializing in graphic composition, typography, illustration, storyboarding and animation, he has extensive experience with starting projects in the conceptual stage and taking them through to construction documents.
Outside of work, Brian enjoys photography, outdoor sports like backpacking and canyoneering as well as playing the drums.

Larry Howard
Senior Director of Sales
Entertainment Christie Digital
As Senior Director of Sales, Entertainment, Global Theme Park Development, Larry and his team develop solutions for companies and partners in the themed entertainment and attractions markets.
He is motivated by working with forward-looking companies who strive to reimagine how the future can look.
He's a tech champion who has been involved in many aspects of the ProAV industry - from selling and designing solutions to installation and maintenance.
He loves outdoor adventures, Spartan events, auto racing and hiking.
His favorite attraction is Pandora – The World of Avatar at Walt Disney World Resort.


Bob Ledo
Senior Vice President
AVANT ACOUSTICS
Bob Ledo, Senior Vice President of AVANT ACOUSTICS, is actively involved in the design, testing, and commissioning of audio-visual and sound reinforcement systems for all types of facilities throughout the U.S., as well as in Germany, Japan and Korea.
Bob has over 30 years of project management, technical supervision and hands-on field experience.
In his role as Senior Vice President, Bob is an advocate for continual client contact.
From the initial marketing effort, through the entire design and construction process, and continuing with post-project follow-up, Bob's goal is to make sure that the client's needs and expectations are always being served.
Prior to joining the firm, Bob served as the technical supervisor of sound reinforcement and audio-visual system installations for a Tulsa, Oklahoma, systems integrator.
Bob's past experience also includes freelance work in show lighting, audio-for-video productions and television broadcasts.
Moderator:

Weston Owen
Public Relations/Social Strategist
Dimensional Innovations
Bringing a decade of experience in public relations, Weston leads the company's PR, media relations and social media initiatives.
He works closely with DI's leadership team and individual practices to help strategize outbound messaging, promotion and partner collaboration, all while engaging clients and extending the company's public reach via social media.
Weston also pitches media outlets and develops relationships with reporters and journalists in order to maximize exposure with market-specific news outlets, nationally recognized publications and trade sites.
Outside of the office, Weston is heavily involved within the community.
He sits on numerous not-for-profit boards designed to bolster Kansas City and enrich its people and businesses.
Additionally, he serves as a contributing editor for a local community website and an integral proponent of the Nelson-Atkins Museum of Art board and fundraising committee.
His two most treasured hobbies are travel (both domestically and internationally) and photography.
Event Information
Date
08 February 2022
Time
1:00 PM - 2:00 PM
Eastern Standard Time
Type
Webinar