You Don't Need a Glowing Red Nose to Find Immersive AV Holiday Experiences this Season
Posted on Dec 12, 2018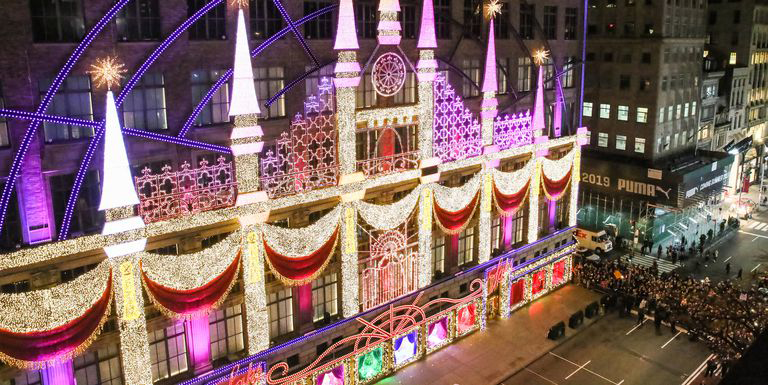 Saks Fifth Avenue 2018 Holiday Display in New York
Some of us have been engaging in an immersive holiday season experience at home since early November, with nonstop seasonal cheer in the form of endless movies, music and that awesome fireplace loop you have blazing away on your screen(s). But have you really done the whole experience yet? Have you gone outside your house and checked out some of the cool immersive AV that's changing the landscape in nearly every town, large or small, these days?
Now that we're in full seasonal mode, with that end-game of New Year's Eve just around the corner, maybe you should check out what's happening with cool new immersive experiences in public spaces, museums and hospitality venues near you. Oh, and feel free to tell your boss it's for work.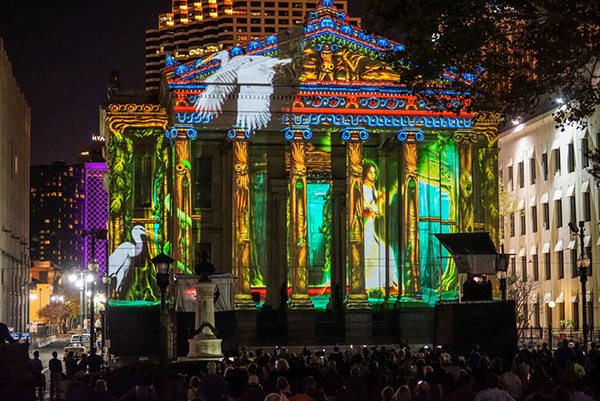 LUNA Fête, New Orleans
Hallmark Movie Style
In true holiday movie tradition, of course we have to start with one of the big department stores in New York City. Saks Fifth Avenue really went next-level with its elevator projection mapping by Bravo Media indoors and its crazy 10-story facade illuminations outdoors. The "Theater of Dreams" show has completely revamped the feeling of the space, and the store has planned a series of live-streamed theatrical spectaculars in NYC, in addition to special events in select locations around the country, to maximize the effect.
It's Science!
Looking to get everyone engaged in some scientific learning to counter some of the holiday-movie brain-drain? Head to the Perot Museum of Nature and Science, where the Dallas AURORA light, video and sound festival has brought a special "Velocity of Light — A Kaleidoscopic Journey" projection by Carmen Menza.
A Resort with Immersive Sound?
Looking for an actual AV reference to make you feel fulfilled this season? Check out the new SoundWaves water attraction at the Gaylord Opryland Resort, which opened its doors this December. This year-round, indoor and outdoor "water and music experience" features four acres of fun audio attractions featuring pop and country music, and a giant screen with music programming at the outdoor wave pool.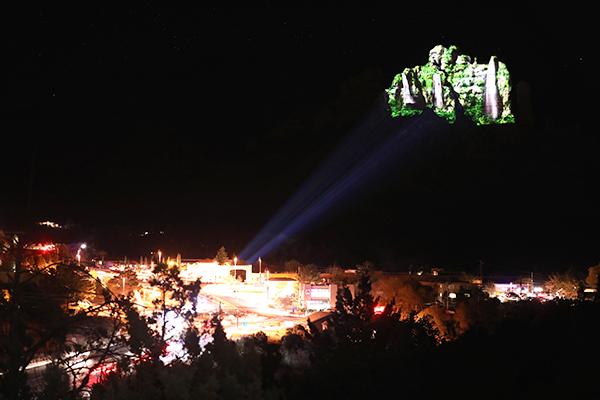 "Sedona Northern Lights" projections by PaintScaping
Head to the Desert
The warmer climes are getting into the seasonal fun, with crazy botanical garden displays like "Electric Desert" by the Klip Collective in Phoenix, and the cliff-face altering "Sedona Northern Lights" projections by PaintScaping. Music accompanies the show, and can be heard on the good old-fashioned radio or with sound reinforcement on-site. (I also love this note on the event website about the music: "Not available via live streaming on a smart phone application due to time delay." Nice! Time delay, that's a nod to AV.)
Crescent Moon Style
Earlier this month, New Orleans hosted its LUNA Fête, which transform the city's iconic architecture into large-scale projection-mapping and light installations.
Bright Lanterns, Big City
This year, New York City added one more seasonal spectacular, the Winter Lantern Festival on Staten Island. A China National Tourist Office New York 2018 signature event, the festival illuminated seven acres of the Snug Harbor Cultural Center & Botanical Garden with 40 LED installations up to 30 feet tall.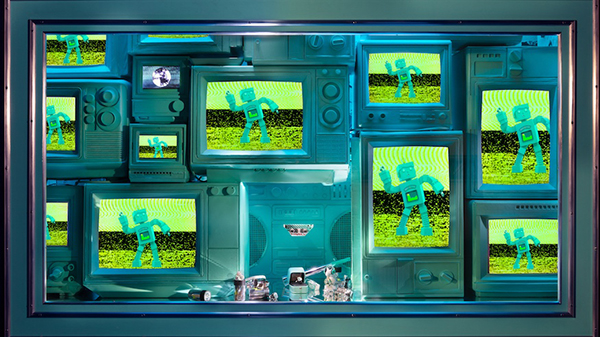 Tiffany's Holiday Window Display in New York
Hidden AV Gems
And while we're talking about NYC again, even though the window displays at Tiffany's weren't AV-enabled, there was one that was definitely hip to audio fans. In front of a display of charmingly retro radios, an adorable little porcelain mouse dons headphones and listens to some tunes.
Hello, 2019
Heading back west to Los Angeles, a month of Winter Glow festivities at Grand Park continues, with 19 curated large-scale interactive light and projection installations that transform park spaces, alongside the L.A.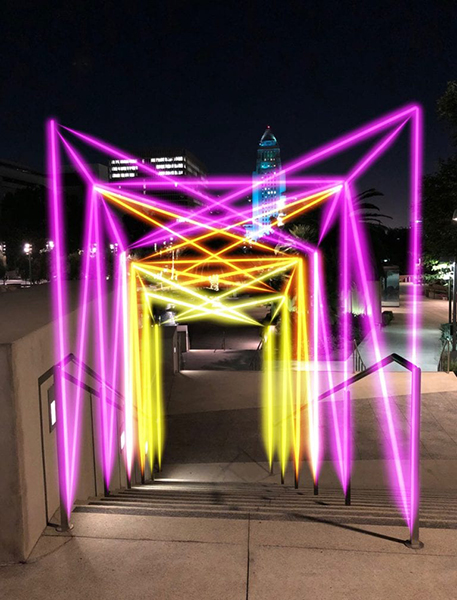 Winter Glow at Grand Park, Los Angeles
County Christmas Tree and the Grand Park pink light tree and menorah. Then the park reboots for the N.Y.E.L.A. celebration to ring in the new year with yU+co's projection mapping of this year's "LA Dreams" show and the annual 3-D digital countdown clock on City Hall.
That's a lot of holiday cheer! No matter where you are, you can get out and see some majestic mapping and hear some great tunes. Celebrate AV this season!
TOPICS IN THIS ARTICLE