Q&A with George Fournier Jr., CTS, Design Engineer – Workplace Technologies, danker
Posted on Jun 3, 2020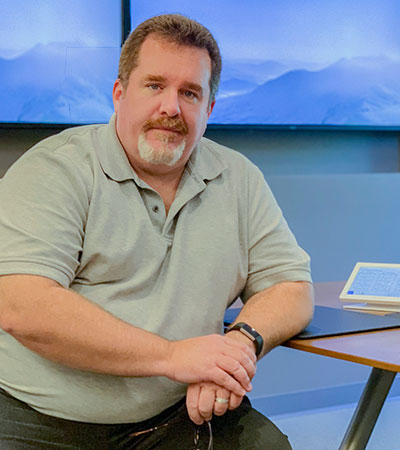 George Fournier Jr.
AVIXA: Tell us about your personal journey. Where did you grow up? Who were your role models?
Well, I grew up in Clifton, New Jersey, and first got into AV/video production when I was in high school. I had dreams of working for one of the New York City news programs as a news cameraman but when it didn't materialize, I got into AV rentals and staging at a few local hotels and convention centers. Over the years I have worked in sales, purchasing, project management, CAD/drafting, tech support, and now as a design engineer. Two people I consider mentors in this industry I met later in my career but none the less have had huge impacts in the way I work and how I approach people just entering our industry. Janice Sandri of FSR took a gamble on me and I tried to not let her down. The example she set on how to network and support others in our industry while helping those who need a hand has had a huge impact on me. I was on a podcast once in 2014 with Chuck Espinosa, CTS-D, CTS-I [AVIXA® Senior Staff Instructor] and I remember him talking about how those of us who are lucky enough to be working in this amazing industry owe it to those following behind us to help show them the way and help them learn what they'll need to pass us up. As he said: Each One Teach One. This is some of the inspiration that lead me to found #AVGivesBack and get more involved in our councils.
AVIXA: Have you previously volunteered for an AVIXA council?
Like my mother says, I'm a chronic volunteer. When I worked for FSR, I was on the Manufacturers Council, the AVIXA Women's Council, and the Diversity Council. When I moved to dancker in 2018, I joined the Systems Integrators Council and stayed involved with the Diversity Council.
AVIXA: What attributes contribute to a successful council/council chair? Can you share with us your management philosophy?
I have noticed over the last few years before I joined the councils that the voices of the integrators and "workers" weren't being heard and the old way the councils ran didn't seem very constructive. Charmaine Torruella [Verrex LLC], and the Diversity Council changed my thinking a bit. They were actively pushing back and getting results. Diversity in AVIXA and our industry was sort of a "yeah we need to pay more attention to that when we have time" but now the conversations are front and center, and the outcome appears to be moving in a very positive direction for everyone involved. When I joined the Systems Integrators Council, their current chair at the time was Luke Jordon, CTS-I [Electro Acoustics & Video, Inc.]and what he and the council were working on was different from the councils of old. They had just completed their guide to help integrators attract the right employees and were working on a guide to help integrators better communicate with independent contractors. I was "dragged" into helping that project and didn't look back. In 2019 we created and ran an interactive webinar on project change orders. This was a different approach the council came up with where AVIXA used social media, mainly Twitter, to conduct some polls for us before the webinar. Then we folded those results into the presentation and used the feedback to help drive the topic we covered. We received a lot of positive feedback and hope to build on that in the future. The meetings were very constructive and positive and created an atmosphere where collaboration flourished. As for my management philosophy, I like to think of myself as a traffic cop, I like to direct or help guide teams to reach their goals and help different entities come together to work toward a common goal as well.
AVIXA: What do you want AVIXA members/future volunteers to know about being a member of an AVIXA council?
I'd like future volunteers to know that the councils are what you make of them. They shouldn't be viewed as a place to go and complain; they are fertile fields where you can plant seeds and get tons of input on how to make it all grow. But just like any farm, you only get out what you put in. So, if you want to have a say in how our industry is run or what direction it's moving, then get involved.
AVIXA: We live in an age of disruption, driven by fast technology cycles. How do you maintain a long-term vision and focus for the Systems Integrators Council in the face of constant change?
I have some big shoes to fill following Luke on the SIC. I am hoping to continue our work on creating tools and reference materials that can help existing integrators and those new to the industry. Plus, a side topic we are developing is one I call "Growing Our Future" where we are hoping to help integrators work locally with the AVIXA Foundation to grow our workforce through training and sharing information. We are hoping to work with other councils like the Independent Technical Services (ITS) and Diversity councils to see how we can better help students and veterans as they enter the workforce. I feel that while the technology itself and the science may change, the need for good quality people does not. We need to stop labeling those new to our industry by their generation, or age, or sex, religion or ability. At the same time, we need to stop blaming those who went before us and labeling them as well. We should try to learn from them, warts and all. I feel we need to make it so that the new members of our industry and our councils are valued for their input and contributions. It's not our job to make it easier, but I feel it is our job to make it an even playing field and arm all our new hires with the best training, standards, and mentors they can get. Then it's up to them to take it and grow. We really can grow our future together.
TOPICS IN THIS ARTICLE