Going the Extra Mile for the Yard House Dining Experience
Posted on Feb 5, 2018
by Kirsten Nelson, Special to AVIXA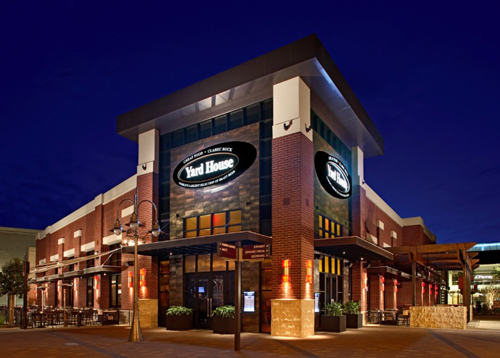 Before a restaurant becomes a popular chain, it begins as a wildly successful, singular location. Exhibiting that rare combination of memorable food and atmosphere, an original establishment's success can be challenging to duplicate. Unless a proprietor happens to partner with an equally passionate provider of atmosphere-enhancing audio and video systems, as has been the case with the Yard House chain of restaurants and No Static Pro Audio, Inc.
Crystal-clear sound at rock club levels and quality was one of the key atmospheric elements of Yard House when it opened in Long Beach, California back in 1996. With music carefully curated by the restaurant's founder, Steele Platt, the foreground AV system and classic rock playlists became as much a hallmark as the more than 100 taps that can now be found at each of Yard House's 72 locations today. The proof is right there behind the host stand, where one of the first things diners see is an equipment rack stacked with concert-quality amplifiers and a full suite of video switching and control gear.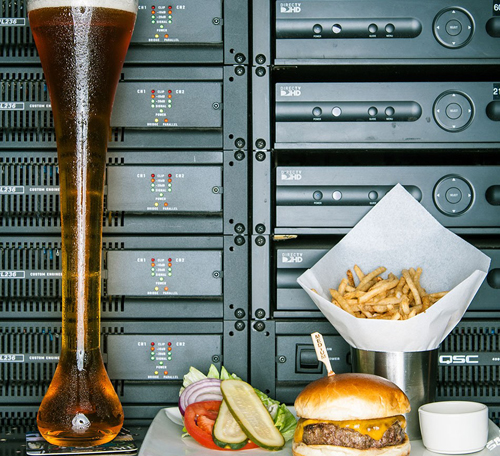 "Top-notch sound and video equipment has always been a priority at Yard House, which is rare in a market segment where AV is usually one of the last things considered and budgeted," said No Static founder Eugene Gordon. "It's really a high-end quality sound that's unheard of in restaurants."
Gordon's involvement with Yard House began in the way of many great musical collaborations. Back in the 1990s, he was a DJ playing regular gigs at the Roxbury on Sunset Boulevard, where he became the de facto sound system repair person. When the club's GM moved into the restaurant world, he continued to call Gordon for help with troublesome audio equipment. Then in 1996, the planets aligned when this GM was hired at the first Yard House in Long Beach by the founder, Steele Platt. They soon found themselves in need of an audio expert who could fix the issues they were having with their recently installed sound system.
From the start, Gordon not only assisted in Platt's goals for high-quality sound, he also constantly looked to improve the system's operation. When he arrived on site, Yard House still relied on giant CD changers for music playback. Fortunately, as a DJ, Gordon was able to help Yard House transition into the digital era.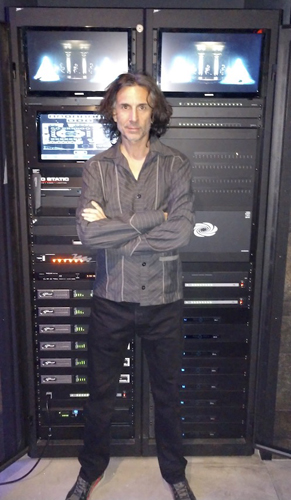 Eugene Gordon, No Static Pro Audio
"That was a game changer for them — that was what clinched the deal," Gordon recalled. "I got them off of those mechanical CD changers that would constantly jam up and kill the vibe and brought them this new technology that simplified their lives and increased reliability. Steele was able to make playlists on his computer, and he could just sync them remotely to the Long Beach location all from the comfort of his home, office or sitting on a beach somewhere."
Platt's original vision for high-performance AV remains a key element for Yard House following the chain's 2012 acquisition by Darden Restaurants, Gordon observed. "Yard House gets it. They understand the value of a high-quality system and they give us the freedom to make improvements and constantly raise the bar."
One of the latest innovations brought to Yard House by No Static was the addition of ScreenPlay Entertainment, which is noted for its massive licensed music and music video library that can also be remotely administered. Yard House has already been playing ScreenPlay's music videos at all the newer locations, and moving forward Screenplay Entertainment will be the new standard for audio playback and late-night music videos to keep up with Yard House's ever-evolving demographic.
This type of standardization across locations makes the AV systems easy for restaurant staff to operate via touch screen interface. In order to maintain systems nationwide, No Static can remote into the system to perform updates, diagnostics and troubleshooting. This helps reduce service calls, and helps keep costs down for Yard House.
With Yard House's high-fidelity requirements for both indoor and outdoor sound and video, equipment rated for long-term, continuous commercial use is vital. "For outdoor applications," Gordon noted, "we use specialized video displays and loudspeakers that can withstand glaring sun and inclement weather. Even though this comes at a premium, Yard House understands the value in doing it right the first time. What's better? Spending a little extra money up front or having your system down for a couple weeks while it's being repaired because you went with budget equipment?"
With Yard House's ongoing nationwide expansion, No Static has an efficient strategy for outfitting new locations with AV systems. "We go in about a month before turnover, when the dust has settled, and we get the work done in seven to 10 days," Gordon described. "We have it down to such a science, Yard House never needs to worry about us delivering on time."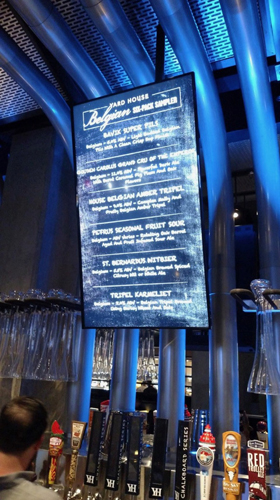 The work is streamlined by the architectural design of each Yard House location, which includes a soffit around the entire space. That provides a good hang point for video displays, and loudspeaker mounting, all connected via plenum-rated cabling. The restaurants' AV racks, before they're installed in their place of honor behind the host's stand, are built, tested and burned in at No Static's headquarters. Then they're shipped and tied in on site.
When the system is ready to go live, Gordon personally tunes the systems at the pre-opening party with a full house (see him in action at Yard House here). "As much as you can try and predict how a system is going to sound, you still need to put ears on it with a full house, and that's why I'm there," he explained. "In addition to making sure everything is 100 percent on opening night, that little bit of insurance goes a long way with the client."
Over the years of working together, that high level of investment in performance has remained constant. "It's part of the draw of a Yard House, and they continue to meet that expectation," Gordon said. "They appreciate the subtlety required in the design of an exceptional AV system, and they understand the value that a quality system brings to their customers' experience."
TOPICS IN THIS ARTICLE