Globally Stadiums Are Using AV to Create Better Fan Experiences
Posted on May 29, 2019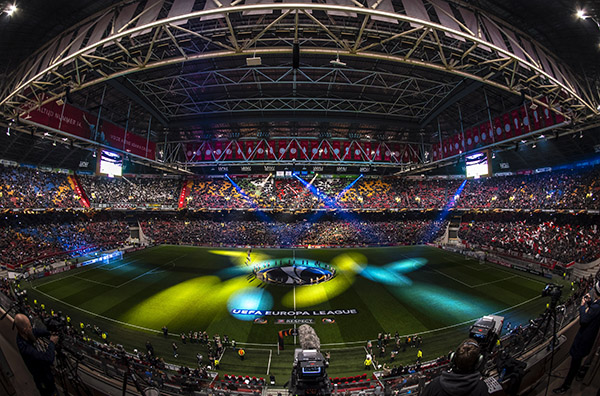 By Cindy Davis
The Fan Attendance Report released by the Association of European Professional Football Leagues (EPFL) in 2018 states that the cumulative leagues' attendance remained stable during the period between 2010/2011 and 2016/2017 football seasons. More than 120 million football fans filled the European Leagues' stadiums during the 2016/2017 season.
The conclusion of the EPFL's Fan Attendance Report stated its commitment to the study and analysis of fan behaviors and development of new fan engagement practices as fundamental to attract more people and the millennial generation to its games.
Albeit low percentages, recent stadium attendance in the US is trending down. In 2017, stadium attendance to National Football League (NFL) games was down 2 percent and Major League Baseball (MLB) per-game attendance dropped 4 percent. Major League Soccer (MLS) attendance dropped 1 percent in 2018. On the positive side, in 2017 the National Basketball Association (NBA) showed an increase for each of the past four years, and the National Hockey League (NHL) saw its third highest attendance in ten years.
Stadium owners worldwide are taking action by increasing in-stadium fan engagement and creating environments that can only be experienced live and in person.
Seriously Passionate Fans
During a discussion on stadia fan engagement at Integrated Systems Europe in 2019, the panel of experts agreed that many European sports fans don't care for flashy video and lights distracting from the game. But that hasn't stopped stadium owners from being proactive with a nod to engage tech-savvy fans by integrating technologies that enhance the match day experience in the bowl and concourses.
With the trend of sports teams focusing on global branding, James Keen, Group Head of Marketing at IPTV and digital signage company Tripleplay says, "within the stadium environment, you need to make sure that you're providing an experience to those local fans that isn't the global view, it's the local view." Tripleplay is currently involved with approximately 100 stadia, globally. "The best example of really connected technology solution I've seen, is Twickenham stadium," says Keen. "They bring their key technology partners together, connect them and ensure that the value of that integration brings value to their ticket holders."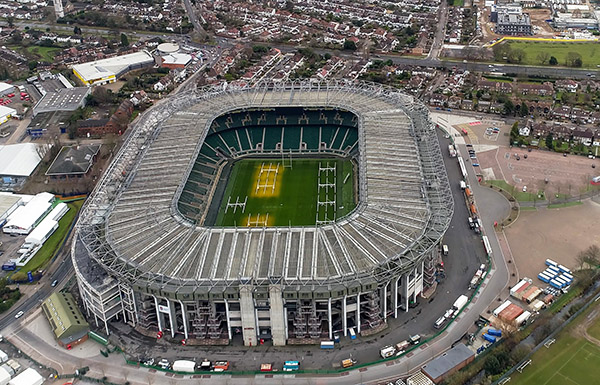 During the three years leading up to hosting the 2015 Rugby World Cup, The Rugby Football Union (RFU) embarked on the Connected Stadium project at the Home of England Rugby — Twickenham Stadium, located in south-west London. Seating 82,000 spectators, Twickenham is the largest dedicated rugby union venue in the world.
With the installation of two 169-square-meter (1,819-square-foot) screens suspended from the roof, high-quality live video displays instant replays that can be divided into multiple sections to show a range of content.
"Through installation of 700 digital displays, IPTV and digital signage we now have the capability to deliver relevant, targeted messaging throughout the stadium from partner campaigns to stadium information," says RFU's IT Operations Manager, Mike Morris. "This cohesive approach ultimately benefits the fans' experience at Twickenham on a match day."
A point of sales (POS) system communicates to the IPTVs to facilitate queue management in real-time. Based upon sales volumes the screen can direct fans to another food service area with shorter lines.
The Stade de France takes a different approach when it comes to uniting the fans with food. They deliver it.
The legendary Stade de France is one of largest stadiums in Europe with a seating capacity of 80,000. Owned by a consortium, the stadium is rented by the French Football Federation, the French Rugby Federation, the National League of Football, and for other events.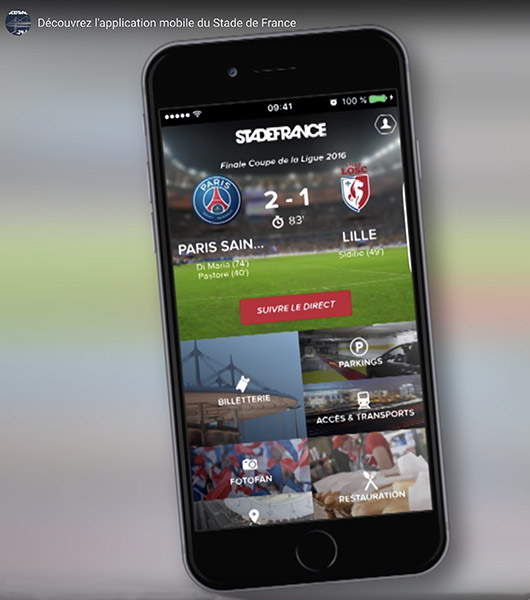 A Stade de France mobile application provides a VIP experience by connecting users to each other and offers an enhanced fan experience. Through the app, fans are able to purchase tickets, order food to be delivered to their seats, see public transportation options and use geolocation to locate parking.
Stade de France's Venue Manager, Jonas Djian explains, "fans prefer to use the mobile app to order food to be delivered so that they don't have to move from their seat and miss anything about the game." Djian is working with suppliers to shorten delivery times which are averaging 40 minutes.
Djian says, "everybody here is checking what's happening in U.S., but it doesn't come to Europe until three, four, five years later." Perhaps, that is about to change. Djian is looking forward to seeing what plays out in the US$600 million redevelopment of Spain's Real Madrid stadium, which is set to begin in April 2019.
Build It and They Will Come
A new world of audience engagement is scoring points at the US$1.5 billion Mercedes-Benz Stadium (MBS) which opened in August 2017. MBS is home to the NFL's Atlanta Falcons and the 2018 Major League Soccer (MLS) Cup Champions, Atlanta United FC. More than 73,000 fans packed the stadium to watch United win the Cup, breaking the MLS 22-year attendance record. Atlanta United's fans set two more MLS attendance records in 2017, with more than 70,000 fans at each game.
Designed by architectural firm HOK, the 2-million-square-foot facility has the capacity to expand seating from 43,000 up to 83,000 for special events.
Connecting at Every Level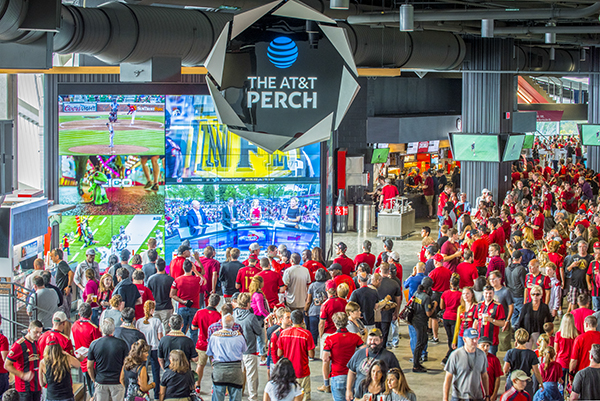 MBS was designed with engagement in mind. Fans in their seats inside the dome are engaged by unique content displayed on the 101-foot-tall Mega Columns roof support that doubles as a three-dimensional video board, ribbon displays between decks, and an immersive, 58-foot-tall, 63,000-square-foot, 360-degree HD Halo Video Board, the largest video board in professional sports today (until the Los Angeles Rams' stadium is built). When a touchdown or goal is scored, the whole building erupts in an LED light show.
A MBS mobile app lets fans enjoy the game and experience the stadium at multiple levels. For the multimodal fan, more than 1,800 wireless access points throughout the stadium ensure connectivity.
It's the job of the experiential design and build team at Dimensional Innovations (DI) to lure fans out of their seats and engage in one of the many hospitality-driven sponsored bars and entertainment areas called sponsor activations. "We design fan experiences that are specifically for engagement and immersion," says Justin Wood, Principal, Sports Practice at DI.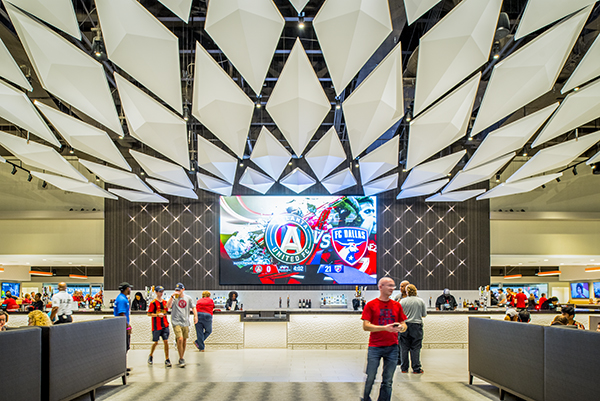 Among other sponsor activation areas, the DI team developed a giant monitor mosaic wall at MBS for American Family Insurance, showing images from the event that day. "Fans take their pictures in a selfie booth and they get posted onto the wall and become a part of this giant mosaic," says Wood. "Fans feel they are a part of the stadium." The images can be shared through social media, creating more engagement. "To participate, fans provide their email, which enables American Family Insurance to gather information about who was in the space," adds Wood. "It also allows us to craft the content and the messaging more appropriately." Surprisingly, there's less than a 10 percent overlap between the fan bases of the Falcons and United.
"This was the first time in an NFL stadium that I've seen fans congregating out in the clubs and the concourse areas," says Doug Stancil, Director of Special Projects, Baker Audio Visual, whose team designed the audio throughout MBS. "If the game is a little slow, I can guarantee you they're going to be outside doing something else, but they haven't left the venue."
In addition to video walls, more than 2,000 TV screens are placed throughout the concourses, fan activation areas, themed bars and suites so fans don't miss a beat.
Setting the Scene
The use of purposeful light is becoming an entertainment and branding tool at stadiums worldwide. "Using advanced scene management applications, lighting scenes and shows can be personalized to showcase the stadium's brand, opening up new possibilities for venues and their sponsors," says Thierry Chapiteau, Global Sub Segment Manager Sports and Arenas, at Signify, Netherlands. Plus, tailored lighting options can help stadiums extend the game day experience and increase fan engagement.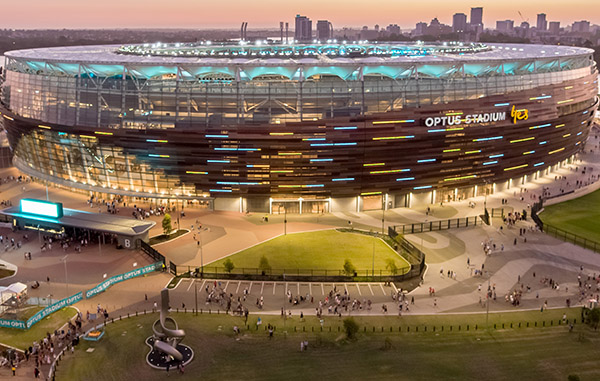 At the Optus Stadium in Perth, Australia, the installation of IoT-ready connected LED lighting enables operators to light up the stadium with the team colors on game day, while the roof canopy acts as a giant canvas upon which spectacular light shows can be displayed during sports events and music concerts.
Today, football is no longer about 90 minutes of entertainment. "Arguably the entertainment experience begins even before the light show, as fans approach the stadium," says Chapiteau. "At Signify, we've lit numerous stadium facades from the Optus Stadium in Perth to the iconic Maracanã in Rio de Janeiro." One of the most impressive is Bayern Munich's Allianz Arena where 300,000 LED lights transform its 26,000 m2 façade into a giant canvas.
The ability to use the lighting in pre-match light shows is afforded by the ability to program individual LED lights to turn on and off rapidly, vary their intensity and sync them to music. "In a few short years, such entertainment has reached new heights of sophistication as top clubs vie with each other to produce the most spectacular light show," says Chapiteau. Stadiums such as Ajax Amsterdam's Johan Cruyff Arena and Atlético Madrid's stadium, Wanda Metropolitano, have all taken the art of the pre-match light show to another level.
Chapiteau adds, having such a capability is good for business; "it increases a stadium's appeal to host FIFA and UEFA tournament matches and as a multipurpose venue to host everything from monster trucks to Madonna."
While lighting is already supporting many IoT applications, Chapiteau suggests keeping an eye out for new ideas and innovations that will enable further customization and personalization of the stadium experience. "Think of enhanced branding and marketing capabilities, or improved safety and operational efficiency at your venue," he says. "The future of the IoT is bright, and the lighting grid is a great infrastructure that can become the carrier for the IoT in stadiums and arenas."
Audio Greatly Enhances the Experience
Scott Willsallen, principal of audio consultancy Auditoria with offices in London and Sydney, implores people responsible for stadium audio to think beyond intelligibility.
Willsallen sees plenty of performing arts centers and auditoriums today being fitted with what would be considered appropriate systems. "Appropriate isn't cheap and cheerful," he says. "It's delivering the kind of power and performance, envelopment, and impact that users expect."
"There's a change in the conversation from nuts and bolts loudspeakers and amplifiers, to a far more creative one," adds Willsallen. "We need to ask what we can do with this system that's going to make it a more interesting experience for your audience. I'm talking about creating an environment that these people are walking into."
"A great sound system in the wrong hands doesn't help," adds Willsallen. "A great sound system with poor content doesn't help." He sees content production as another factor that should enhance the experience but has fallen flat.
Willsallen recommends engaging with the content producers and have them deliver voice separate to music, separate to sound design content. "Use someone who is an actual mix engineer and give the operator three sets of faders rather than just one," he adds. "There's not a strong argument for thinking you can get away with a more simplistic control system in a stadium. If anything, it's harder work for the operator to do a good job." He also recommends using ongoing measurements on the ground in real time, because the mix engineer is often in a situation where they can't really hear what's going on in the bowl.
Social Media Integration
"It is more than just putting a picture or tweet on the video screen," says Bob Becker, Executive Vice President at Van Wagner Sports & Entertainment (VWSE). "You need to find more ways to get fans to participate at a higher level." Then you need to figure out how to weave it into the fabric of the game.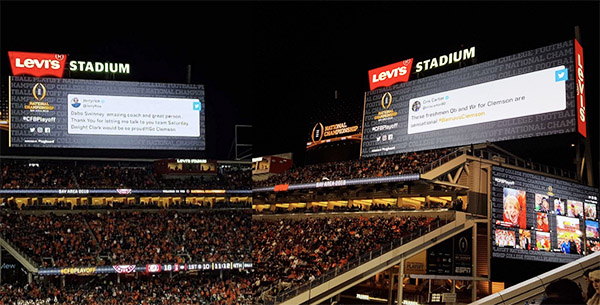 VWSE recently produced an Alabama vs. Clemson college football game at Levi's Stadium using Tagboard Producer, a centralized platform designed to display content from multiple social networks to multiple, simultaneous displays.
Daniel Braun, Senior Success Manager at Tagboard, was impressed. "VWSE led production on one of the most socially engaging game-day experiences we've ever been a part of. From celebrity commentary to fan photos and hashtag polling, the game presentation created a dynamic two-way conversation with the fans," says Braun. "At the same time, it showcased the story of the game through the lens of social media."
Tying the venue together as a whole is one of the new challenges, VWSE's Becker explains. "It is all about having the flexibility to use all the video boards in unison or individually," he says. "Nothing is the standard size anymore. You can't go in with a cookie-cutter approach to content creation anymore. It is a very exciting time to be a creative in this business."
When it comes to the types of content to deliver, Becker says, "You have to give the fans elements of the 'at-home' experience." Provide more robust game insights, trends, and statistics. Think about the next-gen stats that you can display, such as the speed of a runner, trajectory of a fly ball, etc. "You have to find a way to tell the story visually, without the luxury of having commentators explaining what you put up there," says Becker.
"Most important, you have to engage the fans at all times," he says. Be creative and think of things fan will react to, like asking who they think is 'the man of a soccer match,' or what song do they want to hear next? "Make them feel like they're a part of the show," adds Becker.
"These are the things that are making a difference in live stadia production."
A Holistic Approach
The stadium experiences just around the corner will blend engaging audio, video, lighting, content and social media in ways both expected and unexpected. Yet the level of fan experience will not be about any of those individual experiences. It will likely be something more collective, engaging — and seamless.
TOPICS IN THIS ARTICLE