Full Sail University Raises the Bar for Esports Venues
Posted on Mar 28, 2019
By Dan Daley, Special to AVIXA
Collegiate esports gaming is about to take a big step out of the dorm room. This spring, Full Sail University, a media-arts college in Winter Park, Fla., will open The Fortress, an 11,200-square-foot competitive gaming arena. The $6 million venue, scheduled to formally open in mid-May, will have seating for up to 500 spectators who will be able to watch Armada, Full Sail's first-ever sports team of any type, compete against other schools' teams in professional and collegiate gaming leagues, playing titles like Overwatch, League of Legends, and Hearthstone.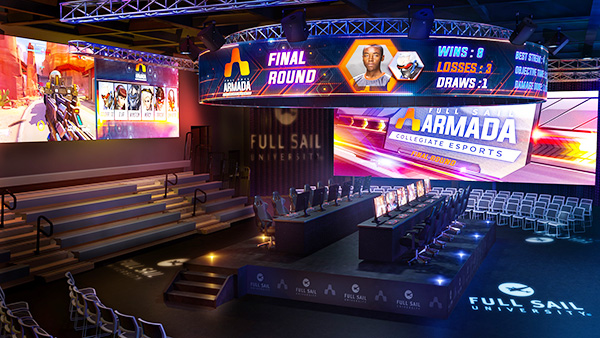 Fans in the stands will be able to watch teams ranging in size from a handful of players to platoons of 20 or more gamers as they sit at long tables topped with 27-inch MSI gaming monitors. Or they can follow the action on the main Absen 36-by-11.5-foot LED videowall with a tight 2.9-mm pitch, the largest of several videowall displays; others include a circular LED display, 24 feet in circumference and arrayed in a halo above the competition dais. And those walls will be shaking at times, thanks to two concert-grade L-Acoustics sound systems installed in The Fortress, one flanking a main LED videowall and another mounted on the circular flown video array, allowing the venue to be used in either an end-stage or in-the-round production configuration.
In terms of scale and technology, it's more appropriate to compare The Fortress to the new generation of professional competitive video-gaming venues that have sprouted in the last two years, such as the Esports Arena Las Vegas, the Esports Arena in Santa Ana, Calif., and Blizzard Arena LA in Los Angeles, than to compare to the rapidly proliferating range of esports "arenas" at smaller colleges and universities, many of which are often repurposed rooms on campus using a combination of new and scavenged AV equipment, as schools hurry to implement video game teams and places for them to train and compete. But the rapid growth at both ends of the venue spectrum underscores how important competitive video gaming has become to college and university sports departments.
The Class You Won't Want to Cut
Full Sail's Fortress has to serve two key functions: sports and higher education. "What sets this apart from both the esports venues being built on campuses and commercial esports arenas is that The Fortress is designed to accommodate spectators, and to act as an educational classroom facility," explains Bennett Newsome, Full Sail's Esports Strategist, itself a new job title created for the school's new esports arena and team. "We can support events like invitational tournaments here as well as any other sports arena — we designed it so that there's not a bad seat in the house — but it's also a complete classroom environment, where we can teach the skills of gaming and of the audio, video, lighting and control around it."
During scheduled classes and labs, all the venue's technology and facilities will be available for education purposes, "Without exception," says Vince Lepore, Director, Event Technical Operations at Full Sail. "We worked hard to make the space accessible to educators and easy for them to use," such as programming a "keynote" mode in the venue's Crestron room-control system that lets educators push presentations and media to the LED wall wirelessly through Crestron AirMedia, as well as providing access to four channels of wireless microphones that are automixed through a QSC QSYS core.
Fiber Tentacles Are Campus-Wide
The technology underpinning The Fortress extends well beyond its walls. While games played there will be able to be streamed to viewers anywhere in the world (the exact codecs to be used for that are still under evaluation), activities there can also be shared and linked, via a fiber network, with two other combination teaching-and-production facilities on campus, Full Sail's Audio Temple, a full-featured recording studio used by both audio students and visiting recording professionals, and Full Sail Live, a production venue designed to teach live-event and touring-production skills which has hosted broadcast events such as the WWE's NXT.
In addition, all three buildings are connected via fiber to Full Sail's data center, which stores content created in and for the various venues. That will include The Fortress' gaming activities in the future, says Lepore. "We'll be able to push and pull content to and from the data center from all of the venues over a network, which really multiplies the capabilities of each one," he says.
Deep Roots in Video Gaming
Like every building on campus, all three of these venues must be able to serve both event-production and educational purposes. AVL is a large part of that, says Lepore. He adds that the school has had many graduates who already work in the video-game industry, and the university has been teaching game development for years, creating a deep institutional connection to the sector, both for teaching it and for producing events around it.
"What is always foremost is having top-of-the-line equipment and technology in The Fortress and [our] other venues, so that students are always learning not only on the best equipment but on the same systems and platform they'll be using when they graduate and go to work in those industries," he says.
In fact, The Fortress was designed close enough to the cutting edge that Full Sail engaged a commercial AV systems integrator, Pro Sound & Video, to design, install, and integrate the venue's AVL systems, which also includes the use of ARRI Group LED washes for ambient lighting. In the past, the university has done most of that integration work itself. "We also did that because we needed to make this a fast turn-around," says Lepore, noting that the construction took a little under a year from groundbreaking in 2018, though it had been under consideration and in planning stages for more than two years.
The school has hosted esports competition in the past, most recently hosting the Florida Mayhem, which plays in a competitive Overwatch league. In 2013, the Full Sail Live Venue was temporarily transformed into a live-gaming arena for a Red Bull Training Grounds event, at which students and the public filled the seats to watch eight invited professional esports athletes face off in head-to-head StarCraft II battles. The event was also used as a teachable moment: The school's Film, Recording Arts and Show Production students shadowed and assisted at the event's live digital broadcast, and students in the Game Design Master's and Game Development degree programs had the opportunity to share their projects with the gaming pros, who provided feedback.
Given the fast pace of change in the video-game industry, future-proofing the venue was also a critical consideration. That, says Lepore, is one of the reasons for the extensive networking implemented in The Fortress. "We've made a significant investment in this venue, and the networked aspect will let systems be updated more easily and give it a lot of ways to grow," he explains.
Finally, Newsome says they listened to their students, who, given video gaming's demographic, often know as much or more about the games and the culture around them than some instructors and managers. "We definitely looked to the student population and to the communities around competitive gaming for ideas, for The Fortress and for [team] Armada," he says.
Full Sail's new Fortress will have to pull double duty as a digital gridiron and as a conventional classroom, keeping audiences engaged during marathon matches even as it communicates to students the nuts and bolts of how both video games and the venues where they're being played in are created. It's a big undertaking for a 40-year-old — the school was founded in 1979 — but given Full Sail's media arts-and-technology pedigree, it's well positioned to handle both tasks well. "Technology is what we do," says Lepore.
TOPICS IN THIS ARTICLE