A Multipurpose Stadium Upgrades for a Better Show in Lucas Oil Plaza
Posted on Mar 19, 2019
By Kirsten Nelson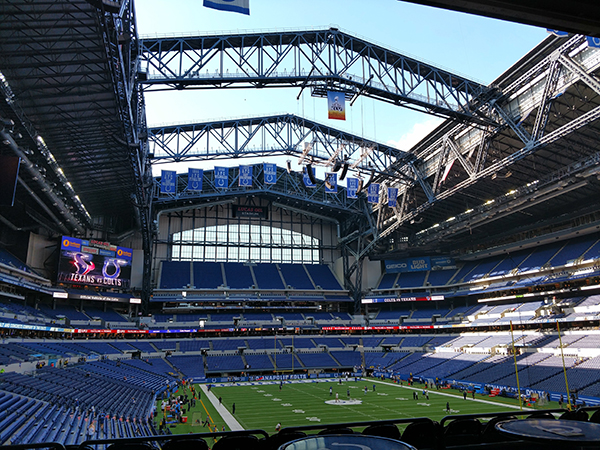 When the 67,000-seat Lucas Oil Stadium opened in 2008, it brought to Indianapolis the sort of modern-day multipurpose sports venue that would not only accommodate the NFL's Indianapolis Colts, but also NCAA basketball, mega-scale concerts and a wide range of other events. With spectator-friendly accommodations and hospitable event spaces stretched over seven levels, the stadium was built with the requisite contemporary complement of video and sound technology to support a number of distinct experiences and brand activation spaces.
Ten years after its opening, however, the stadium was starting to show its age in a way that is glaringly apparent in the technologically driven, selfie-moment era. Its main branded public area, Lucas Oil Plaza, had lost its luster, with a dated video wall often mottled by dark screens and several individual video displays doing their best to shine in the glare of sunlight blasting in from the stadium's four-story north entrance.
The scenario was hardly befitting of the stadium's namesake brand, especially as Lucas Oil is the proud owner of its own motorsports network, MAVTV. It was time to modernize the plaza's array of motorsports-themed interactives and resuscitate its 16-screen video wall with more energy-efficient displays that could bring a brighter image to the space.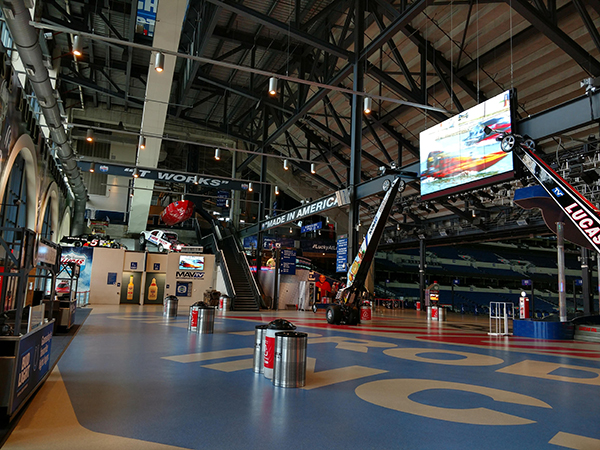 With a brand message that "you don't have to be a race fan to be an automotive enthusiast," Lucas Oil built its plaza to present an entertaining and nostalgic place to celebrate a love of cars and racing. "It has almost like a drive-in feel, with a lot of classic cars," explains Cory Poore, the stadium's IT and Network Administrator, who helped engineer and install the new technologies to reinvigorate Lucas Oil Plaza.
The technology upgrades maintained the original exhibit design for the space, with screen refreshes throughout. New dual landscape-mounted displays were added to two Oil Bottle exhibits, and dual portrait-mounted displays were added to two antique Gas Pump exhibits. A single landscape display was also added to a performance motor teardown exhibit.
A pair of new 86-inch video screens were also added to a certain type of dwell zone, near the plaza's restrooms, one on each side of the space. Now there's MAVTV racing content to watch while people wait.
Video content for the displays shows a range of Lucas Oil racing highlights, while up on the big 4x4 video wall, newly created video imagery dazzles much more clearly on new custom-built screens that fit more tightly together. "The video wall screens used to have 1.5-inch gap between them, which was not very impressive," Poore says. Now there's an almost seamless feel with only an eighth-inch gap.
Conveniently, with its own motorsports network, Lucas Oil is more than equipped to produce its own content for the big screen, and the brand is maximizing its new canvas. Since the revamp, Poore says, the video wall "really catches people's attention. The content is very fluid, it's a huge attention grabber."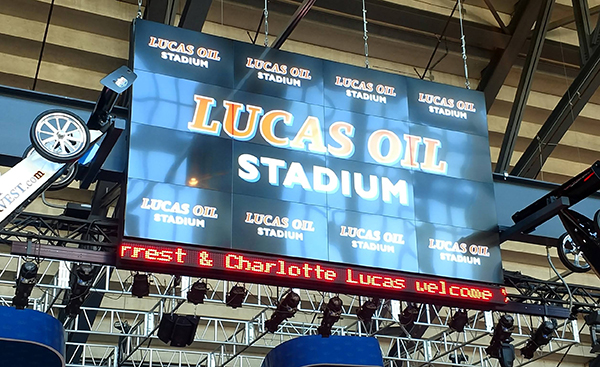 Updates to the video wall's promotional and entertainment imagery happen twice a season right now, but plans are to integrate more social media content and maybe even live-game footage in the future. When the time is right, it will be easy to flip the switch and add these new streams, because the video wall and all the new video displays are networked via Atlona's OmniStream AV over IP system.
Centralizing the transmission of content was one part of the new networked approach, but automated control was also a big focus. The original ten-year-old video system required a lot of separate manual operations to turn displays on and off and play content through archaic DVD players. That was one of the first things that Poore wanted to improve. "When I first got involved, I said, 'This could be so much easier. You don't need someone to be here to do all these manual things.'"
Now, it's possible to operate the system remotely, either from a centralized touchpanel or anywhere else via network connection through a browser. Further, those old DVD players were replaced by purpose-built digital signage video players. The whole setup now takes up much less space, and has much more flexibility. Plus, the new Brightsign video players "are solid-state, so they don't have any spinning mechanical hardware, which makes them more reliable."
Newly networked and centralized, the visual entertainment and branding content and displays in Lucas Oil Plaza are ready for just about anything. "There are things we aren't even doing yet," Poore says, indicating the future plans to add social media and live camera feeds to the displays at some point. "We built the system with a lot of expandability. It will support additional things for years to come without having to reinvent the wheel."
TOPICS IN THIS ARTICLE