Stardraw.com Adopts Standard AV Symbols for Design and Documentation Software
FAIRFAX, VA — March 14, 2016 — InfoComm International® is pleased to announce that software provider Stardraw.com has licensed a standardized set of architectural floor plan and reflected ceiling plan symbols for audio, video and control systems, with associated technologies such as environmental control and communication networks. The symbols are part of the American National Standard Institute-accredited J-STD-710, Audio, Video and Control Architectural Drawing Symbols Standard.
Stardraw.com will implement the standardized symbols into its AV design and documentation software Stardraw Design 7.2.
InfoComm International, the Consumer Technology Association (CTA) and the Custom Electronic Design and Installation Association (CEDIA) led the initiative to develop the standardized set of architectural symbols. Published in 2015, they are designed to bring universal consistency to AV design and documentation. The J-STD-710 standard includes 84 symbols for installed technologies, such as equipment, devices, sensors, control interfaces and cabling.
"Developing and adopting standards is an important way for an industry to elevate quality and efficiency," said David Labuskes, CTS®, RCDD, Executive Director and CEO, InfoComm International. "Our commitment to the AV industry drives us toward work like this. It is why we partnered with CEDIA and CTA on this program to develop these standard symbols and bring uniformity to AV design and documentation."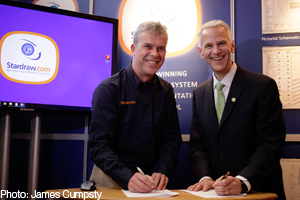 Pictured above: Rob Robinson, Stardraw.com CEO, and David Labuskes, CTS®, RCDD, Executive Director and CEO, InfoComm International
Stardraw Design 7.2 is a project design and documentation system that allows AV professionals to create system schematics, presentations, rack layouts, plan-view drawings and custom panel designs. The program includes approximately 100,000 symbols that graphically represent over 30,000 products from more than 700 different manufacturers.
"We're pleased to incorporate these standardized symbols into Stardraw Design 7.2," said Rob Robinson, Stardraw.com CEO. "It's important for the industry to embrace universal standards like this because it helps improve how efficiently professionals can do their jobs. If everyone utilizes the same standardized symbols, they'll save time, eliminate mistakes and, ultimately, make more money."
"It's very affirming to all of the professionals who worked on the standard to know that a company with the integrity and reputation of Stardraw has embraced the symbols and understands their importance," said Ann Brigida, CTS, Director of Standards, InfoComm International.
InfoComm is an American National Standards Institute (ANSI) Accredited Standards Developer (ASD). More than 700 industry volunteers support InfoComm's standards development, which has resulted in seven ANSI-accredited standards. For more on InfoComm standards, visit infocomm.org/standards.
The J-STD-710 standard itself is free. Digitized symbol files are available for purchase, with a discount available to members of InfoComm International at infocomm.org/standards.
About Stardraw.com
Since 1995 Stardraw.com has been a leading provider of software solutions to the entertainment technology sector, offering a range of award-winning system design, documentation and control applications as well as providing OEM software solutions for corporate customers. With offices in London and New York, regional partners and an installed customer base of over 40,000 users spanning 83 countries, Stardraw.com is focused on serving the international marketplace, and delivers leading-edge solutions that exploit the very latest in software technologies.
About InfoComm International
InfoComm International® is the global trade association representing the commercial audiovisual and information communications industries. Established in 1939, InfoComm has more than 5,400 members, representing over 70,000 AV professionals worldwide, including manufacturers, systems integrators, dealers and distributors, independent consultants, programmers, rental and staging companies, end users and multimedia professionals from more than 80 countries. InfoComm International is the leading resource for AV standards, market research and news. Its training, certification and education programs set a standard of excellence for AV professionals. InfoComm International is the founder of InfoComm, the largest annual conference and exhibition for AV buyers and sellers in the Western Hemisphere. InfoComm also produces trade shows in China, Europe, India, Latin America and the Middle East. Additional information is available at infocomm.org.
# # #