I first heard about the CTS and other AVIXA certifications at ISE
We asked Roni Starc, Slovenia's first CTS holder, about his AV career and motivation for preparing for and taking the CTS exam.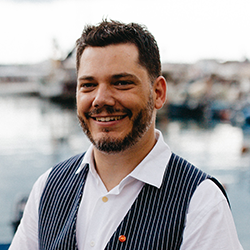 Roni Starc, CTS
Like a lot of my peers, I entered the AV industry through audio, and over a span of 15 years I moved from setting up sound reinforcement systems to designing and integrating whole AV systems at the company I work: SEA d.o.o.
I learned as I went along, gathering knowledge of the field from various sources. In the beginning, a lot of my knowledge was based on 'rules of thumb'. I had never managed to take the time or to find appropriate sources to learn AV the proper way from an engineering point of view.
I first heard about the CTS and other AVIXA certifications at ISE 2018, when I attended some of the workshops for the first time. The more information I got, the more I wanted to obtain it. I knew I would have to study hard as the prep materials covered a lot of topics; some very familiar to me, some new. I quickly realized it would provide the engineering approach to the AV world I had been looking for.
During my studies for the exam, I learned new things about client communication, project management, and other less 'engineer' topics but that are very important to an AV consultant and designer, too.
There was another goal that kept me motivated: to become the first holder of CTS in Slovenia, and even in the Western Balkans region. Because of my 15 years of experience and formal education—I have a bachelor's degree in electronic engineering—I was quite confident about my knowledge by the end of my studies, but nevertheless I experienced some anxiety regarding the exam.
I was prepared, and I wanted to sit the exam, but that was not as easy as it seemed. I had planned to take it at the end of 2020, but the COVID-19 pandemic diminished any possibility of travelling abroad, since there were no exam centres at the time in my country. After six long months and numerous exam postponements, I was finally able to take the exam (in my country!), pass it, and become the first CTS holder in Slovenia and the entire Western Balkans region.
My next goal? CTS-D of course."