Expanding Possibilities With CTS-D: An Interview With SeaWorld's Laura Wickesberg
Posted on Apr 5, 2022
Meet Laura Wickesberg, CTS-D, Senior Show Control Manager, SeaWorld, UAE! Wickesberg recently earned her CTS-D and we asked her about her path to the credential.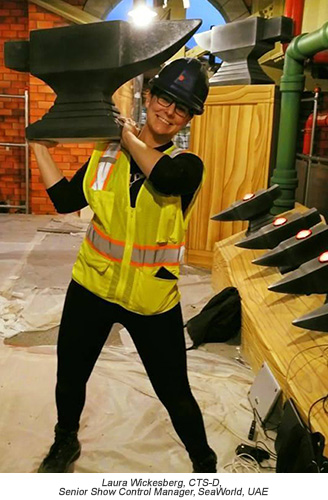 Can you tell us a bit about your work history?
My first job in the industry was with James Patten (Patten Studio) making installations for retail experiences and museums using creative implementations of technology. After that, I've had the opportunity to work with 7thsense, ESI Design, Obscura Digital, VER and Smart Monkeys on all sorts of projects all over the world. I have been lucky enough to have diverse work experiences primarily in the themed entertainment industry. At 7thsense and Smart Monkeys my role was primarily programming systems though both allowed me to explore using new technologies. It has been rewarding to see how Smart Monkeys have taken my introduction to node-red and really start developing it for their projects. At ESI design, I worked in the systems department helping designers prototype new ways of integrating LED into architecture and create media for unusual screen sizes. Ultimately it led to me working with VER managing crews for the installation of the LED for the theatre in MGM Cotai. Managing construction and working with General Contractors has been helpful now as SeaWorld is in full swing.
What are you doing now?
I've been working at EllisDon on SeaWorld for 2.5 years now. When I started the design had been roughly developed following the creative design and I've been able to be a part of shaping and guiding the process for the network and show control and interactives from the final design to bidding and selection of a subcontractor. Now we are working closely with subcontractors to make sure construction follows the design and the design is adapted as each discipline develops.
What did your pathway to the CTS® credential(s) look like?
I first went after my CTS when I was with Smart Monkeys. While they weren't concerned with certification, I find that pushing myself with education and certifications helps me feel more confident. After coming out to Abu Dhabi to work on SeaWorld, I set my sights on achieving my CTS-D. While I was locked down during COVID, AVIXA offered a remote learning course with Gopal which was really helpful and I didn't even need to take time off work. It is good to have a group to study with and I even knew one of my classmates from working on Warner Bros Abu Dhabi together. I was still anxious about taking a test though because standardized tests have never really been my strength. Finally, I just set a day, made sure to study at least one chapter every night after work leading up to the test, and used the online resources to take practice tests during my lunch breaks. The repetition really helped relieve my nerves.
Has the CTS and CTS-D credentials helped you achieve your goals? Or, has it helped you in ways you didn't think of before?
It seems more and more common looking at job postings that having CTS-D is encouraged but what has surprised me is actually while studying for the test I learned about containment sizing. Containment hadn't come up before in any of the design work I had done. Since I was studying it I took it as a challenge to review all the containment drawings for AV at the park. CTS-D has really actually helped me look more into disciplines that I wasn't previously as comfortable with. But having achieved the certification I feel a lot more confident outside of my comfort zone.
Related:
Chandrashekar Naik Makes History: First Person in India to Earn Dual CTS Certifications In a Single Week!
Meet Chandrashekar Naik S.! In July 2021, he achieved a remarkable milestone by passing both the CTS®-D and CTS®-I exams, making him the first person in India to have earned dual CTS certification within a single week. Read More.
Earning Dual-CTS Designations in Istanbul
Sercan Aktas, Director of Integration at Redmouse Audio Visual Integration, recently became only the second person in Turkey to hold both AVIXA® CTS®-D and CTS-I.
Read More.
TOPICS IN THIS ARTICLE